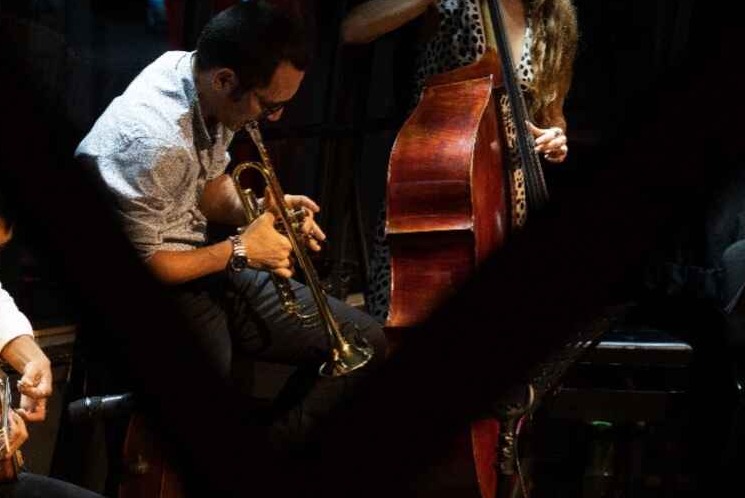 'Light up your life with this ensemble of young musicians performing their own take on the Manouche genre with their distinctive sound and instrumentation'.
The Gypsy Cats have built an eclectic repertoire of originals and standards: up-tempo swing, gypsy bossa, traditional jazz ballads and French waltz.

The Musicians: Roberto Fontana trumpet, Emma Hales double bass, Mircha Mangiacotti guitar, Rodrigo Santiago guitar.

The Gypsy Cats started busking around the streets of Brisbane in 2016 and since then have become one of Queensland's best known gypsy jazz bands, having played countless live music venues and festivals around the state.
Some recent highlights include the latest edition of Woodford Folk Festival (2022/23), as well Brisbane Festival (2022), and OzManouche at the Brisbane Jazz Club (2020 & 2021). They currently hold a year-long monthly residency at The Bearded Lady in West End, consistently packing the venue with punters of all ages, backgrounds, and music tastes.
The Gypsy Cats are also well loved amongst the local swing dancing community, who enjoy the challenge of performing their skilful moves to the quartet's fast paced tunes.

The Gypsy Cats deliver exciting and energetic sets that will have you spell-bound from beginning to the end.
If you would like to become a member of the Noosa Heads Jazz Club for $20 - you can Sign up Here
Ticket prices: $25* for Members & $30* for Guests - *plus booking fee
Thursday 25 May at 1.30pm
Location
Majestic Theatre
3 Factory Street, Pomona, Queensland 4568