Financial Wellness Workshops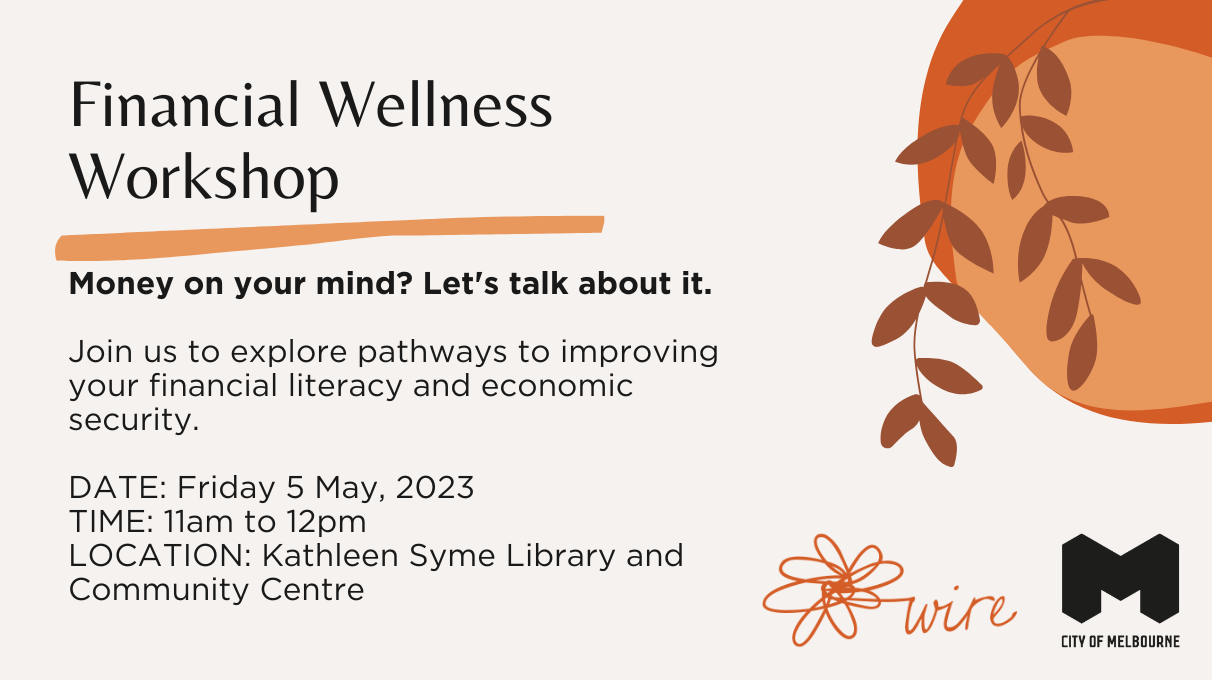 DATE
Friday 5 May, 2023
TIME
11am to 12pm
LOCATION
Kathleen Syme Library and Community Centre
251 Faraday Street, Carlton VIC 3053
Event Details
Money on your mind? Let's talk about it.

This workshop will explore pathways to improving your financial literacy and economic security. Learn tools to feel empowered to have healthier conversations about your finances.
The session will cover themes in the context of women, non-binary and gender diverse peoples' experiences with money and financial wellness, including:
-Accessing free money management programs and financial guidance services
-Understanding financial abuse
-Navigating sensitive conversations about money
-Identifying support pathways
-Understanding the structural forces underpinning relationships with money

The workshop is delivered by WIRE (Women's Information and Referral Exchange) in partnership with City of Melbourne and has been tailored to reflect on the needs of older women and gender diverse people, however all are welcome to attend. The conversation will consider the broader context of gender equity and the intersection between the experiences of women and gender diverse people and money, and the structural forces underpinning this relationship. A WIRE Support Worker will also be available at the session to provide extra, tailored assistance for those in attendance with further questions.
Join us for this face-to-face session at Kathleen Syme Library and Community Centre, with light refreshments provided on the day.
Registration for the event is free, but spaces are limited so book in fast!
You can register using the 'Book Now' button above. Alternatively, to book over the phone call 9658 7028 or email healthyageing@melbourne.vic.gov.au
Read more about the amazing work WIRE are championing and access further community education resources and opportunities via their website https://www.wire.org.au/.
COLLECTION NOTICE
The City of Melbourne is committed to protecting your privacy. The personal information requested during the booking process is being collected by City of Melbourne's Healthy Ageing team and WIRE for the purpose of registering you for the advertised event, monitoring event attendance, evaluation and reporting, or any other directly related purpose. Personal Information collected above will not be disclosed to any other external party without your consent, unless required or authorised by law. If you wish to alter any of the personal information you have supplied to City of Melbourne, please contact Council via telephone on 9658 9190 or email healthyageing@melbourne.vic.gov.au