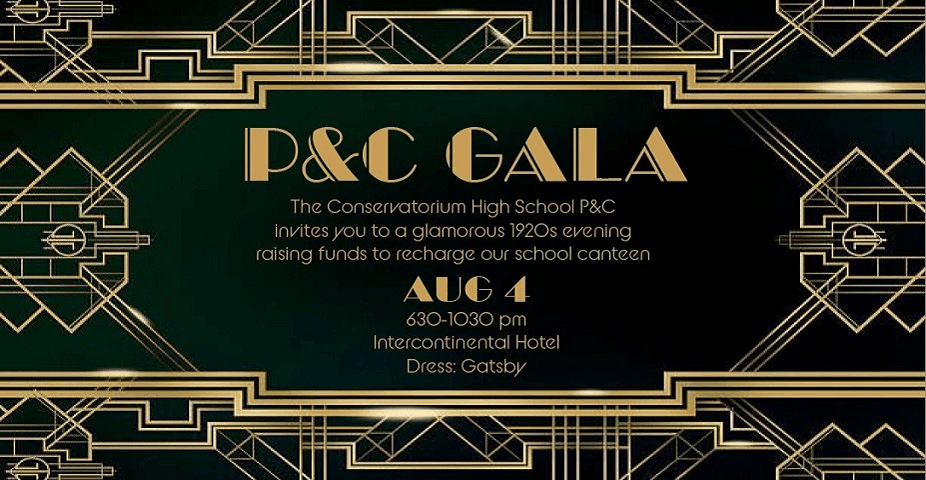 DeAR CON HIGH COMMUNITY,
Your P&C invites you to Dine and Dance the night away at a Swinging Soiree in the "Gatsby" style.
Fundraising:
All proceeds go to help the Recharge* our school canteen
Event Highlights:
Cocktail Hour
Three Course Banquet Dinner
Student Performances
Raffles and Prizes
Launch and pre-sale of the 'Con-High' Cookbook
Dress Code: 1920s theme (can be as simple as perals, feathers, braces, hats)
Ticket Information & Pricing:
Adults: $150 **
Children: $85 ***
Includes sit down dinner and a welcome drink
Cash bar available all night
Ticketed seats only
Ticket sales cut-off midnight June 23
Limited to 120 seats
Need some 1920s Inspiration?
For ladies just add an accessory to you evening dress or for gentleman a waistcoat, braces or a cap, and you are in the 20's
Dancing is of course up to you but its fun to try...
--------------------------------------
* Recarge is the P&C's 2023 campaign to bring our community back into the school post pandemic
** Ticket price includes a donation towards the School Canteen Recharge
*** Children ticket holders must have a parent in attendance or another parent happy to take responsibility for them at the venue.
Location
InterContinental Hotel
117 Macquarie St, Sydney New South Wales 2000