Sorrento Room Special Dance Events
Let Me Entertain You - Robbie Williams Show "Featuring Kylie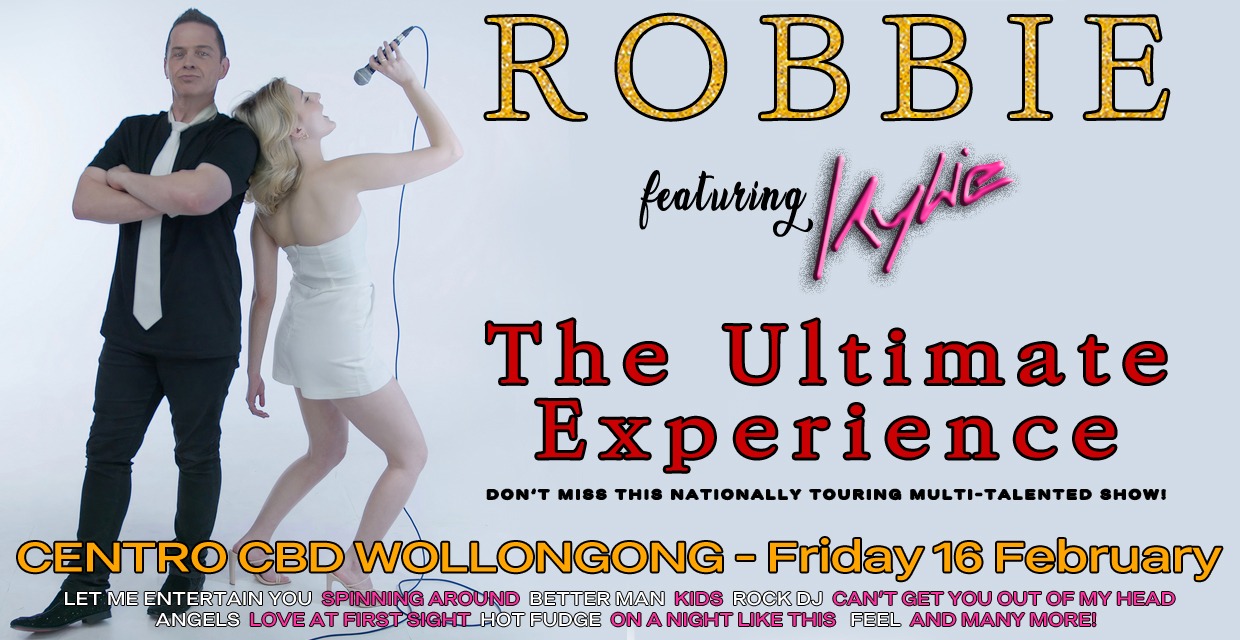 Friday 16 February 2024 6:30 PM - 10:30 PM (UTC+11)
Robbie Williams "Featuring Kylie" – The Ultimate Experience
Get ready for the ultimate entertainment experience as Corey & Laani take the stage as the faces of Robbie & Kylie The Ultimate Experience. With their mesmerizing vocals and electrifying presence, these guys leave no stone unturned to give you a show that you will never forget!
This is not your average concert. This is a performance that will have you on the edge of your seat from start to finish. With stunning visuals, energetic dancers, and an amazing band that will blow you away, this is a show that must not be missed.

The production is flawless, with state-of-the-art video production that adds to the already-impressive stage performance. The concert is filled with the massive hits from Robbie like Let Me Entertain You, Monsoon, Let Love Be Your Energy, Better Man, Rock DJ, Feel, Angels and Kylie's amazing hits like Spinning Around, Better The Devil You Know, In Your Eyes and many more. The two stars have also collaborated on several songs over the years, including the smash hit 'Kids'. With each song, the audience becomes more and more engaged in the experience.
With an audience that is left trembling and wanting for more after watching The Ultimate Experience, you cannot afford to miss this show! So grab your tickets now and be ready for a night of non-stop entertainment, energy, and excitement! See you there!
Concert is performed upstairs in the Sorrento Room @ Centro CBD
please note before purchasing tickets that unfortunately at this stage there is no disable access or lift
OFFER 1 Dinner & Show - $79 ( Main Meal only) & show
OFFER 2 Show Only - $50 Limited tickets but you can still enjoy a meal down stairs by booking our A La Carte restaurant prior to the show.
Desserts are always on offer to purchase on the night at the concert
Drinks can now be delivered to your table by ordering & paying through our Mr YUM Ordering App
Due to catering tickets are closed off on the day of the concert
but can still be purchased by phone or emailing us.
Doors open 6.30pm Dining starts 7.15pm Show time 8pm
Booking Fees Apply
IMPORTANT !! IF YOU MISSED TELLING US WHEN YOU BOOKED YOUR TICKETS PLEASE NOTIFY US BEFORE COMING TO THE SHOW IF YOU OR YOUR FRIENDS HAVE ANY DIETARY ISSUES OR ARE UNABLE TO EAT CERTAIN FOODS TO ALLOW US TO MAKE ALTERNATE MEALS FOR YOU IN TIME. MEALS COULD BE FISH, PORK, BEEF, CHICKEN or LAMB ALTERNATE SERVE.
Ticket cannot be exchanged or refunded for any reason including Covid illness or isolation unless the show is cancelled or rescheduled but tickets can be resold or given to other people