Sorrento Room Special Dance Events
THE AUSTRALIAN BEACH BOYS SHOW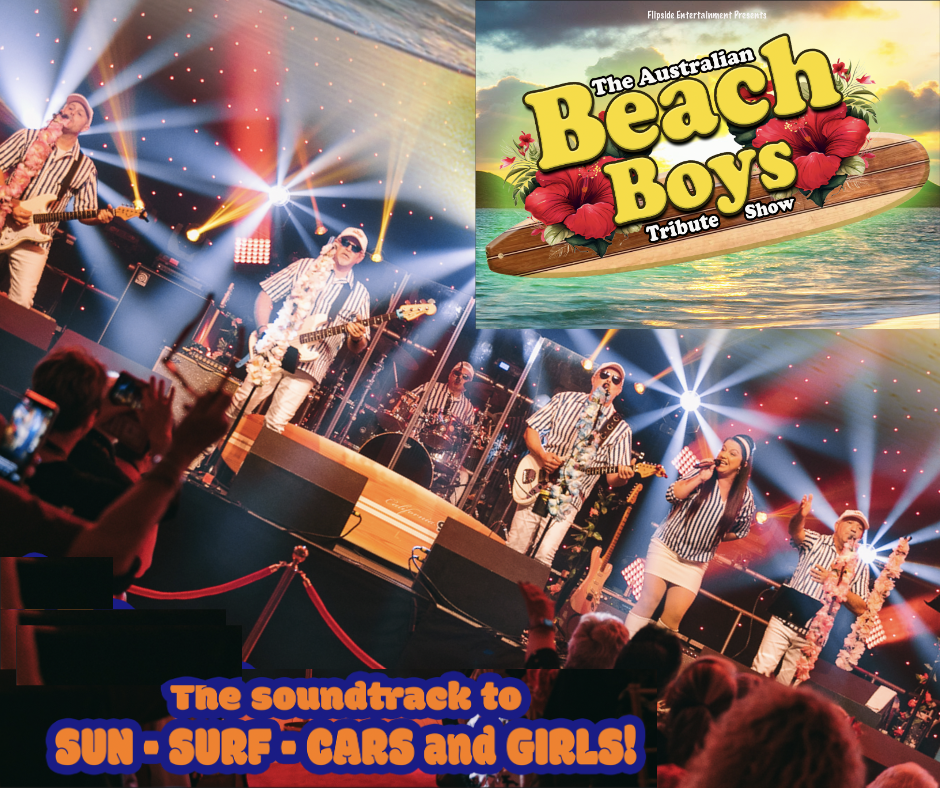 Saturday 17 February 2024 6:30 PM - 10:30 PM (UTC+11)
The Australian Beach Boys Show is without doubt Australia's most authentic Beach Boys Show experience this country and abroad has to offer. Some even classing the show of 'International quality'!
The Australian Beach Boys Show has captured an essence, producing a show that not only plays the Beach Boys songs, but also, thanks to live '4 part' vocal harmonies and some technological wizardry, recreates the amazing "wall of sound" experience that Brian Wilson so famously and successfully crafted.
Performing a two-hour live show, featuring songs such as, Surfin USA, Little Deuce Coupe, Barbara-Ann, Wouldn't It Be Nice, Help Me Rhonda, Surfin Safari, Kokomo, Then I Kissed Her, California Girls, I Get Around, Fun Fun Fun, Good Vibrations just to name a few.This show delivers that "real" Beach Boys experience from the striped blue and white shirts and Hawaiian flowers to replica instruments and, exclusive to The Australian Beach Boys Show, a full audio/visual aspect to it featuring our big 'Beach Boys 60's TV' screen displaying the original Beach Boys clip for every song in-sync with the live show!
The show boasts one of the best stage productions the country has to offer sparing no thought to excellence and attention to detail. Like many now, your picture in front of the stage pre-show is almost a pre-requisite with all its colour, glitter and paraphernalia!With its glowing reviews, growing rapport with their audience and sold out shows, The Australian Beach Boys Show are here to entertain, delight and capture audiences by paying tribute to the pure genius of Brian Wilson and The Beach Boys.
Concert is performed upstairs in the Sorrento Room @ Centro CBD
please note before purchasing tickets that unfortunately at this stage there is no disable access or lift
OFFER 1 Dinner & Show - $68 ( Main Meal only) & show
OFFER 2 Show Only - $39 Limited tickets but you can still enjoy a meal down stairs by booking our A La Carte restaurant prior to the show.
Desserts are always on offer to purchase on the night at the concert
Drinks can now be delivered to your table by ordering & paying through our Mr YUM Ordering App
Due to catering tickets are closed off on the day of the concert
but can still be purchased by phone or emailing us.
Doors open 6.30pm Dining starts 7.15pm Show time 8pm
Booking Fees Apply
IMPORTANT !! IF YOU MISSED TELLING US WHEN YOU BOOKED YOUR TICKETS PLEASE NOTIFY US BEFORE COMING TO THE SHOW IF YOU OR YOUR FRIENDS HAVE ANY DIETARY ISSUES OR ARE UNABLE TO EAT CERTAIN FOODS TO ALLOW US TO MAKE ALTERNATE MEALS FOR YOU IN TIME. MEALS COULD BE FISH, PORK, BEEF, CHICKEN or LAMB ALTERNATE SERVE.
Ticket cannot be exchanged or refunded for any reason including Covid illness or isolation unless the show is cancelled or rescheduled but tickets can be resold or given to other people