Sorrento Room Special Dance Events
Yacht Rock Revival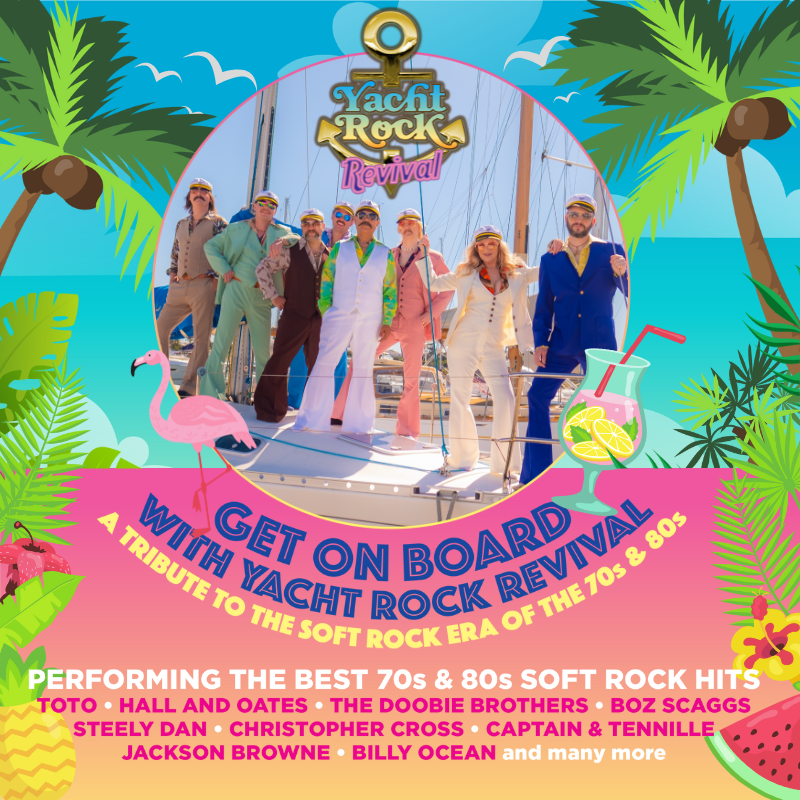 Sunday 10 December 2023 6:30 PM - 10:30 PM (UTC+11)
Have you experienced Yacht Rock Revival yet? Playing the best songs from the era 70's and 80's light rock, we're collecting your favourite sounds, songs and grooves from an era when 'smooth' meant everything. If you've ever heard The Doobie Brothers fronted by Michael McDonald doing "What A Fool Believes", that's Yacht Rock!
These songs are as memorable as a sunset on the Santa Monica pier as you walk along with your baby, holding hands, your matching gold-tone bracelets jingling as the ocean breeze caresses your moustache, and the two of you stare out into the ever-deepening blue to think, in tandem: 'Yeah, this is how it should always be'.​
You might have been a closet Yacht Rock fan all along and just didn't know it. It's slicker than slick, enormously well-played music, from the melodically clever to the harmonically unexpected. Yacht Rock is soulful, well-constructed music that just makes people happy.​
Just remember to hold on to your captain's hat because this music is so breezy and smooth, it might just blow you away!
OFFER 1 Dinner & Show - $74 ( Main Meal only) & show
OFFER 2 Show Only - $45 Limited tickets.
Desserts are always on offer to purchase on the night at the concert
Drinks can now be delivered to your table by ordering & paying through our Mr YUM Ordering App
Due to catering tickets are closed off on the day of the concert
but can still be purchased by phone or emailing us.
Concert is performed upstairs in the Sorrento Room @ Centro CBD
please note that unfortunately at this stage there is no disable access or lift
Doors open 6.30pm Dining starts 7.15pm Show time 8pm
Booking Fees Apply
Important
Ticket cannot be exchanged or refunded for any reason including Covid illness or isolation unless the show is cancelled or rescheduled but tickets can be resold or given to other people