Sorrento Room
Boz is Back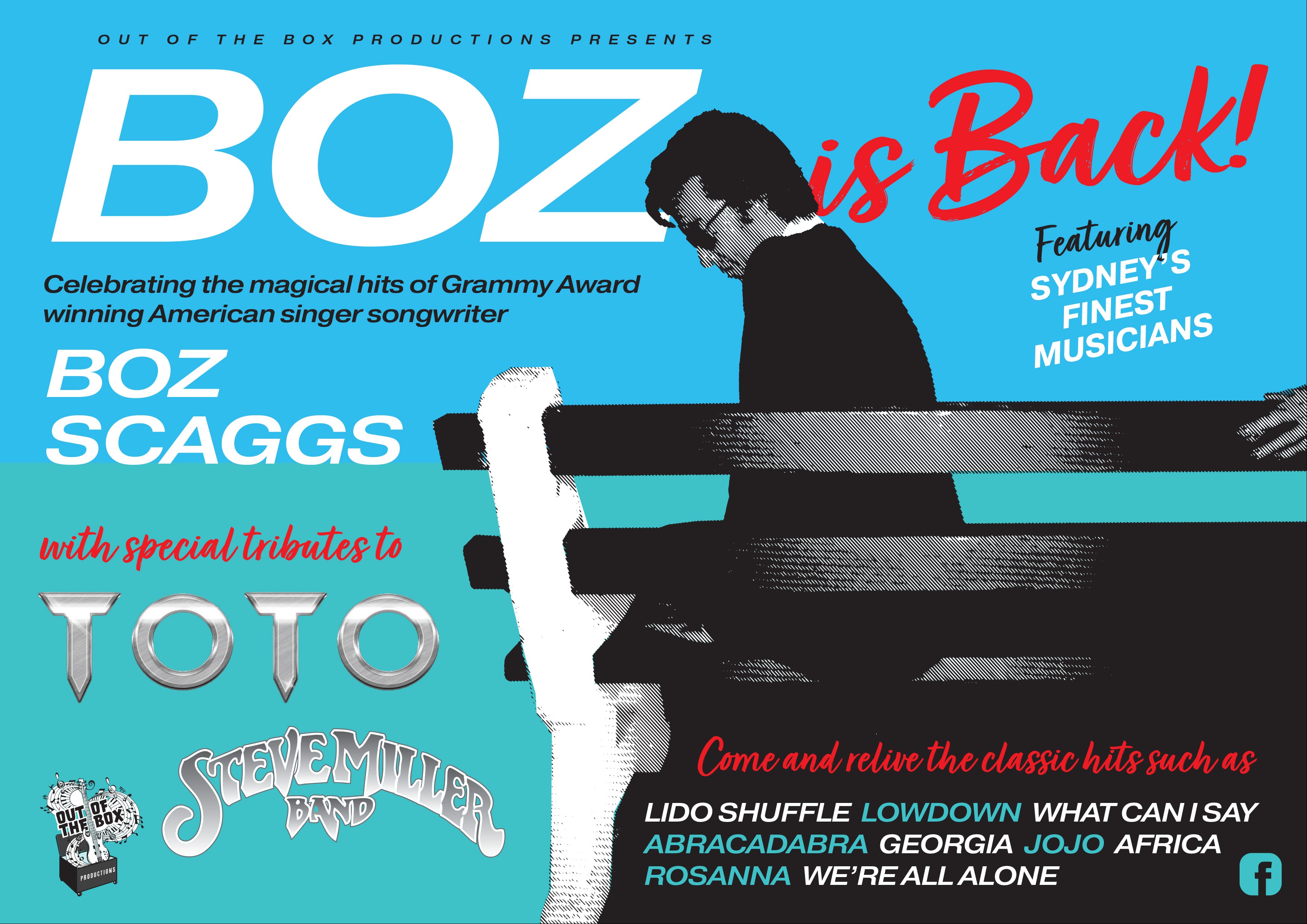 Saturday 20 July 2024 6:30 PM - 10:30 PM (UTC+11)
Out of the Box Productions presents a musical journey into the life of multi-dimensional Grammy Award winning American singer songwriter and guitarist Boz Scaggs

With a 40 year career in music he has explored rock, blues, and soul genres to create a trademark sound. He began his career in the Steve Miller Band in the 1960's as a guitarist and one-time lead singer and then moved on to having a successful solo career.
Sit back in your seats and join some of the most refined and talented musicians in Australia and enjoy this musical feast as they perform for you melodies that showcase Boz Scaggs energetic vocals. Hits with a touch of magic like 'Abracadabra' from the The Steve Miller Band. 'Lowdown' and 'Lido Shuffle' from his bestselling 5 time platinum and critically acclaimed album 'Silk Degrees' that lead to a sold-out world tour. As a bonus you will also get to hear hits like 'Africa' & 'Rosanna' that were produced from the session musicians who performed on 'Silk Degrees' and who went onto form the popular American rock band 'Toto'
All this has been put together by two of Sydney's finest musicians. Keyboard player and arranger Steve Isoardi and Bass Player and arranger John Coker.
Don't miss this musical treat as we take you down memory lane and invoke those feelings of nostalgia listening to the music melodies of Boz Scaggs and his band.
OFFER 1 Dinner & Show - $68 ( Main Meal only) & show
OFFER 2 Show Only - $39 Limited tickets but you can still enjoy a meal down stairs by booking our A La Carte restaurant prior to the show.
Desserts are always on offer to purchase on the night at the concert
Due to catering tickets are closed off on the day of the concert
but can still be purchased by phone or emailing us.
Concert is performed upstairs in the Sorrento Room @ Centro CBD
please note that unfortunately at this stage there is no disable access or lift
Doors open 6.30pm Dining starts 7.15pm Show time 8pm
Booking Fees Apply
IMPORTANT !! IF YOU MISSED TELLING US WHEN YOU BOOKED YOUR TICKETS PLEASE NOTIFY US BEFORE COMING TO THE SHOW IF YOU OR YOUR FRIENDS HAVE ANY DIETARY ISSUES OR ARE UNABLE TO EAT CERTAIN FOODS TO ALLOW US TO MAKE ALTERNATE MEALS FOR YOU IN TIME. MEALS COULD BE FISH, PORK, BEEF, CHICKEN or LAMB ALTERNATE SERVE.
Ticket cannot be exchanged or refunded for any reason including Covid illness or isolation unless the show is cancelled or rescheduled but tickets can be resold or given to other people