Sorrento Room
The Beatnix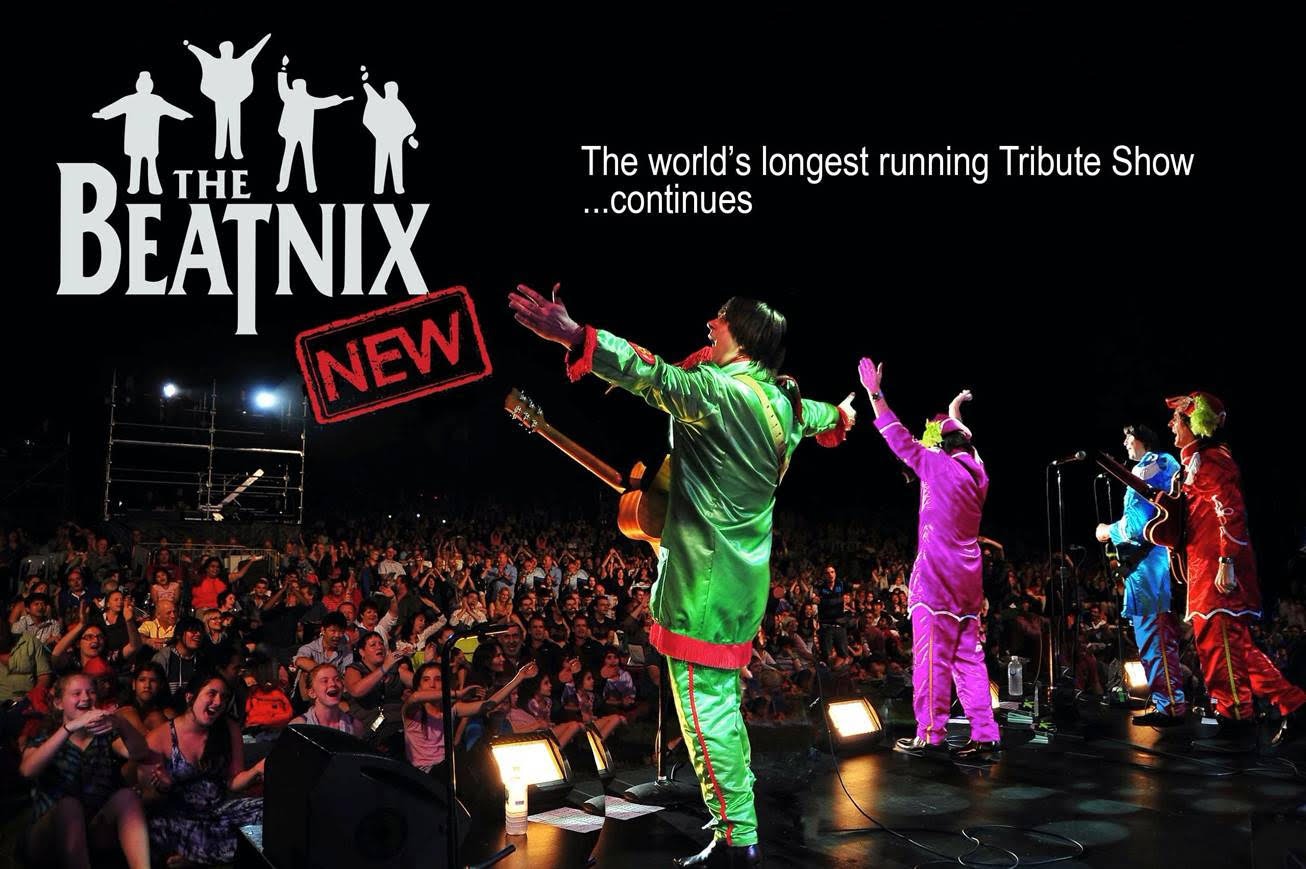 Saturday 1 June 2024 6:30 PM - 10:30 PM (UTC+11)
Beatles experience with the Beatnix - music loved by all generations

Fifty years after the Beatles stopped touring; their music remains popular with people of all ages who grew up with the legendary British group that changed pop music forever. Along with their children and grandchildren they are all keen to be part of real live Beatles experience.
The Beatles always makes life feel that little bit better......Join the Beatnix for a magical time as they eerily recreate the beautiful music of the fab four. You will believe you are transported back to the 1960s and it's Beatle mania all over again. From the early rock n roll days of the cavern right through to psychedelia and the music that changed the world. Scream and cry as you as you experience songs such as I saw Her standing There, Twist and Shout, Here Comes the Sun, Hey Jude, Help, Get Back, and much much more. Feel free to request a song. You might even get lucky!
With various cast member changes over the years, this is the world's longest running tribute band!!! It's now even become an Australian tradition to go out and watch The Beatnix when they're in town. In the words of Liz Hayes from 60 minutes. "It's the closest to the originals we'll ever get" Ray Martin reckons that "if you close your eyes, you'll think you are listening to the real thing" Speaking of the real thing, the show uses all the original equipment that The Beatles actually used way back in the day. What really makes the hair stand up on the back of your head though is hearing these musicians harmonise! Come and experience it. As the great man said 'Life is what happens to your while you are making other plans" so don't miss The Beatnix!
OFFER 1 Dinner & Show - $75 ( Main Meal only) & show
OFFER 2 Show Only - $44 Limited tickets but you can still enjoy a meal down stairs by booking our A La Carte restaurant prior to the show.
Desserts are always on offer to purchase on the night at the concert
Concert is performed upstairs in the Sorrento Room @ Centro CBD
please note that unfortunately at this stage there is no disable access or lift
Doors open 6.30pm Dining starts 7.15pm Show time 8pm
Booking Fees Apply
IMPORTANT !! IF YOU MISSED TELLING US WHEN YOU BOOKED YOUR TICKETS PLEASE NOTIFY US BEFORE COMING TO THE SHOW IF YOU OR YOUR FRIENDS HAVE ANY DIETARY ISSUES OR ARE UNABLE TO EAT CERTAIN FOODS TO ALLOW US TO MAKE ALTERNATE MEALS FOR YOU IN TIME. MEALS COULD BE FISH, PORK, BEEF, CHICKEN or LAMB ALTERNATE SERVE.
Ticket cannot be exchanged or refunded for any reason including Covid illness or isolation unless the show is cancelled or rescheduled but tickets can be resold or given to other people