Sorrento Room
The Redgum Years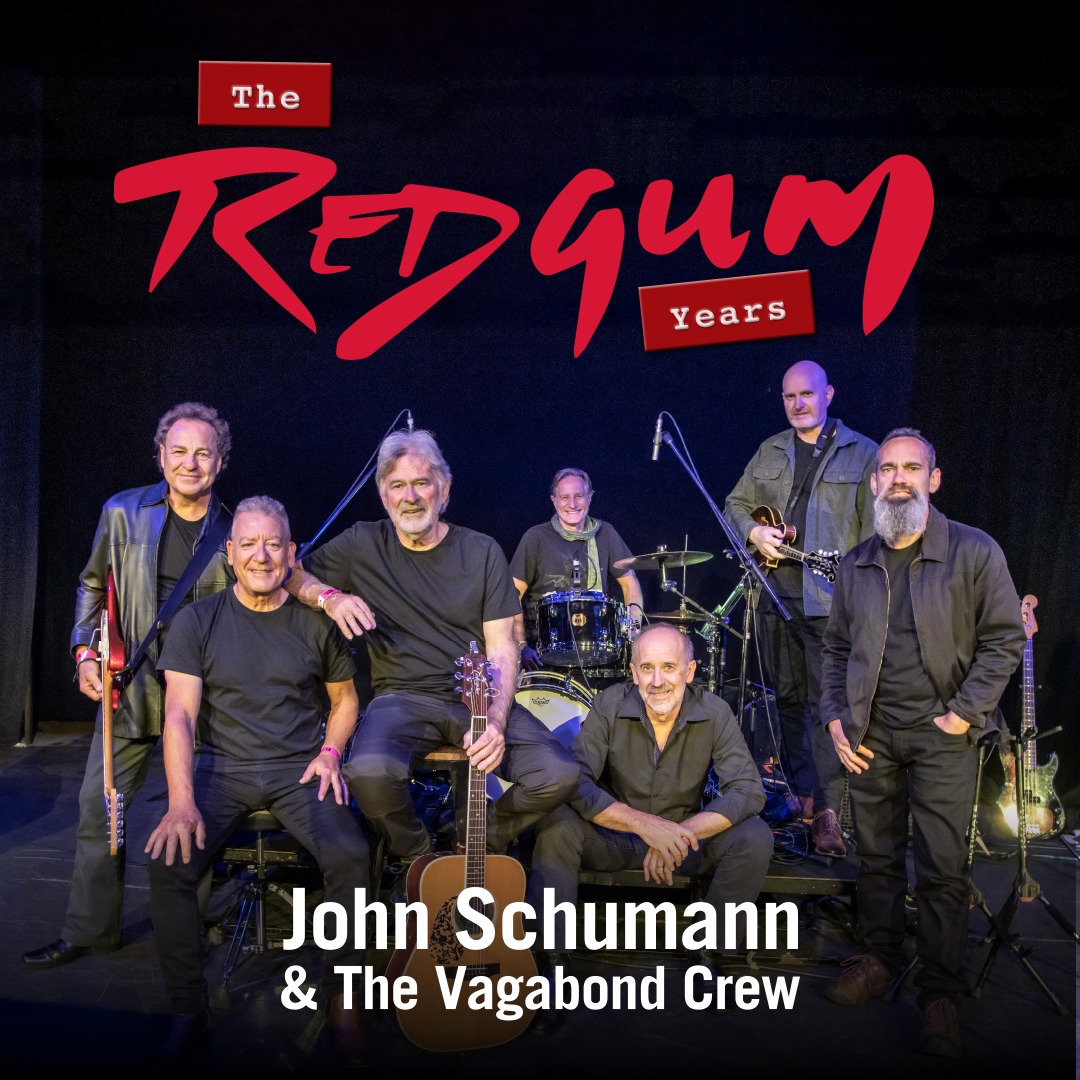 Thursday 15 February 2024 6:30 PM - 10:30 PM (UTC+11)
starring
John Schumann & The Vagabond Crew
"Hi John. I'm sitting on my verandah, listening to Redgum. Those songs still touch my heart and my soul."

It's 2023. John Schumann, the voice of the legendary Australian folk-rock band Redgum and writer of the iconic anthem, "I was only 19", is contacted via Messenger and Facebook by fans from all over Australia. Many of these emails come from people who were kids back then. As adults, they've come to understand the Australianness and the important messages about justice, fairness, compassion and the need to care for country.
"The Redgum Years" owes its existence to the Vagabond Crew who were able to persuade John to revisit the catalogue, to play the songs and to tell the stories in a special tribute concert."The Redgum Years" first appeared in the Adelaide Fringe in 2021. Three sell-out shows, lengthy waiting lists and standing ovations - it was a Fringe hit. People flew in, quite literally, from all over Australia.
Braving the Covid pandemic, John and the band took it to Melbourne in 2022 and sold out 3 shows. "The Vagabond Crew is a world-class, 7-piece band. I'd line this band up against any band in Australia," John said. "More importantly, we're all mates - obvious when we're on stage."
"The Redgum Years" is a concert of songs and stories for the true believers.
It's for their kids.
And it's for all those people still believe that songs can change the world.
Concert is performed upstairs in the Sorrento Room @ Centro CBD
please note before purchasing tickets that unfortunately at this stage there is no disable access or lift
OFFER 1 Dinner & Show - $105 ( Main Meal only) & show
OFFER 2 Show Only - $75 Limited tickets but you can still enjoy a meal down stairs by booking our A La Carte restaurant prior to the show.
Desserts are always on offer to purchase on the night at the concert
Drinks can now be delivered to your table by ordering & paying through our Mr YUM Ordering App
Due to catering tickets are closed off on the day of the concert
but can still be purchased by phone or emailing us.
Doors open 6.30pm Dining starts 7.15pm Show time 8pm
Booking Fees Apply
IMPORTANT !! IF YOU MISSED TELLING US WHEN YOU BOOKED YOUR TICKETS PLEASE NOTIFY US BEFORE COMING TO THE SHOW IF YOU OR YOUR FRIENDS HAVE ANY DIETARY ISSUES OR ARE UNABLE TO EAT CERTAIN FOODS TO ALLOW US TO MAKE ALTERNATE MEALS FOR YOU IN TIME. MEALS COULD BE FISH, PORK, BEEF, CHICKEN or LAMB ALTERNATE SERVE.
Ticket cannot be exchanged or refunded for any reason including Covid illness or isolation unless the show is cancelled or rescheduled but tickets can be resold or given to other people