Sorrento Room
In Good Company - Darren Coggan & Damien Leith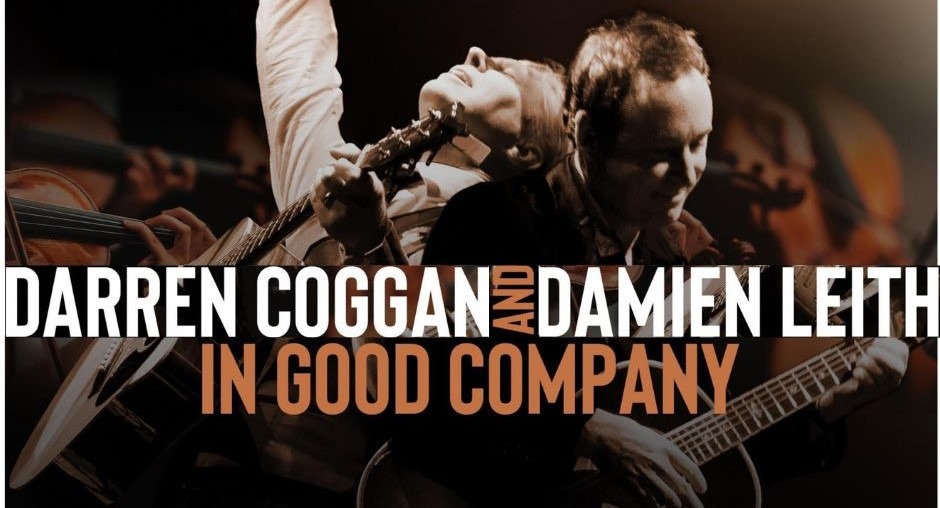 Friday 8 March 2024 6:30 PM - 10:30 PM (UTC+11)
Two of Australia's most applauded performers, Darren Coggan and Damien Leith, are back on stage and in good company, as they celebrate the songs that shook the world, by the artists that changed it.
Individually, their critically acclaimed portraits of Roy Orbison, Cat Stevens, Elvis Presley, John Denver and The Beatles, have had audiences on their feet across the globe on every occasion. Now, together in one grand concert, Darren and Damien re-live the songs that the whole world sang along with, accompanied by the lush sounds of 'A Good Company of Strings Quartet'.
The two-hour show is back-to-back hits with immortal songs from the treasure trove of music history; Pretty Woman, Hey Jude, Father & Son, Country Roads, Halleluiah, Rhinestone Cowboy and so many more. Set against the backdrop of popular culture, the stories and the messages in these songs are timeless, they have become part of the fabric of our existence and the foundation of popular music as we know it today.
Damien and Darren are well-placed to be paying homage to these iconic musicians. Both have a long history of writing and performing and the richness and diversity of Darren and Damien's solo careers are also showcased, with a selection of their own songs and stories, that reflect their musical heritage.
Damien Leith became a household name when he won Australian Idol in 2006. Since then, he has made an indelible imprint on the Australian music scene as a prolific singer-songwriter, producer, author, playwright and TV and Radio personality. With multi-platinum selling albums under his belt and acclaimed sold-out tours paying homage to greats like Roy Orbison and Elvis Presley, Damien is one of the country's most beloved performers.
Darren Coggan is a masterful storyteller who has carved an impressive career in the Australian country music industry with a swag of Golden Guitars under his belt. Darren is equally at home in musicals and on screen, currently presenting the lifestyle TV program Sydney Weekender. He has received critical acclaim for his portrait of Cat Stevens which has seen him perform sold-out shows everywhere, including Sydney Opera House Concert Hall, Glasgow Concert Hall and Liverpool Philharmonic.
Concert is performed upstairs in the Sorrento Room @ Centro CBD
please note before purchasing tickets that unfortunately at this stage there is no disable access or lift
OFFER 1 Dinner & Show - $85 ( Main Meal only) & show
OFFER 2 Show Only - $56 Limited tickets but you can still enjoy a meal down stairs by booking our A La Carte restaurant prior to the show.
Desserts are always on offer to purchase on the night at the concert
Drinks can now be delivered to your table by ordering & paying through our Mr YUM Ordering App
Due to catering tickets are closed off on the day of the concert
but can still be purchased by phone or emailing us.
Doors open 6.30pm Dining starts 7.15pm Show time 8pm
Booking Fees Apply
IMPORTANT !! IF YOU MISSED TELLING US WHEN YOU BOOKED YOUR TICKETS PLEASE NOTIFY US BEFORE COMING TO THE SHOW IF YOU OR YOUR FRIENDS HAVE ANY DIETARY ISSUES OR ARE UNABLE TO EAT CERTAIN FOODS TO ALLOW US TO MAKE ALTERNATE MEALS FOR YOU IN TIME. MEALS COULD BE FISH, PORK, BEEF, CHICKEN or LAMB ALTERNATE SERVE.
Ticket cannot be exchanged or refunded for any reason including Covid illness or isolation unless the show is cancelled or rescheduled but tickets can be resold or given to other people