Sorrento Room
Colin Lane & David Hobson IN TAILS 2024 tour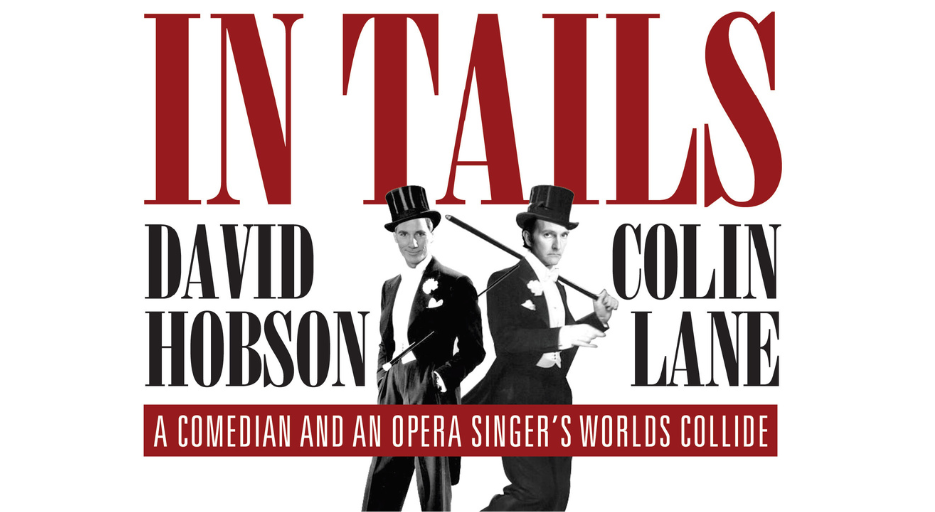 Saturday 4 May 2024 6:30 PM - 10:30 PM (UTC+11)
A comedian and an opera singer's worlds collide
David Hobson and Colin Lane have been friends for 25 years. From vastly different backgrounds, they have observed one another's worlds and always thought, "gee, wouldn't it be nice to have a go at what that other guy does?". So here's their chance to see whether the grass is a little greener!

It's a unique and hilarious experiment that promises to enthral and entertain.

In Tails launched in 2016/17 with a selection of shows at the Adelaide Cabaret Festival, Festival of Voices, Albury Entertainment Centre, Spiegeltent Hobart and Capital Theatre Bendigo to a resounding applause.
Colin Lane, comedian/professional show off is best known as the Lano from Lano and Woodley. They've won 'Best in Show' at the Edinburgh Fringe Festival, 'People's Choice Award' at the Melbourne Comedy Festival with their last two tours (2006 and 2018) amassing 235,000 ticket sales around the country. Colin has appeared in the production Don's Party, appeared on TV shows such as QI, Good News Week, Spicks & Specks, Thank God You're Here, Neighbours, Family Feud and Ready Steady Cook.
David Hobson, tenor and composer, is one of Australia's best-known opera performers with a repertoire that spans all styles from Baroque through to pop and award-winning performances with Opera Australia. He has #1 ARIA albums, and was the leading man in Chitty Chitty Bang Bang, Follies and Funny Girl. He has appeared on Spicks and Specks, Dancing with the Stars and It Takes Two, plus presented on Foxtel's Studio and since 2017 has been touring the successful production "The 2 Of Us" with Marina Prior.
Concert is performed upstairs in the Sorrento Room @ Centro CBD
please note before purchasing tickets that unfortunately at this stage there is no disable access or lift
OFFER 1 Dinner & Show - $95 ( Main Meal only) & show
OFFER 2 Show Only - $65 Limited tickets but you can still enjoy a meal down stairs by booking our A La Carte restaurant prior to the show.
Desserts are always on offer to purchase on the night at the concert
Drinks can now be delivered to your table by ordering & paying through our Mr YUM Ordering App
Due to catering tickets are closed off on the day of the concert
but can still be purchased by phone or emailing us.
Doors open 6.30pm Dining starts 7.15pm Show time 8pm
Booking Fees Apply
IMPORTANT !! IF YOU MISSED TELLING US WHEN YOU BOOKED YOUR TICKETS PLEASE NOTIFY US BEFORE COMING TO THE SHOW IF YOU OR YOUR FRIENDS HAVE ANY DIETARY ISSUES OR ARE UNABLE TO EAT CERTAIN FOODS TO ALLOW US TO MAKE ALTERNATE MEALS FOR YOU IN TIME. MEALS COULD BE FISH, PORK, BEEF, CHICKEN or LAMB ALTERNATE SERVE.
Ticket cannot be exchanged or refunded for any reason including Covid illness or isolation unless the show is cancelled or rescheduled but tickets can be resold or given to other people