Churchlands School of Music and RASWA
present
Churchlands Wind 1 and RASWA Brass Band
Combined Concert
5 August 2017
2pm
at the Churchlands Concert Hall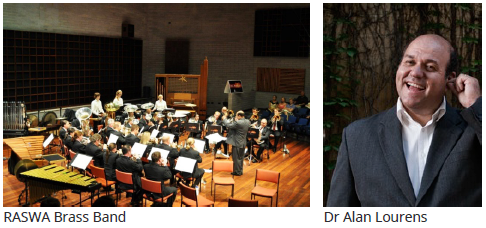 As WA's premier brass ensemble, The Royal Agricultural Society of WA Brass, provides music in all styles – from traditional hymns, marches and contest music to light classics, popular and specialty music.
RASWA Brass is proud to have Dr Alan Lourens as its Musical Director. Alan has been associated with the band for many years both as a player and a conductor. In addition to his excellent conducting skills, Alan also regularly produces compositions and arrangements for the band to perform.
As well as conducting RASWA Brass, Alan is Head of the School of Music at the University of Western Australia, where he directs the Orchestra, Wind Ensemble and Brass Ensemble. Previously, he held Professional positions at leading arts institutions in Singapore, Dubai and Australia.
RASWA join Churchlands SHS Wind Orchestra 1 for a combined concert on August 5th at 2pm. This is an amazing opportunity for our students to work with an international level ensemble, playing a wide variety of serious and light repertoire.
The combined ensembles will be performing a variety of exciting works, including:
A Festive Overture – Shostakovich
A Zillion Nickels – Hazo
Carmina Burana – Orff
Tickets are free, so please come along and support our students in this entertaining hour of music making.
For further enquires please contact Tina Zimmer on 9441 1737 or email
tzimmer@churchlands.wa.edu.au