Carbon Budgets and the Law Seminar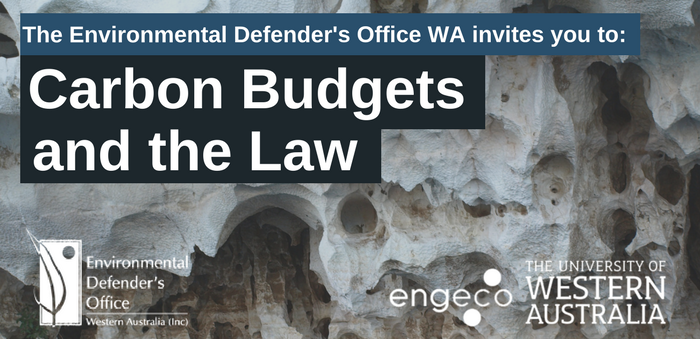 The Environmental Defender's Office WA and UWA's Centre for Mining Energy and Natural Resources Law invite you to join us for a legal seminar on Carbon Budgets and the Law. The Paris Agreement's 1.5-2C temperature goal implies a global carbon budget which presents challenges to every economy and industrial sector. These are particularly acute in areas like mining and energy and create important dilemmas for lawyers and other professionals advising in this area.
This seminar is an important opportunity to hear from experienced speakers on the concept of the carbon budget and its legal implications.
DETAILS
Date: Tuesday 10 October 2017
Time: 5:30pm
to 7:00pm
Location: Law Lecture Theatre, University of Western Australia
Light refreshments will be served after the seminar.
CPD Point Allocations
Category 3 - Ethics - 0.5 points
Category 4 - Substantive Law - 1 point
Speakers
David Ritter
Greenpeace Australia Pacific, UWA & Sydney University
As a former lawyer practising in mining, energy and native title WA, the current CEO of Greenpeace Australia Pacific, David Ritter is in a unique position to give insights into some of the challenges arising for mining and petroleum lawyers working in a carbon constrained world.
Professor John Chandler
Co-director of the Centre for Mining, Energy and Natural Resources
"High value, low carbon" is how one CEO of a major international oil company described its strategy going forward. This encapsulates the dilemma for companies which must balance obligations to their shareholders with complying with the UN's sustainability goals. John will consider the efforts made by companies to achieve this balance, and what the implications are.
Michael Bennett
UWA PhD Candidate, formerly Commonwealth Department of Environment
The Paris Agreement's 1.5-2C temperature goal implies a global "carbon budget", or limited quantity of greenhouse gas emissions that can be emitted consistently with that goal. National emission reduction goals are also increasingly being expressed in carbon budget terms.
Michael will consider the emergence of the concept of the carbon budget, its use in the Climate Change Act 2008 (UK), and the case for the enactment of Commonwealth and Western Australian legislation of this kind.
THANK YOU TO OUR SEMINAR PARTNERS