Bullying, discrimination and harassment free workplace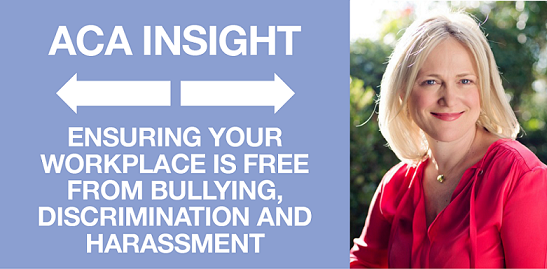 Ensuring your workplace is free from bullying, discrimination and harassment -

Every day the news is full of horror stories relating to discrimination, harassment and bullying claims in the workplace. Navigating these areas of legislation in practice can be very challenging for businesses.
Through examples and case studies, Merilyn will help you:
Understand what behaviour is lawful and unlawful

Understand how your business needs to interpret and administer these areas of law – policy and procedure

Understand what support needs to be in place for your employees

Understand your responsibility as an employer or manager
Merilyn Speiser – Principal Consultant, Catalina Consultants
Catalina Consultants' founder and Principal Consultant, Merilyn Speiser, has over 20 years' experience in the development of business strategies, leadership development, people and performance management and succession planning.
Merilyn launched Catalina Consultants after an extensive career as Partner and Head of HR at Crowe Horwath, a leading international accounting firm. This experience has given her a thorough appreciation of what it takes to help clients achieve their goals in a challenging environment, particularly in the areas of talent, performance and engagement.
In addition to running her business Merilyn also develops and delivers leadership programs both in Australia and internationally, and she is a sought-after presenter, writer, mentor and coach.
Venues across Australia or remote access for those unable to attend a venue or who prefer to join online
See next page for list of venues
CONTACT
M: 0413 520 548