Songs for Asylum
An evening of music to support refugee rights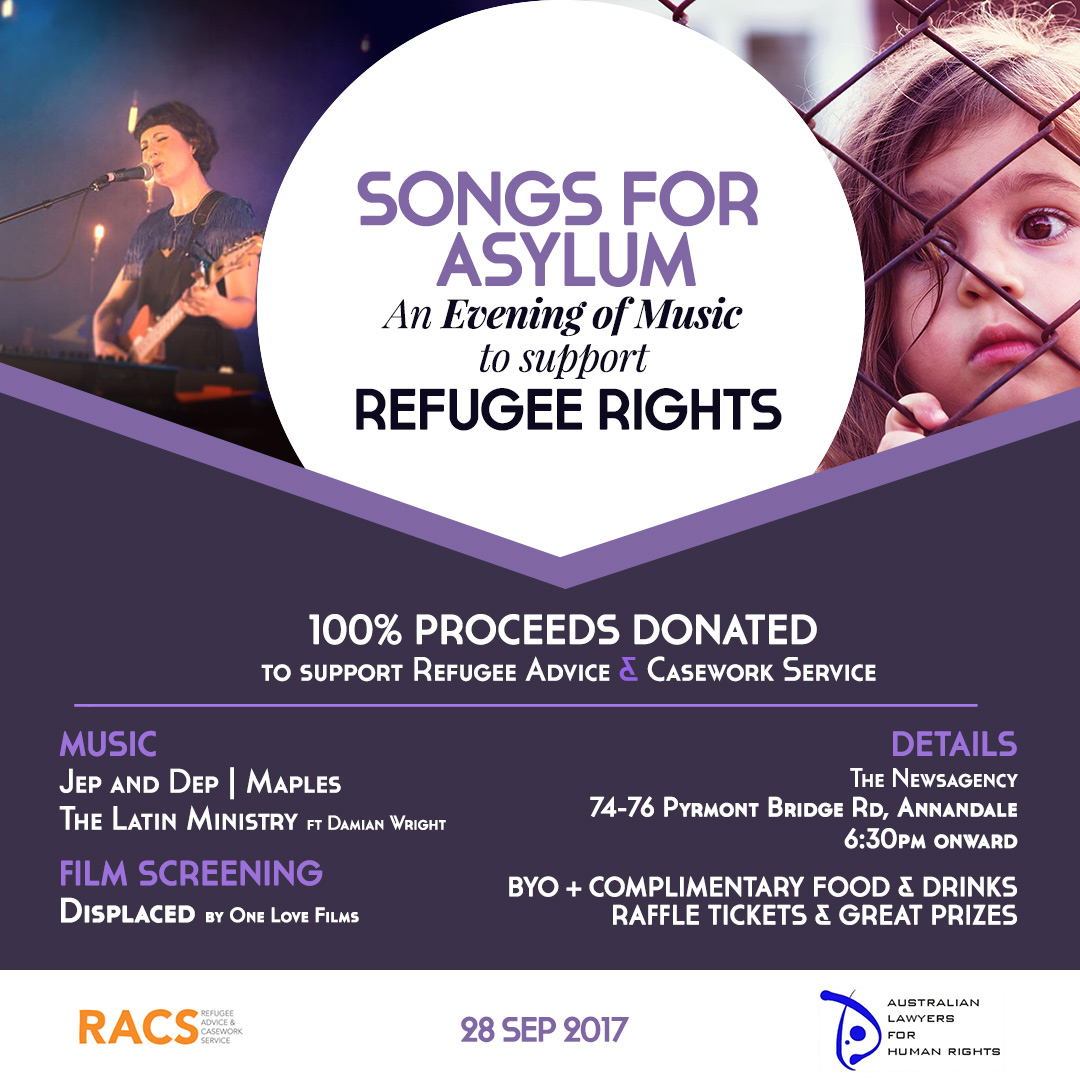 Songs for Asylum: An Evening of Music to support refugee rights
Organised by the Australian Lawyers for Human Rights (ALHR), this event is an evening of film, music and spoken word, bringing the community together to raise awareness and inspire conversations about the rights of asylum seekers and refugees in Australia.
At a time when the Australian law and policies are having prejudicial impact on the rights of people seeking asylum, ALHR believes it is important for the community to remain informed and to support the tireless of work community legal centres in upholding the rights of people seeking asylum.
All proceeds from this event will go to support the Refugee Advice and Casework Service (RACS) in Sydney - one of Australia's leading refugee legal centres providing free, specialist legal assistance to people seeking asylum and refugees seeking to reunite with their families.
Together with a great line up of music and a short film screening, Khanh Hoang, co-chair of the Refugee Rights Subcommittee of the Australian Lawyers for Human Rights and representatives from the Refugee Advice and Casework Service will speak about the current situation facing asylum seekers and refugees in Australia.
BYO Drinks
Film screening and presentation from ALHR and RACS: 7.00pm
Music from 7.30pm until approximately 10.15pm (with intermissions).
Location
The Newsagency
74 - 76 Pyrmont Bridge Road, Annandale NSW
Contact Details
MUSIC FEATURING
Jep and Dep are an underground Folk-Noir Duo from Sydney. Their music is often compared to Nick Cave and Kylie Minogue as well as Leonard Cohen meets Beth Gibbons (Portishead). They duo create beautifully dark, haunting and cinematic music. Formed in 2012, the duo independently released their acclaimed debut Album and went on to support Johnny Marr (The Smiths), Alduous Harding, LOW, Cash Savage and The Last Drinks, Jessica Pratt and Courtney Barnett to name a few. In August 2017 they released their second album THEYVEBEENCALLED which is being described as "supremely atmospheric, and revels in the shadows" by Rolling Stone Magazine.
MAPLES (Gabby Huber) Sydney-based songstress Gabby Huber is well known to Australia's larger music community for her previous endeavours as a band member, touring and playing abroad as a keyboardist and vocalist. Now, after spending several years quietly and carefully crafting her solo sound, she is stepping into the world as Maples.
The Latin Ministry with special guest Damian Wright (flamenco guitarist)
The Latin Ministry is a Sydney based band that specialises in music from Cuba, Brazil and other parts of Latin America.

They will be joined by special guest, ARIA-nominated flamenco guitarist Damian Wright. Damian's flamenco ensemble BANDALUZIA won the Sydney Fringe Festival "Pick of the Festival" award and was recently invited to perform at the Sydney Opera House Concert Hall to a sold out audience as part of Tedx 2014 as well as performing at The Sydney Festival amongst many others
FILM
Genna Chanelle Hayes is a dedicated storyteller with a focus on universal human rights. She works both in front of and behind the camera as a writer, director, producer and actress. Genna has recently returned from Cannes Film Festival where she debuted her film, Wurinyan.
She will be showing her short film DISPLACED, which she described as a "film that not only addresses our current refugee crises, but goes beyond that into the issues driving it"