Gina Williams & Guy Ghouse at The West End Sessions
FRIDAY 23 FEBRUARY 2018, 7pm-10pm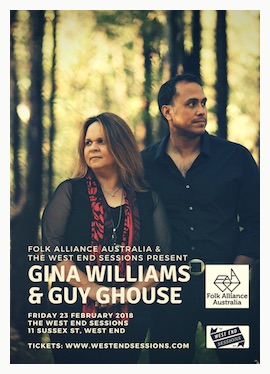 Incandescent vocals...guitar brilliance...rare language...songs of hope...and a whole lot of heart...
Gina Williams and Guy Ghouse are one of those rare acts which connect and capture the hearts and imaginations of audiences through the power and pure emotion of song. They bring a fresh, modern take on ancient traditions; merging evocative sounds, poignant stories, rare language and that beautiful voice.
The songs and performances are informed by four principles; Koort (Heart), Moort (Family), Boodja (Land) and Koorlangka (Children/Legacy).
Gina is a proud Balladong (Noongar) daughter with links, through her grandmother, to the Gitja people of the East Kimberley. Her music is informed by an ancient Indigenous culture and she has drawn from a deep well of recent West Australian and an even deeper personal history.
Performing with the all-important blessings of her elders and her community, Gina and Guy will take you on a journey you will not get anywhere else in the world. And it's one you are not likely to forget.
WINNER: Aboriginal Category, 2017 West Australian of the Year Awards
WINNER: Indigenous Category, 2004, 2013, 2014, 2015 & 2016 WA Music Industry Awards
WINNER: 2014 Artist of the Year, NAIDOC Perth Awards
Location
The West End Sessions (inside Uniting Church)
11 Sussex St, West End, BRISBANE, Qld, 4101