A Night For Brendan - Fundraiser Gala Dinner (SOLD OUT)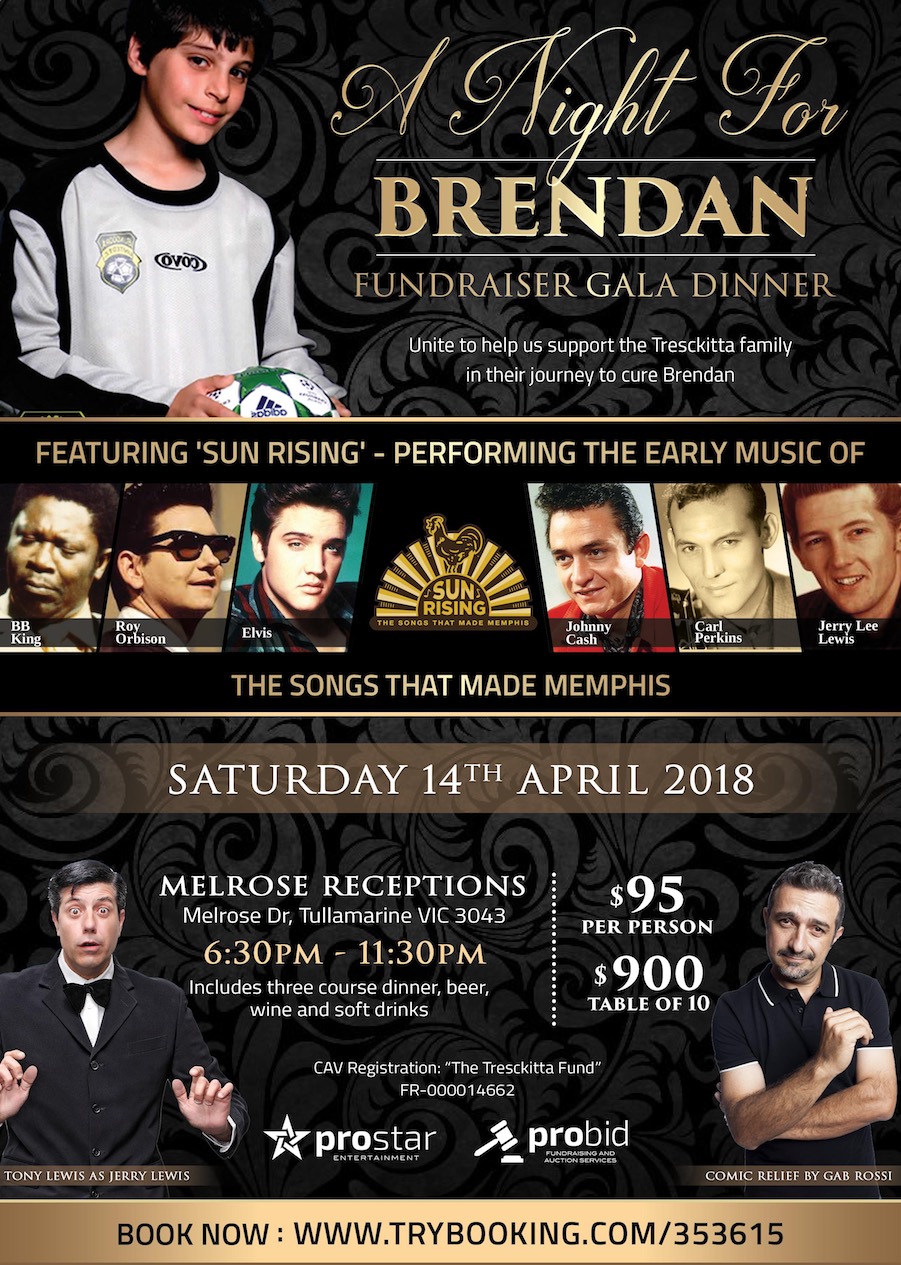 In the case of young Brendan Tresckitta, the need to find the very much-specialised assistance he requires is just half of the battle. With Brendan being one of only around 20 people in the world with this condition (a neurodegenerative condition known as SMA-PME), the challenge is to be able to give him access to overseas medical treatments that may prove to be the medical breakthrough needed in the treatment of this extremely rare and debilitating disease.
With the generous support of people and organisations like you, we will be able to help Brendan and his family to work toward a quality of life, that such a beautiful young soul deserves.
Unless the medical breakthrough treatment is found and administered, the condition will relentlessly continue to rob him of daily activities which we take for granted each day. An affected person loses their ability to move, speak and to feed themselves while seizures remain a constant problem. As parents, Joe and Irene face the very real and heartbreaking deterioration of their son.
Join us for a night full of fun and entertainment, as we together work towards helping this special young teenager who has touched so many hearts.
You will enjoy a three course dinner, beer, wine and soft drinks as well as live performances from world renowned 'Jerry Lewis' act and lookalike, Tony Lewis, as well as Melbourne's own funny man, straight from the world stage, Gabriel Rossi.
If that wasnt enough, performing live and exclusive will be the 'Sun Rising' band and the 'Songs that Made Memphis'. A five piece band and a world class act, authentic and dedicated to the era of music that the world will never forget.
As we aim to raise much needed funds, raffles, silent and live auctions will also help to invigorate the evening where you will have the opportunity to offer a contribution to this worthy family as a sign of your own support.
It will be a night to remember!
For those who cannot attend this event, but would like to DONATE TO SUPPORT BRENDAN, please use the following banking details:


The Tresckitta Fund


BSB - 063 886




ACC - 10524024



*This is a ticketed event, please note that tickets will not be sold on the night. All bookings must be made through this website no later than 31st March, 2018.
VENUE & TIME
Melrose Receptions
Melrose Drive, Tullamarine VIC 3043
Dress Code: Semi Formal (Ladies - Evening/Cocktail Dress, Men - Dinner Suit or Pants/Shirt - Tie is optional).
Contact Details
For any enquiries, please contact Lou Metelovski on 0418 595 845 or lmetelovski6@bigpond.com