B# Swingin' The Copa - 2019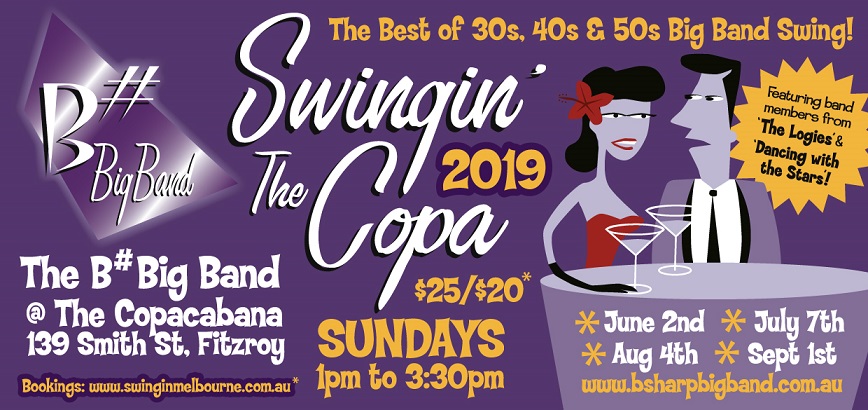 Description
You've heard the hype, now feel it live... The B# Big Band 'Swingin' The Copa!'
Melbourne's sharpest musicians and vocalists are back in the public spotlight, featuring the big swingin' sounds of Count Basie, Duke Ellington, Benny Goodman, Glenn Miller and other swingin' Big Bands & vocalists of the 30s, 40s & 50s swing era.
The B# Big Band - Swingin' The Copacabana

139 Smith St, Fitzroy. Ph: 9417 7099

Sunday arvos, June 2nd, July 7th, Aug 4th & Sept 1st 2019

1pm to 3:30pm

$20 tickets sold via this website (& $15 for 'group bookings' of 20 or more) up to 3 days before the event. Otherwise, $25 'on the door', on the day, unless 'sold out' beforehand.

$5 extra for a 45min intro / refresher 'swing dance' class - 12pm to 12:45pm.

NOTE 1: Purchasing tickets via this website up to 3 days before each event

guarantees

entry and an allocated seat under your name.
NOTE 2:

Are You Joining Someone Else's Table?

If you wish to be seated with other guests, or part of a bigger group, please specify this information during your booking process. Simply, name the person or the group, who has booked your table via the Copacabana venue, and we'll then be able to sit you together.
NOTE 3: Are You A Table Organiser?
'If you are a 'table organiser', ring The Copa on 9417 7099 to arrange this, after you have booked tickets. Then, ensure your other guests quote your name or 'group name' when they book their tickets via this site. This will help us to seat you all together.
These events are otherwise 'General Admission' and it's 'first in best dressed' for all remaining seating. Rest assured, there's a great food and drink options at The Copa on the day, and plenty of free parking around the venue.

Be sure to spread the word & check out these other useful B# pages:
Otherwise, see you at The Copa - June 2nd, July 7th, Aug 4th & Sept 1st 2019.
Venue
The Copacabana
139 Smith St
FITZROY, VIC 3065
Contact Details:
Henry Kovacevic
Phone: 0416 271 319
Email: henry@bsharpbigband.com.au