Let's Talk About Respect, Gender & Pornography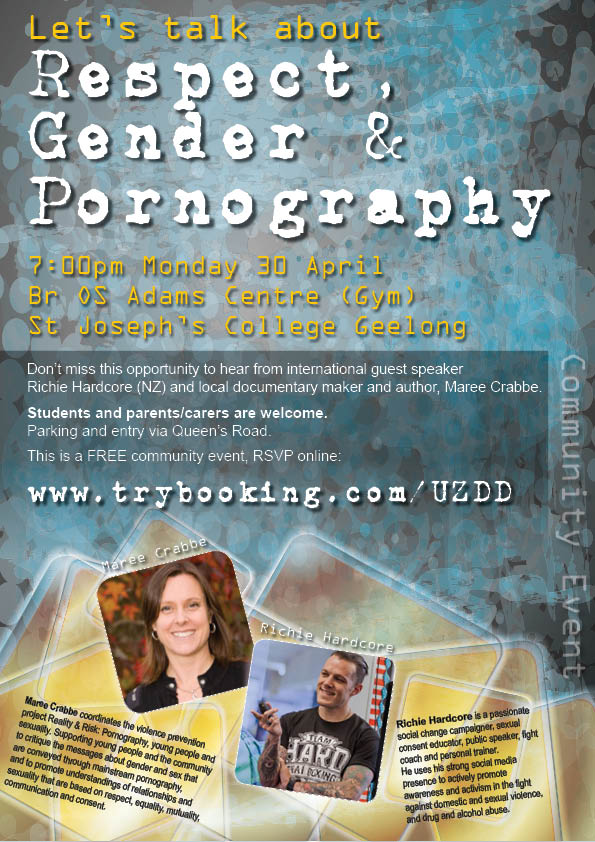 An opportunity to hear from International guest speaker: Richie Hardcore (NZ) and Maree Crabbe along with a local Q&A panel on respect, gender and pornography and their impacts and changes on the youth of today.
Doors open 6:30pm for a 7:00pm start. Br OS Adams Centre (gym).
St Joseph's College Edmund Rice Campus.
135 Aphrasia Street, Newtown, VIC. Parking and entry via Queen's Road.
Students and parents/carers are welcome.
This is a FREE event, however RSVP online is essential.
GUEST SPEAKERS
MAREE CRABBE
Maree Crabbe coordinates the violence prevention project Reality & Risk: Pornography, young people and sexuality. Supporting young people and the community to critique the messages about gender and sex that are conveyed through mainstream pornography, and to promote understandings of relationships and sexuality that are based on respect, equality, mutuality, communication and consent.
https://theconversation.com/profiles/maree-crabbe-101591
RICHIE HARDCORE
Richie is a passionate social change campaigner, sexual consent educator, public speaker, fight coach and personal trainer. He uses his strong social media presence to actively promote awareness and activism in the fight against domestic and sexual violence, and drug and alcohol abuse.
http://richiehardcore.co.nz/
Location
Br OS Adams Centre (Gym)
St Joseph's College Edmund Rice Campus, 135 Aphrasia Street, NEWTOWN VIC 3220