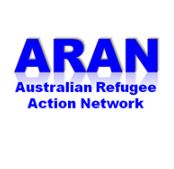 ARAN National Conference 2018
All refugee activists and advocates are invited to attend the ARAN CONFERENCE - Saturday 7th and Sunday 8th July in Melbourne.
The AUSTRALIAN REFUGEE ACTION NETWORK conference is open to anyone interested in refugee activism and advocacy. Gather with other activists and advocates to:
• Discuss the political context and campaign priorities
• Share ideas and experience for mobilising and effective campaigning
• Explore ideas for strengthening national coordination
Conference program - Saturday 7th July (8.30am - 5.15pm) & Sunday 8th July (9am-11.30am)
Conference Dinner 6.30pm Saturday 7th July
Election of ARAN Committee - nominated delegates only - Sunday 8th July (12noon-1pm)
ARAN Committee meeting & lunch 1-2pm
BOOK YOUR PLACE AT THE CONFERENCE now !
Please book individually for each person attending the conference
See more further details about the conference at australianrefugeeactionnetwork.wordpress.com/conf-2018/, including some low cost accommodation options near the conference venue. A limited number of home stay (billets) will be arranged - if you wish to register for a home stay choose this option when you book.
If you can't attend the conference, but would like to support a person from refugee background to attend, you can make a donation on this booking site - all donations will be much appreciated
Location
ANMF Building (Australian Nursing and Midwifery Federation - Victorian Branch)
535 Elizabeth Street, Melbourne Victoria 3000