Youth Boys Open Athlete Assessment Trials 2018
The QBE Sydney Swans Academy is holding Open Athlete Assessment Trials for boys aged 10 - 12 years. The assessment will involve a range of skill and motor competency tests, with each player receiving an individual feedback report following the assessment.
TRIAL DATES:
U10s (born in 2008) – Monday July 16
U11s (born in 2007) – Tuesday July 17
U12s (born in 2006) – Wednesday July 18
VENUE: Lakeside Oval, Driver Avenue, Moore Park, NSW 2021
TIME: 5pm - 7pm
COST: $50 (Payments can be made via Mastercard or Visa, American Express will incur a 1.1% surcharge)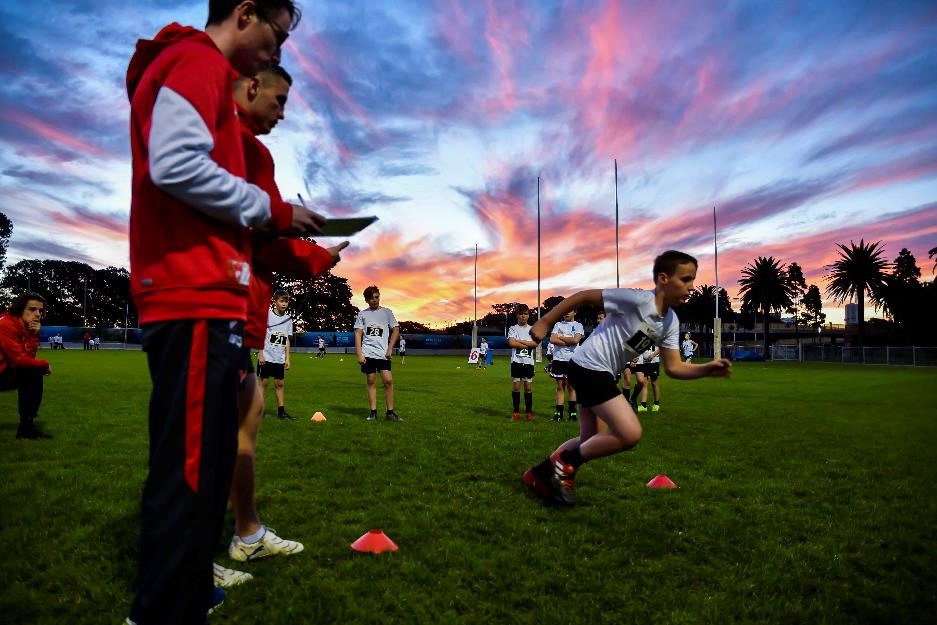 Registrations close at 5pm on Friday July 6 and are subject to capacity. Players are not permitted to turn up on the day if they fail to register before the cut-off date or prior to tickets selling out.
Please note, the above dates are the only scheduled trials for 2018. If players cannot attend their age group's date, they will need to wait until the 2019 trials (alternatively there are further opportunities to be identified during club football games, representative carnivals and school carnivals throughout the year).
There are no refunds provided under any circumstance. Please ensure you select the correct ticket that corresponds with your child's DOB. If your age group is sold out and you purchase tickets in another age group, this will not be refunded and you will be unable to attend the event.
Following the assessment, players will be notified on their performance with positions available in the 2019 QBE Sydney Swans Academy program. Players must reside in a Local Government Area aligned with the Sydney Swans to be eligible for selection in the QBE Sydney Swans Academy program.
Youth Girls Trials will be held in September. Please visit our website for more information and to register your interest.
What is the refund policy?
Under no circumstances will refunds be provided. This includes refunds due to injury, sickness, registration error, change of mind or wet weather cancellations. In the event your age group is sold out and you register under an alternate incorrect age, there will be no refund given and you will be unable to attend the event.
Do I have to register and pay for the event online?
Yes, players must register and pay online using this website if they wish to participate in the event. Payments cannot be made over the phone or in person. Registrations close Friday July 6 (if not sold out earlier) and no further registrations will be taken after this date.
Do I need to reside in the Swans Academy zone to be selected?
Yes, only players who reside in the Swans Academy zone can be selected in the program. Academy zones in NSW are based on Local Government Areas. A list of LGAs aligned with the Swans Academy can be accessed here. The updated zone surrounding the Hills District can be accessed here.
Are there minimum age requirements to enter the event?
Players must be turning a minimum of 10 years of age in 2018 to participate in the event. Younger players who are registered will not be eligible to participate, nor entitled to a refund.
I can't attend the trial date for the player's age group, can I trial on another date?
There are no opportunities for further trials in 2018 if you are unable to attend the scheduled date for the player's age group.
What are my parking/transport options for getting to and from the event?
There is two hours free parking in the Entertainment Quarter carpark, which is accessed via Lang Rd, Moore Park. Alternatively, there is limited metered parking along Driver Avenue.
The closest train station is Central and the closet bus stop is located near Sydney Boys High School along Anzac Parade.
What do I need to bring to the event?
Players must wear a plain white t-shirt, black shorts and black socks to the event. Alternatively, a plain white long sleeve tee can be worn. We will provide each player with a bib number on arrival.
Players need to bring a drink bottle, mouth guard and football boots.

When do I find out if a player has been selected for the Academy program?
Players will receive a feedback report one month after the trials, which will state whether they have been selected for the 2019 Academy program.
Will the event go ahead in wet weather?
The event is unlikely to go ahead in wet weather. If the event is cancelled due to wet weather, an alternate trial date will be provided. There are no refunds available if the event is rescheduled due to wet weather and you are unable to attend the new trial date.