[A COMMUNITY HEALTHY DAY]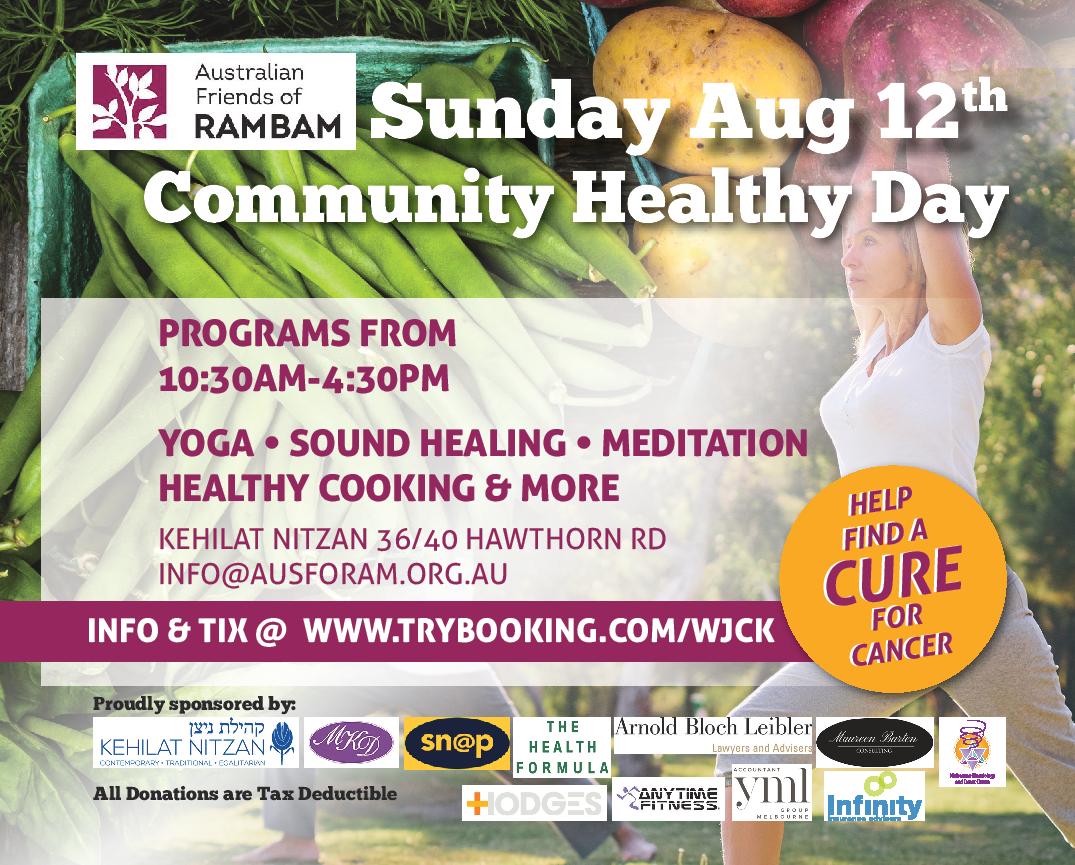 CODE EVENT should be entered after choosing your preferred sessions.
All proceedings towards the Cancer research at Rambam Hospital!
10:30-10:45 - Opening Ceremony with MP David Southwick
10:45 -11:45 Power Flow Yoga with Denise Orloff
10:45 - 11:30 - Inner Smile Mindfulness program facilitated by Ros Ben-Moshe
11:45-12:45- Light Lunch & a talk COOK WELL. EAT WELL. BE WELL. With Sandra Dubs
13:00-14:00 Meditation with Sharon Tal
14:00 -14:30 Afternoon Tea Guest Speaker Dr Jess Bravo: "Your Spinal Health Matters"- chiropractor
14:00-14:30 -Tantric breathwork And tantric yoga with Azra Sabljo
14:30 – 15:30 – Sound Healing with Yael Kollan
15:30 – 16:30 - Rambam Philosophy with Dr.Raphael Dascalu
*During the day, Carmella Flescher is offering Medical Qi-Gong treatment.
Location
Kehilat Nitzan 36/40 Hawthorn Rd, Caulfield Nort
Contact Details
info@ausforam.org.au
https://www.facebook.com/ausforam/
http://www.ausforam.org.au/contact.htm