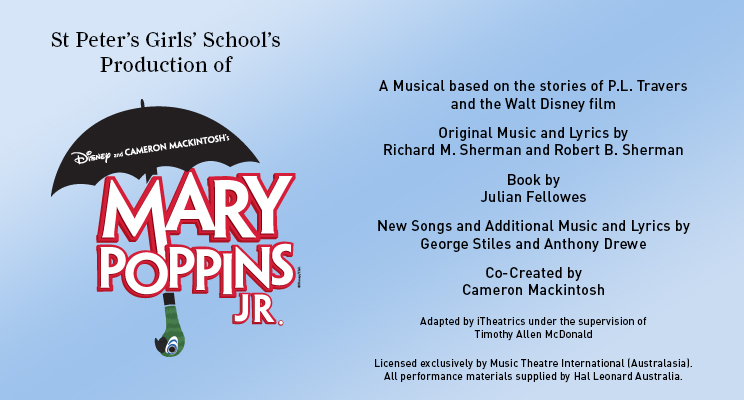 An absolute favourite because of its beautiful music and lovely story with a message about the importance of family,
this production will delight one and all. Songs like Let's go Fly a Kite, A Spoonful of Sugar and Supercalifragilisticexpialidocious
will have everyone's toes tapping. Lovingly directed by Shelley Hampton and choreographed with skill and talent by Sarah Mulraney.
Please come join us!
Thursday 27 September - Friday 28 September
Adults: $16
Student/Concession: $10
Family: $40 (2 adults and 2 children)
Friends of Arts will be selling refreshments before each evening performance and during interval
Contact Details:
For all production enquiries please contact Shelley Hampton, Director - shampton@stpetersgirls.sa.edu.au
For all Trybooking enquiries, please contact Fiona McGregor, Event Coordinator, Community Relations Department - fmcgregor@stpetersgirls.sa.edu.au