Johnny Cobra's Floating Roadshow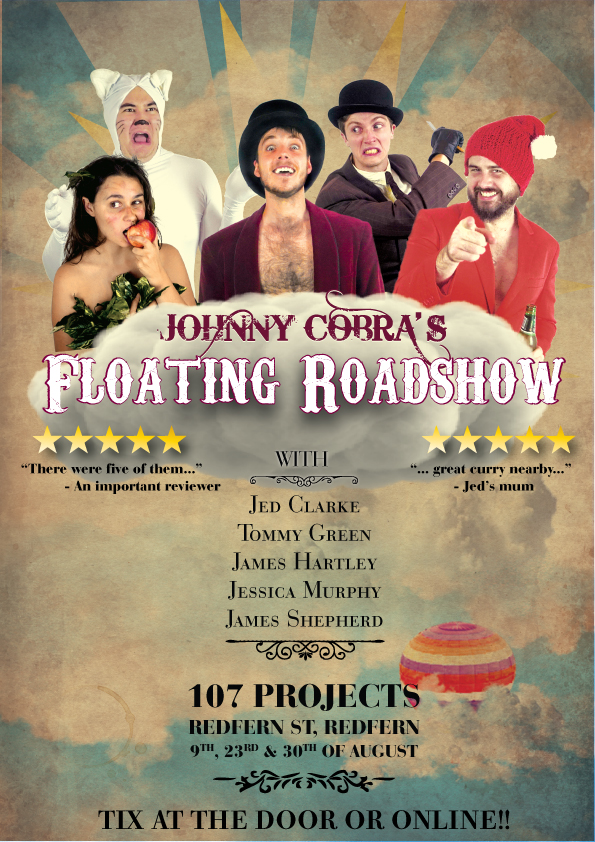 Rollin' up to a theatre near Redfern station - it's only The Floating Roadshow!!

Fat cats and cockney criminals, forbidden fruit and a young Santa pitching Christmas to a bank; comedy troupe Johnny Cobra tackles it all.
Johnny Cobra comprises three angry white men (one's got a tan), an entire woman, and even a chubby Asisan who was brought out here at vast expense, from Meadowbank.
7:30 Thursday 09/08/2018 (Preview Night)
7:30 Thursday 23/08/2018
7:30 Thursday 30/08/2018
Location
107 Projects
107 Redfern St, Redfern NSW 2016
Contact Details
Tommy (Producer) 0402 360 779
info@tommygreenproductions.com
Johnny Cobra's Facebook Page https://www.facebook.com/johnnycobracomedy/
Johnny Cobra's Instagram https://www.instagram.com/johnnycobracomedy/
107 Projects Contact Page http://107.org.au/contact/