Watsonia Heights Primary School Car Boot Sale Sat 24th Nov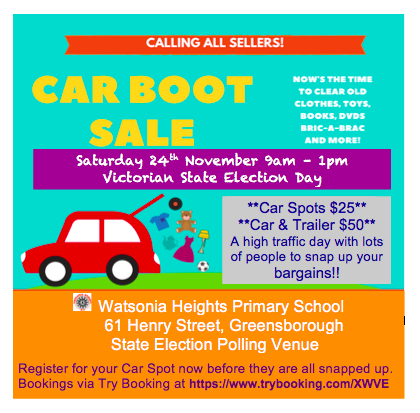 Watsonia Heights Primary School (WHPS) is hosting a Car Boot Sale on Sat 24th Nov 2018 - 9am-1pm to coincide with the Victoria State Election. WHPS is a polling venue.
*Unreserved Spots - Cars $25 & Car with Trailers $50. *All cars &/or trailers must be in place between 7.30 and 8.30am. No vehicle entry after this time and NO EXIT before 1pm. *No Food or Drink vendors please as WHPS will be operating our own on the day. *All funds raised go toward making our wonderful school even better.

Location
Watsonia Heights Primary School
61 Henry St , Greensborough VIC 3087