CREATING SPACE: A WORKSHOP FOR WOMEN IN THE ARTS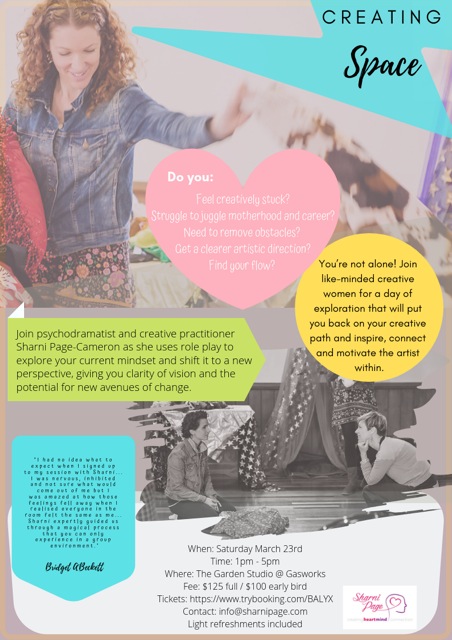 Description
Do you: Feel creatively stuck? Need to remove obstacles? Find your flow? Get a clearer artistic direction?
You're not alone! Join like-minded creative women for a day of exploration that will put you back on your creative path and inspire, connect and motivate the artist within.
Join psychodramatist Sharni Page-Cameron as she uses role play to explore your current mindset and shift it to a new perspective, giving you clarity of vision and the potential for new avenues of change.
Venue
The Garden Studio @ Gasworks.
21 Graham St, Albert Park,
VIC, 3206.
Contact Details:
Sharni Page-Cameron
sharni@sharnipage.com
0417017097
www.sharnipage.com
www.facebook.com/sharnipsychodramatist
Get directions