Garden States - Cultivating Ethnobotanical Plant Knowledge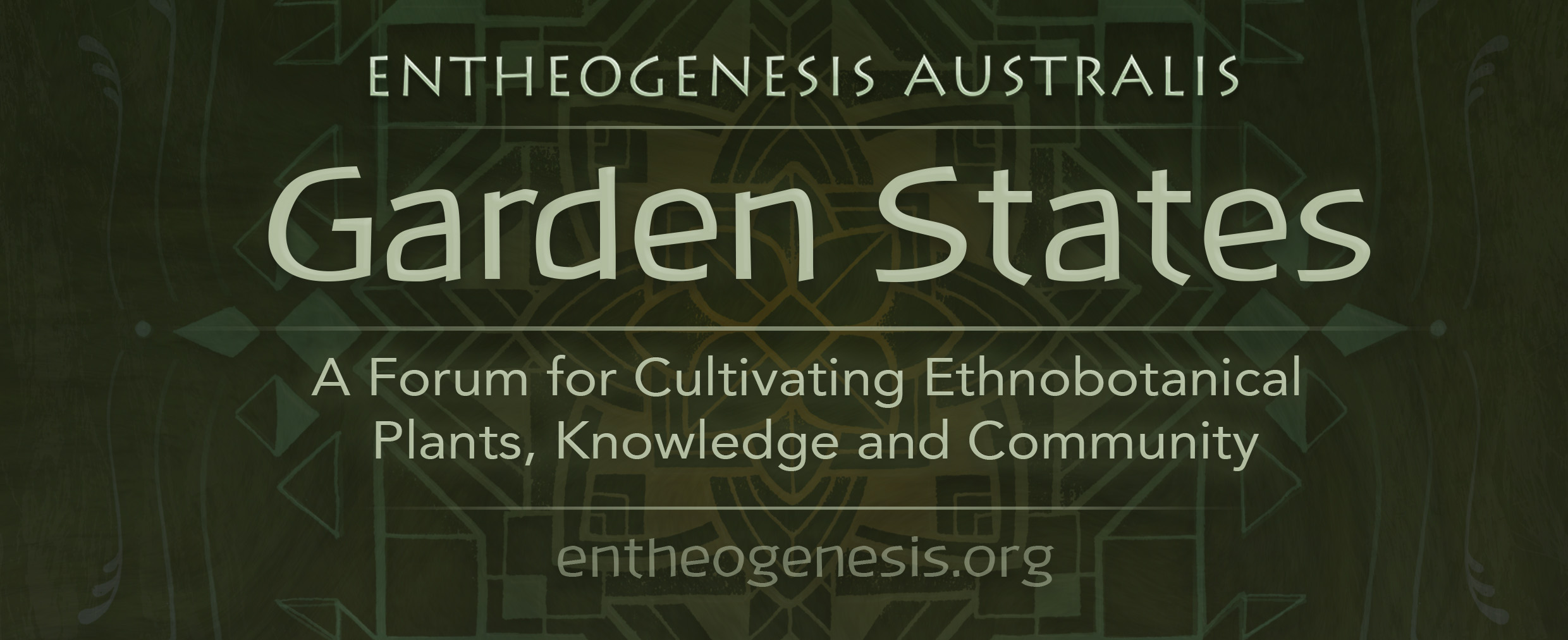 Garden States - A Forum for Cultivating Ethnobotanical Plants, Knowledge and Community

Join us for a full day of ethnobotanical knowledge sharing and discussion on psychedelic plants & culture. EGA is a not-for-profit educational organisation that exists to provide opportunities for critical thinking about psychedelic plants and related compounds. The Ethnobotany community will come together to honour the 'Mother Plants' this Mother's day @ Garden States 2019
The symposium will be an indoor community gathering comprised of keynote lectures, panel discussions, workshops and a market space all celebrating the sacred garden and importance of the botanic world.
Please invite any like-minded friends to the symposium on May 12 for a day of critical thinking about psychedelic plants and related compounds.
International presenters Charly Bedrossian and David Nickles will join pioneering Australian scientists Aunty Fran Bodkin and Monica Gagliano as well as a host of botanically minded local talent for a full day of programming over two spaces.
Environmental scientist and D'harawal Elder Aunty Fran Bodkin will present a lecture on plant associations between medicinal native species from a holistic perspective incorporating both Western and Indigenous science. Fran is the author of 'Encyclopedia Botanica: The Essential Reference Guide to Native and Exotic Plants in Australia', which contains over 11,000 entries on Australian native plants.
Scientist and author Monica Gagliano, PhD will speak on plant communication, sentience and the new field of bioacoustics. Monica is the author of the recent book 'Thus Spoke the Plant' and is a Research Associate Professor in evolutionary ecology and former fellow of the Australian Research Council. She is now based at the University of Sydney as a Research Affiliate at the Sydney Environment Institute and a Senior Research Fellow at the School of Life and Environmental Sciences, where she has established the Biological Intelligence Lab.
The Cannabis College (Amsterdam) head gardener Charly Bedrossian will be sharing his knowledge on the cannabis industry and cannabis law, the importance of education, and cultivation techniques gained from years of experience in the field.
We will also be joined by one of the most outspoken representatives of the psychedelic underground, David Nickles (USA) of the DMT-Nexus, who will be giving both a keynote address on cutting edge ethnopharmacological research endeavours and hosting a discussion group on seed sharing and Psychedelic Sustainability.
This event will be held at Springvale City Hall, in Springvale Victoria. Doors open at 9:15 am on Mothers day with the main program starting just after 10:15 am. The symposium will conclude at approximately 7:30 pm. The symposium will be taking place across more than two spaces, including other activities and attractions such as market stalls and some food & coffee vendors.
EGA events have a history of selling out fast, and tickets are strictly limited, so get your early bird Garden States tickets while you can. We also have a specially priced Mother's Day ticket so bring along your mum, or gift her a ticket, what could go wrong…!
Important Downloads
We hope to see you for this very special botanical symposium.
This is just a sample of the day's events. See the full program here
Visit the Facebook event page here
If you are interested in having a market stall at the event please email marketstalls@entheogenesis.org
Doors open at 9:15am, with talks starting at 10:15am and the event concluding at approximately 7:30pm
Location
Springvale City Hall (Mel Ref 80 A11)
397 - 405 Springvale Rd, Springvale VIC 3171, Springvale Vic 3171
Contact Details
There is free car parking at the back of the hall (enter via 20 Grace Park Ave), alternatively the venue is just 800 meters walk from Springvale railway Station