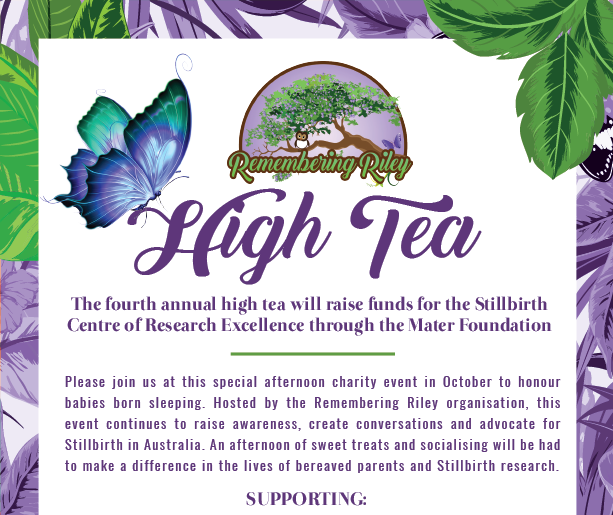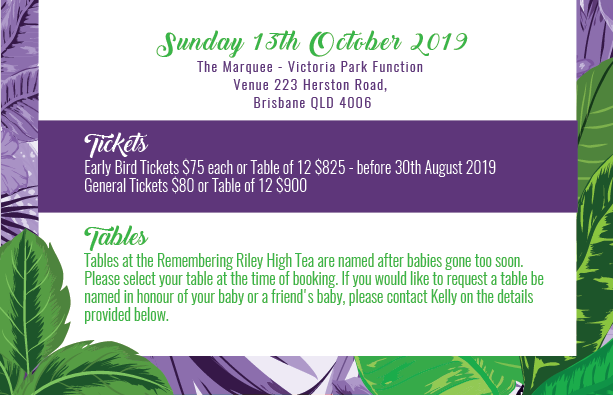 Remembering Riley is currently seeking Sponsors for this event.
$250 Table Sponsorship
Naming Partner Sponsorship, Gold, Silver and Bronze Sponsorship Packages are also available
and actively sought. If you are a business owner interested in supporting the annual events hosted
by Remembering Riley, please contact Kelly on the details below.
Please contact Kelly regarding Table Names and Sponsorship:
Kelly Elliott-Maskiell
rememberingriley021112@gmail.com
THANK YOU FOR SUPPORTING THIS EVENT. WHEN YOU PURCHASE TICKETS TO THE REMEMBERING
RILEY HIGH TEA YOU ARE DIRECTLY HELPING THE BELOW ORGANISATIONS IN THEIR EFFORTS OF:
STILLBIRTH RESEARCH, ADVOCACY, GRIEF SUPPORT, FUNDRAISING AND FAMILIES EXPERIENCING
THE LOSS OF A CHILD IN AUSTRALIA.