RWA OWL: Finding Your Creative Writing Energy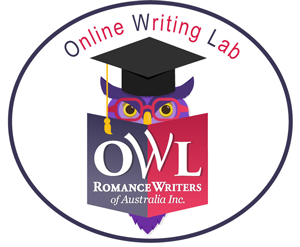 Do you ever get stuck when writing? We have and we'd like to share the alternate activities we've used to reclaim our creative writing energy. Practical, simple, sometimes called wacky, we invite you to give them a try.
We will look at:
Mindfulness.
Meditation.
Reading aloud.
Using divination tools (e.g. pendulum, oracle cards, tarot cards, runes) to come up with alternate ideas.
Using crystals to help with focus, creativity and confidence.
Join in to see what might unlock your creativity.
Catherine has presented writing workshops for the South Coast Writers Centre, Romance Writers of Australia and local libraries. As Cate Ellink, she presented a 2019 OWL on Getting Comfortable Writing Sex. She has also presented workshops, classes, talks and presentations on other topics such as computers, agricultural research, soil acidity and fertility, landscape use, farm management and farming systems.
Together, Kim and Catherine have presented a workshop on Self-Publishing for the Shellharbour Library, and a talk at the Nowra Library. They present a weekly YouTube video and podcast show. Recently, they were invited to speak at the April 2020 WriteHive online global convention. Kim has been a guest on many international podcasts (e.g. Kelton Reid's The Writer Files) and blog posts (e.g. The Creative Penn).
Pre-course preparation
Nothing is required. Just turn up with an open mind and be willing to try things.
Course Type
Mindset.
Hours of Commitment
It's entirely up to participants. If they want to come and collect the notes, that's fine. If they want to be more interactive, we're open to weekly chats as well as discussions in the classroom.
Presenters Bio
Kim Petersen and Catherine Evans live in different towns on the south coast of NSW. Kim writes urban fantasy, paranormal and dystopian fiction. Catherine writes rural romance and has a naughty pseudonym, Cate Ellink, who writes erotica and erotic romance. After meeting at a writing workshop, they combined and have written and published two books together, Untamed Destinies and Creative Writing Energy: Tools to Access Your Higher Creative Mind. They are building a community of writers helping each other maintain their creative writing energy.
https://whisperinginkpress.com/creative-writing-energy/
Course Dates: 4th May to 29th May 2020
Cost: RWA-Member – $55.00 Non RWA-Member – $88.00
* Please note, there is a $0.50 Trybooking fee at checkout.
Venue: Online - RWA Moodle Platform
(Course attendees will be notified of access/login details via email from the OWL Registrar a few days prior to the start date of the course)
RWA OWL Courses
PO Box Q740




Queen Victoria Building




NSW 1230
Contact Details:




Debbie Deasey




OWL Registrar




owlsregistrar@romanceaustralia.com
SaveSave