YWCA's International Women's Day Comedy Show - Adelaide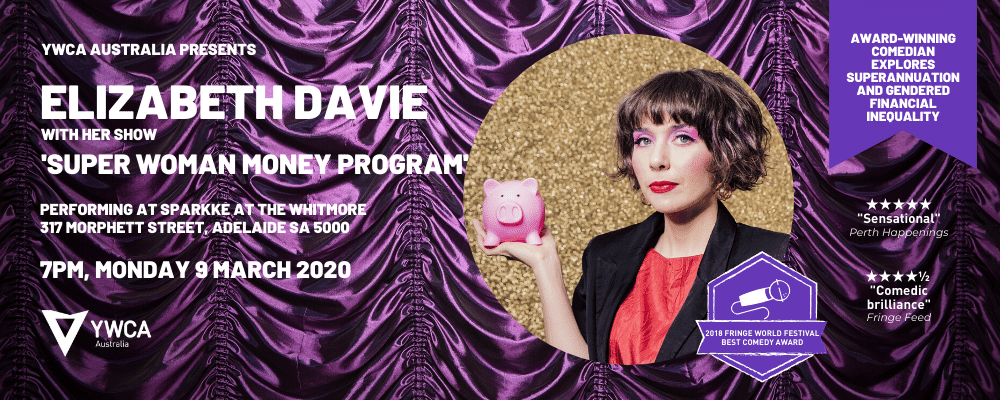 In 2020 YWCA Australia is introducing our Comedy Showcase, presenting some of Australia's leading, young, women comedians.

This year's comedian for Adelaide is Elizabeth Davie.
Elizabeth Davie is an award-winning comedian, performer and theatre-maker from Melbourne, Australia. She has created sell out comedy shows for fringe and comedy festivals around Australia and written and performed in Channel 31 TV shows. Elizabeth has studied clowning, improvisation and performance with Giovanni Fusetti, Philippe Gaulier, Philip Burgers and Deanna Fleysher.

Did you know women often retire with a lot less super than men? Elizabeth didn't. She gets her financial advice from Shirley Bassey and spent all her money going to clown school. But now they tell her she has to raise an extra $350,000 for her retirement, so she's doing a comedy show. Welcome to the Super Woman Money Program.
WINNER Best Comedy Award Perth Fringe World Festival 2018
SOLD OUT Melbourne Fringe 2017, Perth Fringe World 2018, MICF 2018 & Perth Fringe World 2019
★★★★★ "Sensational" Perth Happenings
★★★★½ "Comedic brilliance" Fringe Feed
Sparkke at the Whitmore
317 Morphett Street, Adelaide SA 5000
The function room is wheelchair accessible. There will be an Auslan interpreter on the night.
Contact Details