z 2020/02 Enzo Ferrari 122nd Birthday Dinner &Optional Drive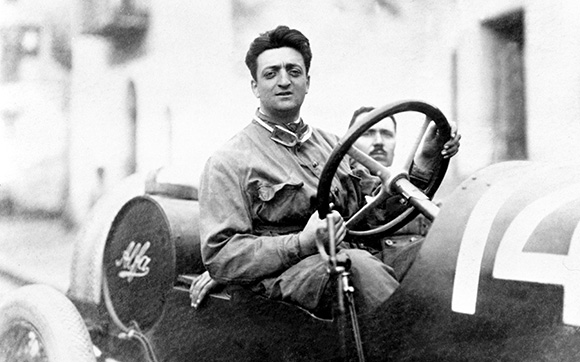 Date: Sunday 16th February 2020
Time: 6pm for some drinks on the terrace followed by dinner at 6.30pm (optional drive 4pm-5.45pm)
Venue: Cavallino Ristorante, Corner McCarrs Creek Rd & Yulong Ave, Terrey Hills (optional drive departs Ferrari Artarmon)
Dress: Ferrari regalia encouraged.
Parking: Safe Ferrari friendly parking at the front door.
Drinks: Pay on consumption.
Food: 4 course dinner (Antipasta, Pasta, Secondi, Dessert) all for $65 pp.
Optional pre-dinner drive at 4pm departs Ferrari North Shore Artarmon and goes to West Head Lookout (see below) and then to the Ristorante.

Note: New chef and new menu at Cavallino Ristorante
To register and pay please press "BOOK NOW" at the top of this page.
Having become quite a tradition now in the club over the past few years, we have been celebrating the birthday of the founder of our great marque, Enzo Ferrari, who was born on 18 February 1898.
The evening is a casual get-together of of like-minded Ferrari folk, giving the opportunity for new members to be welcomed to the club and existing members the chance for a catch-up.
Cavallino Restaurant has been the venue of choice each year, offering delicious Italian cuisine (see menu below), a welcoming environment and most importantly, Ferrari friendly parking with a view from the bar and terrace of the cars.
We implore members to bring their Ferraris on the night as you will be given VIP parking spaces securely at the front of the restaurant, which will add to the celebration.
Drinks and seated dinner will be held on the terrace and in a private part of the restaurant. We look forward to seeing as many members, guests and Ferraris as possible on the night.
Optional drive before dinner: Join us at 4pm on the street front below the Ferrari North Shore Artarmon suspended 488 showcase for a drive through the beautiful Ku-ring-gai Chase National Park to West Head Lookout ($12 park entry) to enjoy the scenery and have a photo shoot with your Prancing Horse.
Dinner Menu:
1. antipasto platters to share: cured meats, cheese ,olives, fried calamari, arancini balls, grilled veggies
2. pasta platters to share: risotto a funghi, linguine marinara
3. secondi served plated and alternate of salmon fillet or roast chicken both served with roasted mixed veggies
4. salad of rocket pear walnut and fries
5. dessert served plated and alternate of cream brûlée or tiramisu
Still and sparkling water on the tables, other drinks pay for at the bar
Cavallino Ristorante
Corner McCarrs Creek Rd & Yulong Ave
Terrey Hills, NSW 2084
Simon Maxwell 02 9221 1222 simon@gateways.net.au
Frank Cavasinni 0407 331 133‬ president@fcansw.org
Get directions