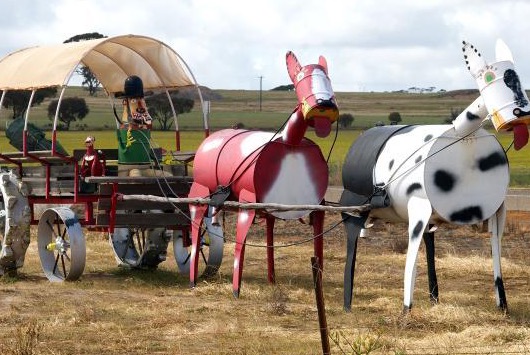 As a number of members have expressed a desire for a longer drive day with an overnight stay, We're planning a Kulin drive weekend on October 10th and 11th
For planning, we have a limit it of 20 cars, this is due to safe parking areas near the accommodation rather than power outlets. There is no limit on passengers.
Location
Town of Kulin
Johnston St, Kulin WA
Kulin is a very small wheatbelt town 282kms from the Perth GPO or 260kms from the Armadale McDonalds type 2 charger, an alternative route is via Williams and Wickepin, 307kms from the perth GPO. Both routes have three phase charging options approximately half way, they should not be needed but a plan B is always important.

Kulin has 2 separate 3 phase Tesla destination chargers plus at least 5 other accessible 3 phase 5 pin outlets, there are multiple outside 15amp sockets available next to the accommodation for overnight charging. planned correctly charging up to 20 cars will not be an issue during a visit that will extend for at least 18 hours.
There is a hotel in town, a 12 bay, clean and modern caravan parking area beside the camp dormitory, there are also a number of B&Bs within 200 metres.
We'll organise two "convoys" leaving Perth in the morning, one via Brookton, and one via Williams and Wickepin (going via Albert Facey's house).
Drivers are encouraged to arrive by 2.00pm so we don't have a scramble for three phase charging.
For those keen, we will hold a 2.00pm to 5.00pm EV display in conjunction with the Kulin shire, that will also give us a chance to discuss DC chargers on the Perth to Esperance route.

We encourage half the drivers to go via the Williams route or return via the Williams route.
Drivers have no need to rush off on Sunday morning as I can organise a 9.00am Wildflower bush walk with one of the locals for those that want to check out some rare Orchids.