Virtual Book Launch: Paul Gardner's The Unsung Family Hero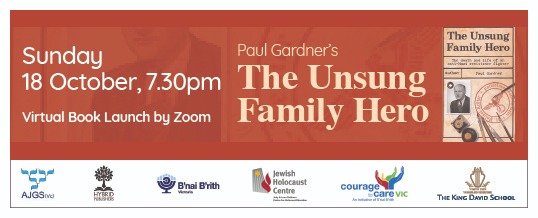 The Unsung Family Hero should have been launched in April, but a tiny virus intervened. It's now being launched via a Zoom webinar on Sunday 18th October at 7.30 pm. The book has been entered for the Victorian Premier's Literary Award.
The launch: The Zoom event is being hosted by The King David School, and is supported by five other organisations. It will be chaired by Jayne Josem, CEO of the Jewish Holocaust Centre. The book will be launched by well-known local author Dr Howard Goldenberg.
Location
Online event access details will be provided by the event organiser