The School of the Arts, English & Media (TAEM) presents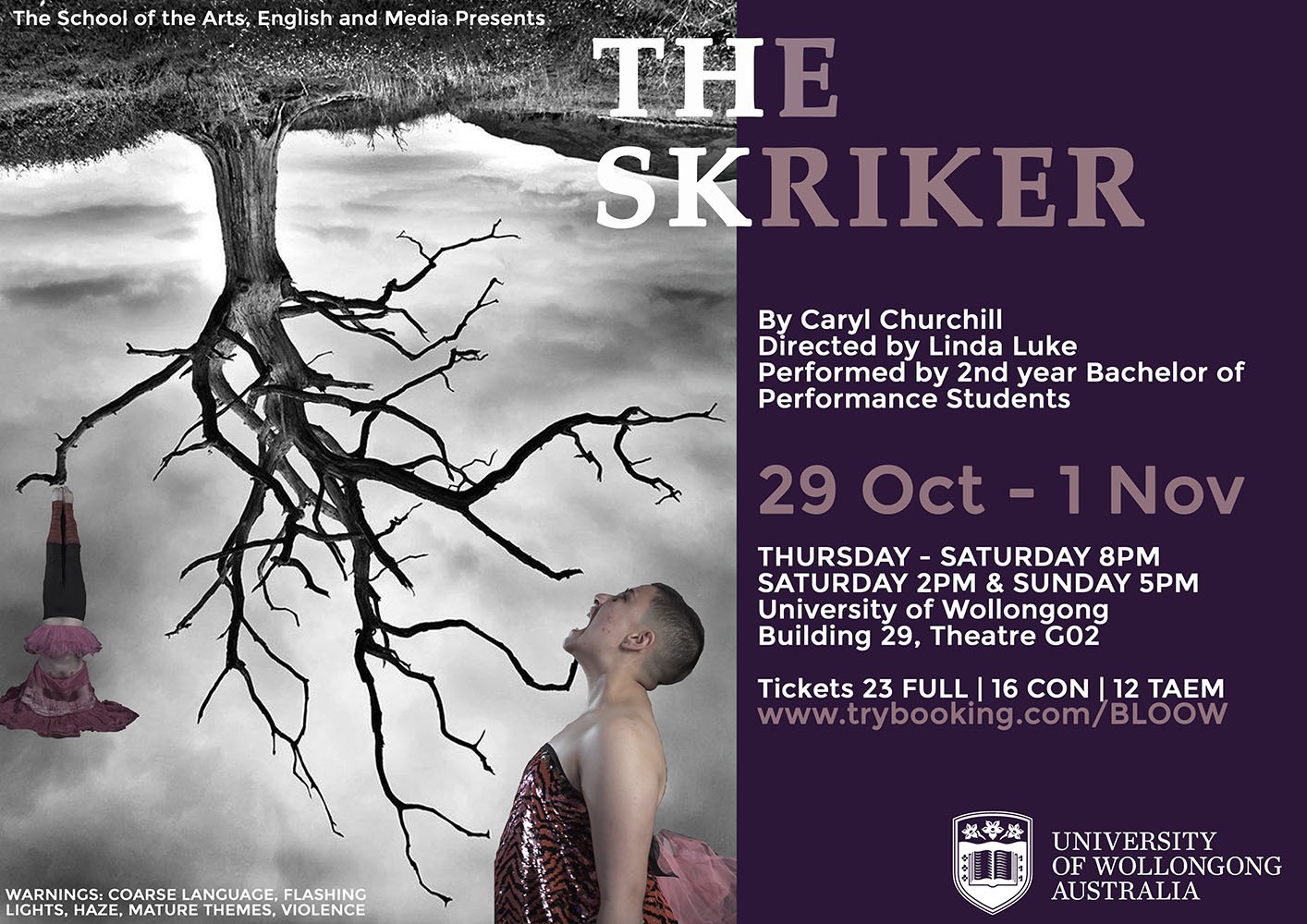 The Skriker (SOLD OUT)
Directed by Linda Luke
Written by Caryl Churchill
Featuring second year Bachelor of Performance Students
Please be advised this production includes explicit language, flashing lights, mature themes, representations of violence, and use of haze
Lily and Josie are teenage girls, one pregnant, the other, in a psychiatric institution for killing her baby. They are best friends, yet their relationship is strained by circumstances, and by what life hasn't offered them. The vivacious Skriker enters their lives, an ageless shapeshifting self-professed fairy who charms, manipulates and taunts them, seducing them into the messy darkness of the underworld. But Lily and Josie need the Skriker as much as she needs them. Who is the Skriker? Is she a victim, a perpetrator or a saviour? Is she a symbol, a myth or a reality?
Date: 29 Oct - 1 Nov
Location: Building 29 Theatre G02
University of Wollongong
Northfields Ave
[CITY] NSW 2522
Phone: 02 4221 3857
Email: taem-admin@uow.edu.au
For more information, please see the TAEM Performance website
COVID-19 Information for patrons
Please be advised that this production has a COVID-Safe plan in place to reduce risk of potential virus transmission. While we strongly encourage the use of face masks, it is not mandatory for entry to the theatre. If you are unwell or displaying cold and flu type symptoms, including coughing, you will not be permitted entry. Refunds will be issued if you are unwell and unable to attend.
Due to the reduced capacity seating we will be carefully allocating bookings with spacing between groups. If you intend to sit with other patrons you must make ONE booking, only tickets booked in the same transaction will be seated together. Unless sold out already, booking windows will close 24hrs prior for weekday sessions, and at 2.30pm on the Friday of the production run for weekend sessions. This is to allow time for seat allocation and planning. We ask that you ensure you check the session date and time carefully as changes to bookings will result in complications with seating allocations.
Patrons are asked not to enter the building until 10 minutes prior to performance time, and will be seated as they arrive.
No tickets will be available at the door - all tickets must be purchased ahead by selecting a session time below.
For any feedback or concerns please contact TAEM admin
Bookings will open from 15 October