Succession Planning - Preparing for the unexpected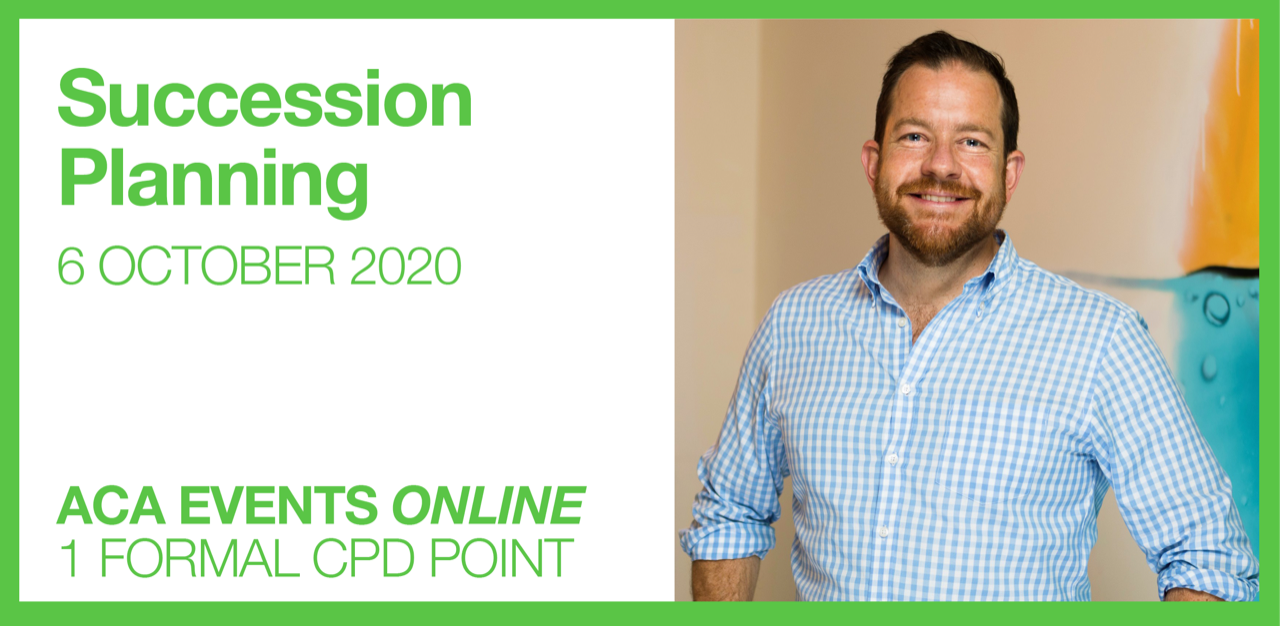 Having succession planning in place with a contingency is critical to the survival of your business. Join the ACA on Tuesday 6 October 2020 for a presentation on Succession Planning and preparing for the unexpected, with Daniel Orrell from Planned Life Cover. BOOK NOW!
With over 81% of Australia's business owners planning to retire in the next 10 years, transferring over $3 trillion in wealth, the need for succession planning in SME business becomes critical. But what happens when the "plan" doesn't go to plan?
Business owners are key to the success of any business, but so few have a contingency in place for when things go wrong.
This presentation takes you through real life cases where businesses have been severely impacted by the sudden death or disability of key stakeholders and will provide you with essential considerations when it comes to identifying the risks within your practice and solutions to mitigate against them.
Some key questions to be discussed:
What would happen to your practice in the event of a premature death?

How would surviving shareholders pay for your shareholding?

What if a key person in your succession planning became unable to work again?

Do you have key person or business life insurance?

Are there ways other than insurance to fund a contingency plan?

What is a buy/sell agreement?
Without a plan, families could be stuck with the huge burden of trying to unravel the complexities of your practice and its financials.
Guest Speaker
Daniel Orrell, Chief Distribution Officer – Planned Life Cover / Steadfast Life, has specialised in the Life Insurance industry for more than 22 years, having worked in a variety of roles within Australia's largest insurers and banks. As a partner in Planned Life, Daniel's focus over the last eight years has been towards addressing the major shortfalls of Life Insurance in Australia and, in particular, the needs of SME businesses.
WHEN
Tuesday 6 October 2020
Webinar broadcast 1-2pm AEDT
(WA 10-11am, NT 11.30am-12.30pm, Qld 12-1pm, SA 12.30-1.30pm, ACT, NSW, Tas & Vic 1-2pm)
HOW
Login to join this online event live by selecting a "live access" ticket. If you can't make it on the day and would like to view a recording of this event please select a "recording access" ticket to receive the recording registration link after the event.
COST
Members $25
Non-members $40
*One ticket per attendee.
CPD
Participation in this event will deliver one formal CPD point. AACA Competency – Practice Management
Learning objectives
Completion of this webinar will enable participants to:
Identify the risks associated with succession planning

Understand the outcomes of a number of real life case studies

Understand what key person or business life insurance is and its function in mitigating risk

Understand what buy/sell agreements are

Determine related risks in their own practices and possible contingency measures to consider
CPD questions for this webinar will be sent to attendees before the webinar and will also be accessible for download from the webinar platform. Please keep your receipt and completed questions for your records.
CONTACT
For more information contact Louise Street
M: 0431 369 320