Getting your contracts in order for 2021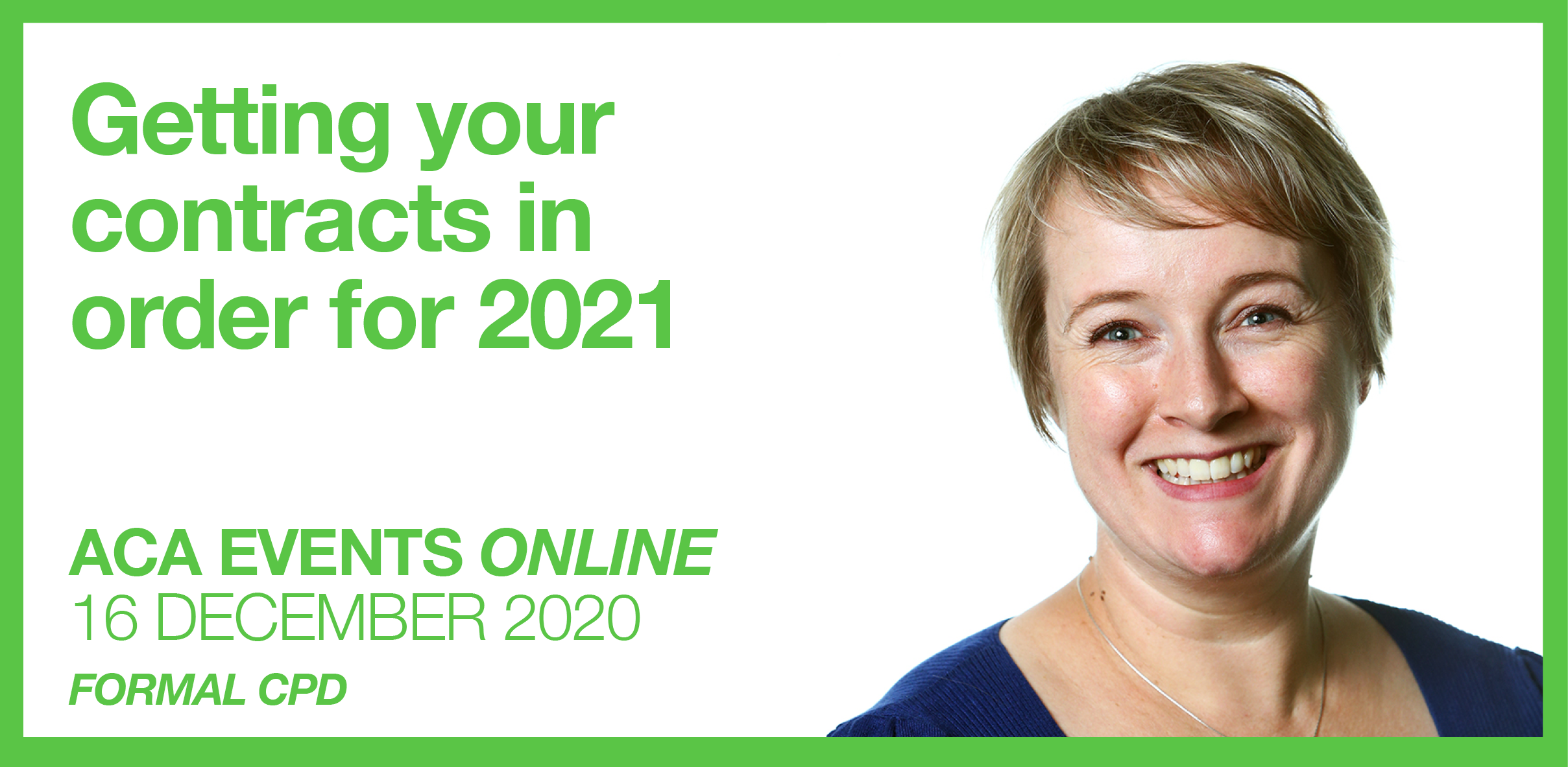 Join the ACA and Wendy Poulton on Wednesday 16 December, for practical guidance on getting your contracts in order for 2021. Don't miss our last online event for the year. Book now!
The slower days of January can be an opportunity to look at all your practices systems, so get a head start on contracts with this practical webinar from Wendy Poulton at informed Lawyers Pty Ltd (ACN 635 862 145).
Starting with a recap of what the law requires architects to include in their contracts with clients, this session will look at consequences of working without a contract, take a general overview of some available pro forma contracts, review the basics of unfair contracts legislation, and discuss contracting with sub-consultants. Drawing on her recent experience conducting legal reviews of consultancy agreements, Wendy will share her insights into some common problems in consultants' own terms and in client-drafted contracts, and suggest some handy protections to look at including in contracts.
Our Speaker
Wendy Poulton, Principal, informed Lawyers Pty Ltd (ACN 635 862 145)
Wendy Poulton has been a Risk Manager since 2005. She provides plain English advice on consultancy agreements, training consultants in risk management, and creating guidance materials on emerging challenges in the construction industry. She has lectured on insurance and risk management at RMIT and the University of Melbourne. Previously, Wendy was a solicitor in the Commercial and Insurance Litigation section of Hunt and Hunt. She was admitted as a solicitor in 1997, and completed a Masters in Construction Law in 2011.
informed Lawyers Pty Ltd (ACN 635 862 145) was recently launched as a new subsidiary of IBL Ltd (the company behind ACA National Principal Partner and insurance broker, Planned Cover) to provide a limited scope of legal services in its specialist area of consultancy agreements.
WHEN
Wednesday 16 December 2020
Webinar broadcast 12-1pm AEDT (WA 10-11am, NT 11.30am-12.30pm, Qld 12-1pm, SA 12.30-1.30pm, ACT, NSW, Tas & Vic 1-2pm)
HOW
Login to join this online event live by selecting a "live access" ticket. If you can't make it on the day and would like to view a recording of this event please select a "recording access" ticket to receive the recording registration link after the event.
COST
Members $25
Non-members $40
*One ticket per attendee.
CPD
Participation in this event will deliver one formal CPD point.
Learning outcomes:
Understand some of the legal requirements around architects' consultancy agreements, be equipped to evaluate different pro forma consultancy agreements, and have a repertoire of ideas for improving both the architect's own pro forma contracts and client-drafted contracts.
AACA Competencies
Design: 1.1
Practice Management: 9.7
CPD questions for this webinar will be sent to attendees before the webinar and will also be accessible for download from the webinar platform. Please keep your receipt and completed questions for your records.
CONTACT
For more information, contact Katherine Ygosse webinars@aca.org.au or on 0413 520 548.