NO INTERMISSION FESTIVAL (SOLD OUT)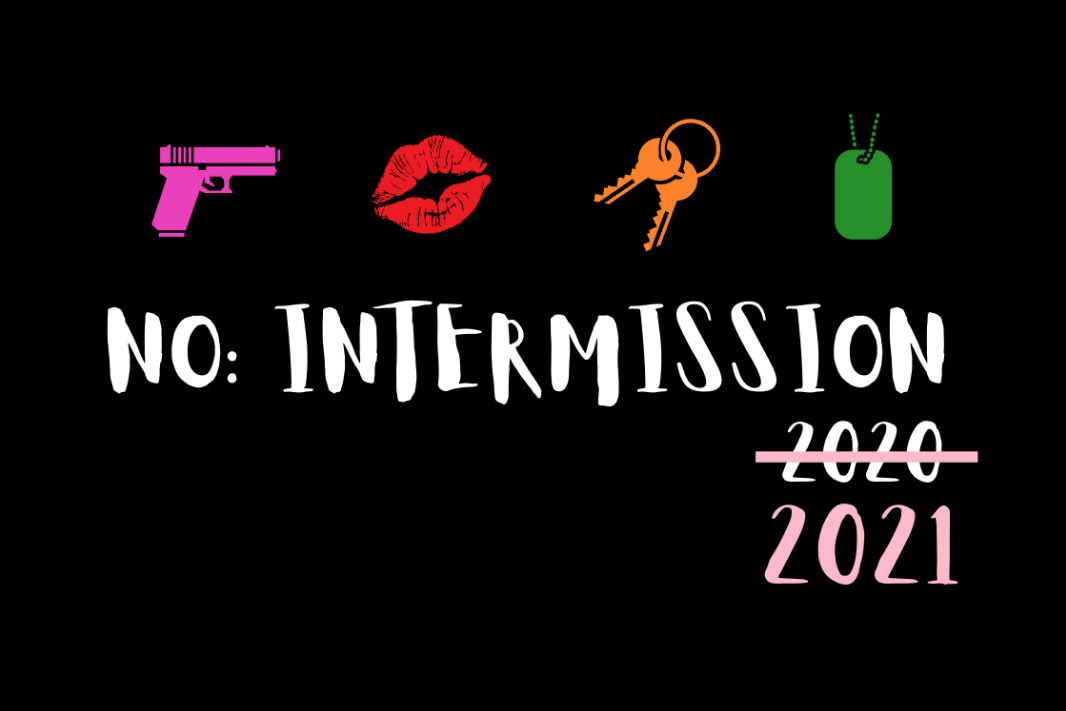 After a brief intermission (we're aware of the irony), NO : INTERMISSION is back in 2021! With 4 brand new plays, each making their Sydney or Australian debut with N:I, this year's season is filled with great variety and more opportunities for emerging and established artists equally.
Want to know more about each of the shows? Read below, or visit https://www.theatretravels.org/no-intermission. Whether you're looking for drama, comedy, verbatim, or something in between, this year, NO : INTERMISSION has something for you!!
Make sure to follow @theatretravelsprod on Instagram and @theatretravels on Instagram and Facebook to meet the cast and crew, learn more about the shows and always be in the know!
Miss out on the show you wanted to get tickets to? Join the WAITLIST here: https://forms.gle/zwHVXM5kz9R4wTQD9
GIRL SHUT YOUR MOUTH - By Gita Bezard
(Returning from Adelaide Fringe Festival with 5 star reviews; Sydney debut)
Katie, Grace, Mia and Darcy are your average young girls. They love boys and dresses and the idea of a feminist future. Everything about them is normal.
Except their friends die on a monthly basis. Except their lives are in danger if they go out after dark. Except they aren't really your average young girls at all.
When Katie is shot in yet another attack on their freedoms, her bullet quickly becomes her ticket out and over to a world rumoured to be free of prejudices, rules and restrictions. But is anywhere really that perfect? And how can her friends go too?
Content warning: References to violence, sexual assault and gun violence. Gun sound effects used. Strobe light warning.
LIPSTICK - By Lane Stanley
(A hilarious Queer farce; Australian debut)
Anna is waiting in her apartment for her date, but is it a date, or are they just 'Gal-Pals'? Meanwhile, her best friend, Mal, has dozens of internet dates knocking on the door and to make matters worse, Anna's former lover turns up having bailed on her wedding to win her back. ​
Her date is having an identity crisis, her ex is hiding in her bathroom, Mal's mother has turned up for a surprise visit from out of town...and all this is happening whilst her landlord is trying to fit the broken bathtub with a butt plug.
Lipstick is a glorious, fast paced, Queer farce where everything seems to go wrong and you're never quite sure who is behind the door!
Will everyone get their happy ending?​
Or will someone just end up with lipstick on their face?
Content warning: Coarse language, sexual references.
RATTLING THE KEYS - By Zoe Muller
(An award-winning Australian drama; Sydney debut)
A boy is lying dead next door, a blood stained knife sits in their living room and only one of them knows who did it.
Winner of the 2018 State Theatre Company of South Australia and Flinders University Junior Young Playwright's Award, this suspenseful murder mystery follows five teens living in the small rural town of Coober Pedy. Struggling with isolation and lack of opportunities, they turn to crystal meth and it is under its influence that memories start to become hazy… why were they arguing in the first place? What can they say to police? Who even was that kid next door?
And more than anything, for each of them, how will the mistakes of last night impact the futures they are chasing?
Content warning: Drug use, coarse language, themes of and references to suicide, depictions of violence.
IN THEIR FOOTSTEPS - By Ashley Adelman and Infinite Variety Productions
(A powerful verbatim work; Australian debut)
It's been 50 years since thousands of young American women served their country in Vietnam, and their stories have remained largely untold… until now.
Based on the accounts of five extraordinary women, 'In Their Footsteps' explores the experiences of women working in war zones, their struggles to be recognised heroes, their loss of faith and the friendships they forged in the face of trauma. ​
This deeply moving, time traveling piece brings us a better understanding of what happened to these remarkable women and the many others who served alongside them 50 years ago.
Content warning: Depictions of War.
Please note, all shows may contain strobe lighting, loud noises and smoke effects. If you have any further questions, please email carly@theatretravels.org.
Location
Chippen Street Theatre
45 Chippen St, Chippendale NSW 2008