Garden States Microdose - Society, Psychiatry & Psychedelics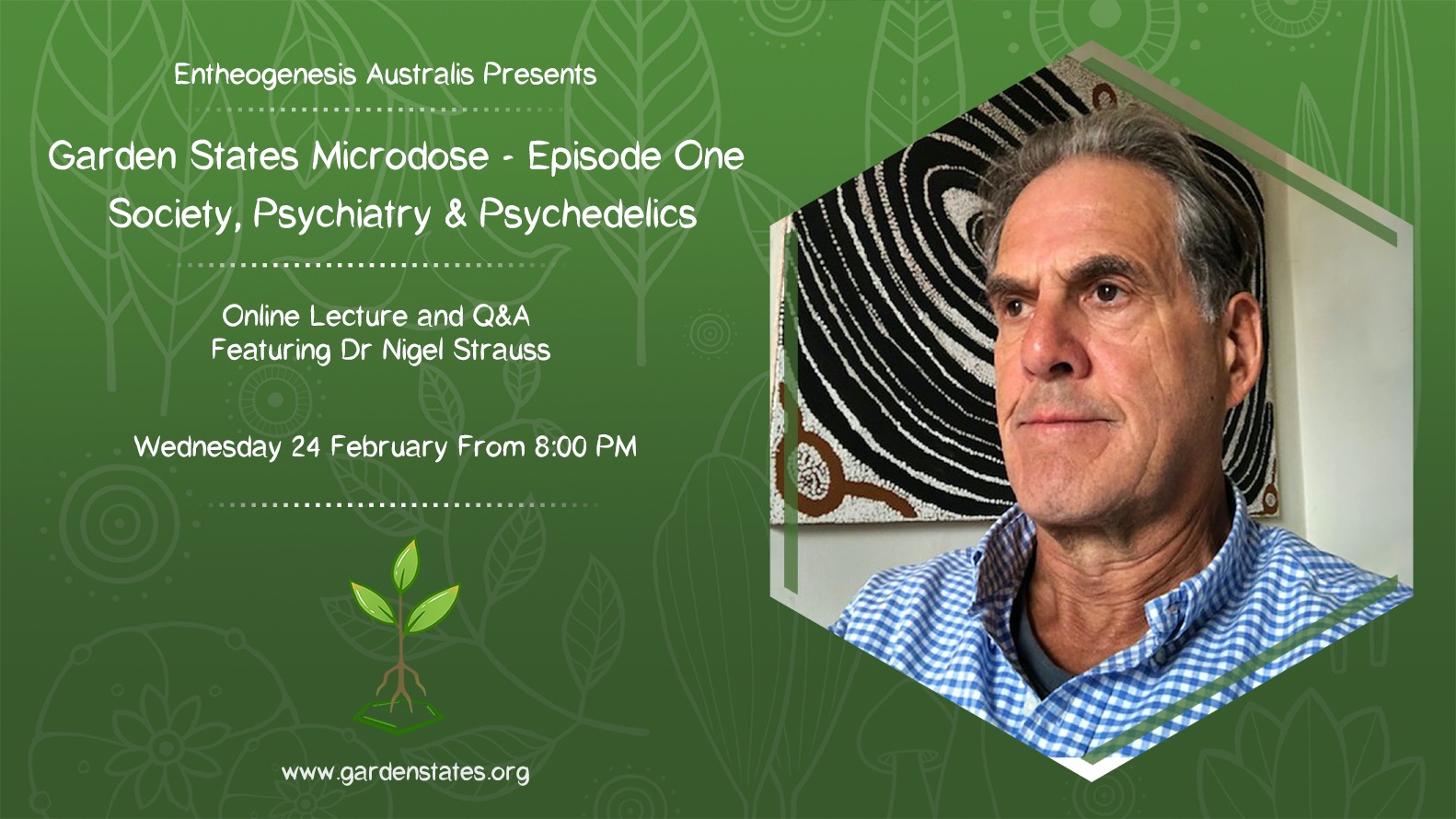 Psychedelic medicines are finally on the agenda in Australian academic circles, including psychiatry and research. Dr Nigel Strauss will be joining us for a lecture and Q&A to explore the potential benefits of psychedelic-assisted psychotherapy. We hope you can join us for discussion on Australian psychedelic research and the challenges we face in the near future

Registration for the Microdose Webcasts are free but donations are encouraged to support EGA's important work (Booking fees apply).
Episode One - Society, Psychiatry & Psychedelics
Online Lecture and Q&A from Dr Nigel Strauss
Hosted by Nick Wallis and the EGA team
Talk Synopsis:
"We owe it to the next generation of researchers and clinicians, and to the millions of patients with mood and substance use disorders who may benefit from psychedelic-assisted psychotherapy, to ensure that no exceptions be made in the standards of research or clinical application for psychedelics, regardless of their seemingly exceptional potential" ROLAND GRIFFITHS, 2020.
Like God and money, the word psychedelic is the carrier of all sorts of human projections. Whether it is to do with hedonism, aesthetics, creativity, utopianism, panaceas, danger, rebellion, religion, opportunity, or just plain fun, human beings imagine all sorts of things when they hear that word. So when psychedelic medicines are subjected to psychiatric research as adjuncts to psychotherapy (another entity that is a target for human projections), they present as a unique challenge, unlike other psychiatric treatment modalities.
No one romanticizes antidepressants, major tranquilizers, electroconvulsive therapy, trans cranial magnetic stimulation, or lobotomy; no one projects much onto these types of psychiatric treatments except for hope and/or fear. But psychedelics with their load of projections are different, provoking political, social and scientific turbulence and controversy not often seen in other areas of scientific research. As Australia, psychedelic research is finally commencing, and by the end of 2021, several such trials will be well underway. Those of us interested in psychedelic research are keen to maintain exemplary scientific standards and must remain vigilant in opposing the conflation of science with agendas promoted by those who wish to harness psychedelic science for their own purposes, whether that is related to personal gratification, aggrandizement, idealization or gain. This talk will present a contemporary account of how the discipline of psychiatry in Australia is coping with these challenges and how politics have no small part to play.
Nigel Strauss Bio:
Dr Nigel Strauss is a practicing psychiatrist with a special interest in psychedelic medicines and their application in the treatment of psychiatric illness. He is currently involved in two research studies, one involving psilocybin assisted psychotherapy for the treatment of treatment-resistant depression, and the second involving MDMA assisted psychotherapy in the treatment of treatment-resistant PTSD. He has co-authored Best Practice Guidelines for the use of Psychedelic Medicines in Australia and is the coordinator of ANZPPAP (Australian and New Zealand Psychiatrists for Psychedelic Assisted Psychotherapy) which aims to bring together psychiatrists and others interested in this work. Nigel is particularly interested in the eventual safe introduction of Psychedelic Assisted Psychotherapy into clinical practice in Australia.
About Garden States Microdose Webcasts
The EGA Garden States Microdose Webcasts are designed to cover a variety of topics from the field of ethnobotany and psychedelic culture, sustainability, and related areas of interest to the community. The forums are part of the program leading up to the highly anticipated Garden States 2021 Botanical Conference. Registration for the Microdose Webcasts are free but donations are encouraged to support EGA's important work.
About EGA
Entheogenesis Australis is a charitable, educational organisation established in 2004. We provide opportunities for critical thinking and knowledge sharing on ethnobotanical plants, fungi, nature, and sustainability. Through our conferences and workshops, we aim to celebrate the culture, art, politics and community around medicine plants in the hope to better wellbeing for humankind and the planet.
To find out more about what we do, head over to our organisational website. If you like what you see, take a look at our upcoming Garden States 2021 Botanical Conference program.
- Click here to join the Facebook event page -
Note: Small booking fees may apply.
Location
Online event access details will be provided by the event organiser