Seed Business Convention 2021 (CANCELLED)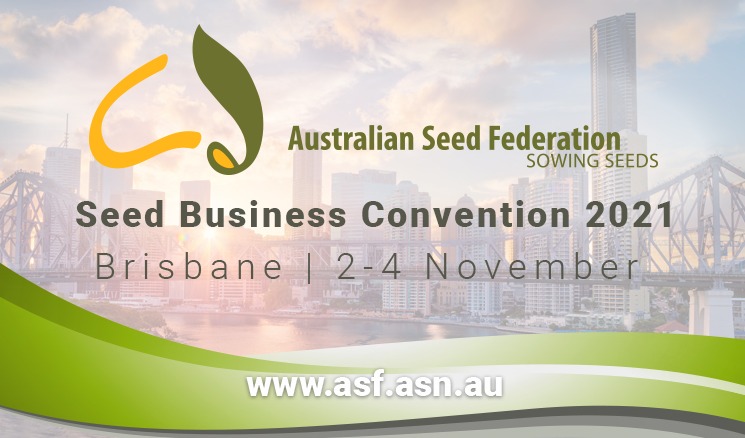 Seed Business is the annual conference for the Australian seed industry, hosted by the Australian Seed Federation (ASF). In 2021, the event will be held in Brisbane at the Hilton Hotel.

The Convention is the highlight event for ASF members to network with other businesses within the seed and agriculture industry. The Convention is also an opportunity for ASF members to engage on industry issues and policy development.
Due to Covid-19 related restrictions and uncertainty, we have made the decision to CANCEL the Seed Business Convention 2021 - Tickets purchased will be refunded by 30 September.
For ticket pricing click the 'BOOK NOW' button, this will take you through to purchase tickets. You can book tickets for yourself, partner, and for the training day and post convention field day.
For exhibitor space and staff bookings, please contact the ASF Secretariat via the 'CONTACT EVENT ORGANISER' button below.
There is discounted ticket pricing available for group bookings & Convention + Training Day ticket purchases - Contact the ASF Secretariat for relevant discount code/s to use at checkout.
Take a look at further information on the Convention:
Contact Details
For further information, use the 'CONTACT EVENT ORGANISER' button below to contact the event organiser, Alysha Lockley - ASF Manager, Industry Relations and Events.
*Capacity for the convention is a maximum of 120 guests to comply with current Covid safe restrictions of one guest per two square metres. The ASF will keep attendees updated on Covid restrictions.
Location
TBA
Brisbane City QLD 4000