Top Up Online: Creating in Classrooms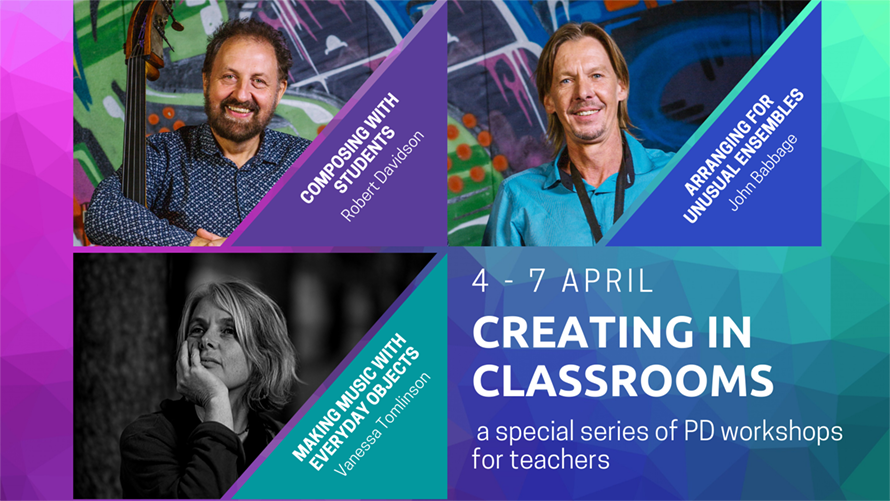 Top up the creativity in your classroom in this series of professional development workshops specially curated for teachers.
CREATING IN CLASSROOMS
WED-FRI 7-9 APRIL
9:00-10:30am AEST daily (online)
$10 per workshop / $25 for access to all 3 workshops
The link to the online workshops will be sent upon booking.
WED 7 APRIL: COMPOSING WITH STUDENTS
Robert Davidson (Topology)

Robert is a prolific composer, bassist, lecturer, and founder and co-Artistic Director of Topology. He studied composition with Terry Riley in California before completing a composition PhD at the University of Queensland, where he is currently Senior Lecturer of Composition.

Through Topology's Top Up education program, Rob has composed countless new works collaboratively WITH students as young as 8 years old. In this workshop he will share the simple tools he uses in classrooms to empower young people to compose their own music.

THU 8 APRIL: MAKING MUSIC WITH EVERYDAY OBJECTS
Vanessa Tomlinson (Clocked Out)

Vanessa is a percussive artist, artistic director, academic and composer dedicated to exploring how sound shapes our lives and awakening our ears to new sounds. Trained as a percussionist in Australia, Germany and the USA, Vanessa relies on this sonic investigation of objects to build compositions, create contexts for improvisation, interpret the voices of other composers and collaborate across art-forms and disciplines. She has toured the world for 25 years, premiering over 100 works by significant national and international composers, presenting work at major international festivals, and collaborating with improvisers, dancers, artists and more.

In this workshop, Vanessa will share fun and practical ways to bring music into ANY classroom with objects found just about anywhere. By the end of the session, you will have all you need to get your students improvising and thinking outside the box.

FRI 9 APRIL: ARRANGING FOR UNUSUAL ENSEMBLES
John Babbage (Topology)

A founding member and co-Artistic Director of Topology, John studied saxophone at the Queensland Conservatorium of Music, graduating with a Diploma in Jazz in 1987. He has been recording and performing nationally and internationally for over 30 years. John is a sought-after composer and a driving force in Topology's Top Up education program which has brought him to over 40 communities Australia-wide.

John has composed and arranged countless works for student ensembles and recognises how challenging it can be to source and arrange music for student groups that don't fit into standard large ensemble configurations (eg. concert band, symphony orchestra, etc). In this workshop, he will show you different approaches to ensure your small mixed ensembles sound complete and lush!