Garden States Microdose - Cannabis & San Pedro Cultivation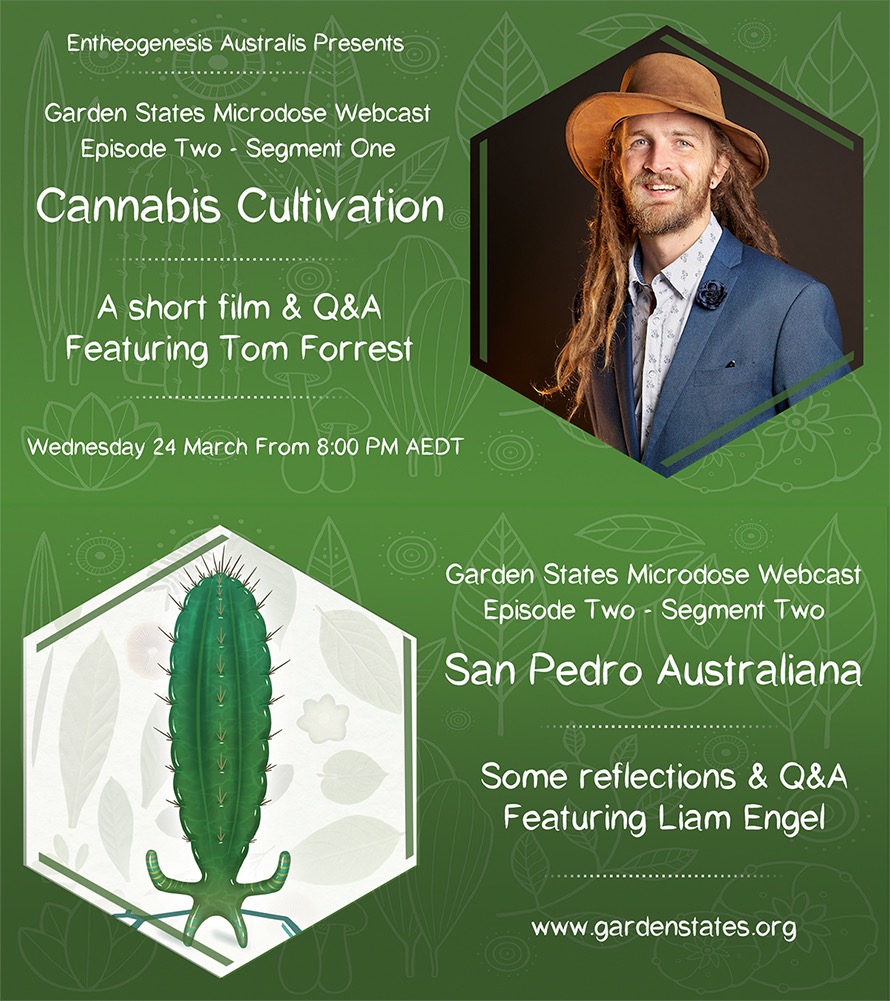 In this episode, we have brought together two plant enthusiasts to enlighten us on the world of international cannabis cultivation and San Pedro Australiana.

Registration for the Microdose Webcasts are free but donations are encouraged to support EGA's important work (booking fees apply).
Episode Two - Cannabis & San Pedro Cultivation
A short film and Q&A with Tom Forrest CF
Reflections on cacti and Q&A with Liam Engel
Hosted by Nick Wallis and the EGA team
-----------------------------
Segment One – Cannabis Cultivation - Findings of a Churchill Fellowship
Talk Synopsis:
Tom Forrest will screen his short film on cannabis cultivation, followed by a live Q&A. In 2018, Tom Forrest CF was awarded the first-ever Churchill Fellowship for cannabis agronomy. In 2019, this research grant sent Tom to 8 different countries, 25 cities and more than 50 cannabis farms, to explore cannabis cultivation practices and learn about the cannabis community worldwide. This film, published with his paper in December 2019, also includes interviews with experts in the field, including Raphael Mechoulam, Hinanit Voltai, John Barnet, Jodie Emery, and Gianpaolo Grassi. Come with Tom on this amazing journey across the globe and see what the future of cannabis cultivation might look like.
Tom Forrest Bio:
Tom Forrest CF - Churchill Fellow - is an Australian agronomist working in the protected cropping industry. Tom has instigated and consulted to multiple successful cannabis projects since Australian legalisation in 2016. These projects include ASX listed public companies, universities, and private businesses. In 2016 Tom co-founded Indicated Technology which also provides agricultural equipment procurement services to licensed cultivators throughout Asia-pacific and multiple LPs in Canada. Tom and his team have designed and supplied cultivation sites including World Health Organisation partner universities, PC2 compliant research facilities, outdoor cannabis farms, and glasshouse projects. Tom is also the Cultivation Director for the PURO Group in Marlborough NZ and is responsible for staff training and establishing world-class cultivation methodologies at both South Island sites. On behalf of the Winston Churchill Memorial Trust, Tom was awarded a world-first Churchill Fellowship for Cannabis Agronomy in 2018, to publish a paper on common cannabis methodologies and a short film providing insights and exclusive footage from inside the worlds' leading cultivation facilities. Recently Tom has been speaking at pharmaceutical events, universities and worldwide conferences to share the findings of his Churchill Fellowship and provide a global overview of cannabis agronomy. "I was fortunate to visit 8 countries, 28 cities and around 50 cannabis cultivation sites between April and August 2019. This included visits to hi-tech sealed environment glasshouses, 'pharma' grade indoor facilities, traditional glasshouses, organic and outdoor broad-acre cannabis cultivation sites. The purpose of this trip was to learn from existing worldwide approaches to cannabis agronomy, and share this knowledge to help our local industry grow successfully."
Segment Two - A discussion of San Pedro Australiana
Talk Synopsis:
These tall, green, magic cacti already had a lot of confusing names - Trichocereus, Echinopsis, pachanoi, peruvianus, macrogonus, bridgesii… Then people started growing these cacti in Australia. The name games got even weirder – bogan, yowie, chemical shaman's d**k, etcetera.
In this video, self-confessed cactus fiend Liam Engel will relentlessly bombard you with information and imagery concerning Australia's iconic San Pedro cacti population. If you don't grow San Pedro cacti, Liam will convince you that you should. If you already grow San Pedro cacti, Liam will convince you that you should grow more. If you're still not convinced, this video will conclude with a live question-and-answer session, providing Liam another opportunity to argue that NOW is always is the best time to grow and care for San Pedro.
Liam Engel Bio:
Dr. Liam Engel is an illicit drug researcher seeking to empower psychoactive ecologies and the people who use them. Liam works with ECU, UQ and RMIT, and spends his spare time figuring out how he can make room for more cacti.
About Garden States Microdose Webcasts
The EGA Garden States Microdose Webcasts are designed to cover a variety of topics from the field of ethnobotany and psychedelic culture, sustainability, and related areas of interest to the community. The forums are part of the program leading up to the highly anticipated Garden States 2021 Botanical Conference. Registration for the Microdose Webcasts are free but donations are encouraged to support EGA's important work.
About EGA
Entheogenesis Australis is a charitable, educational organisation established in 2004. We provide opportunities for critical thinking and knowledge sharing on ethnobotanical plants, fungi, nature, and sustainability. Through our conferences and workshops, we aim to celebrate the culture, art, politics and community around medicine plants in the hope to better wellbeing for humankind and the planet.
To find out more about what we do, head over to our organisational website. If you like what you see, take a look at our upcoming Garden States 2021 Botanical Conference program.
Note: Small booking fees may apply.
Location
Online event access details will be provided by the event organiser

Contact Details