Quietly Powerful Virtual Group Coaching Program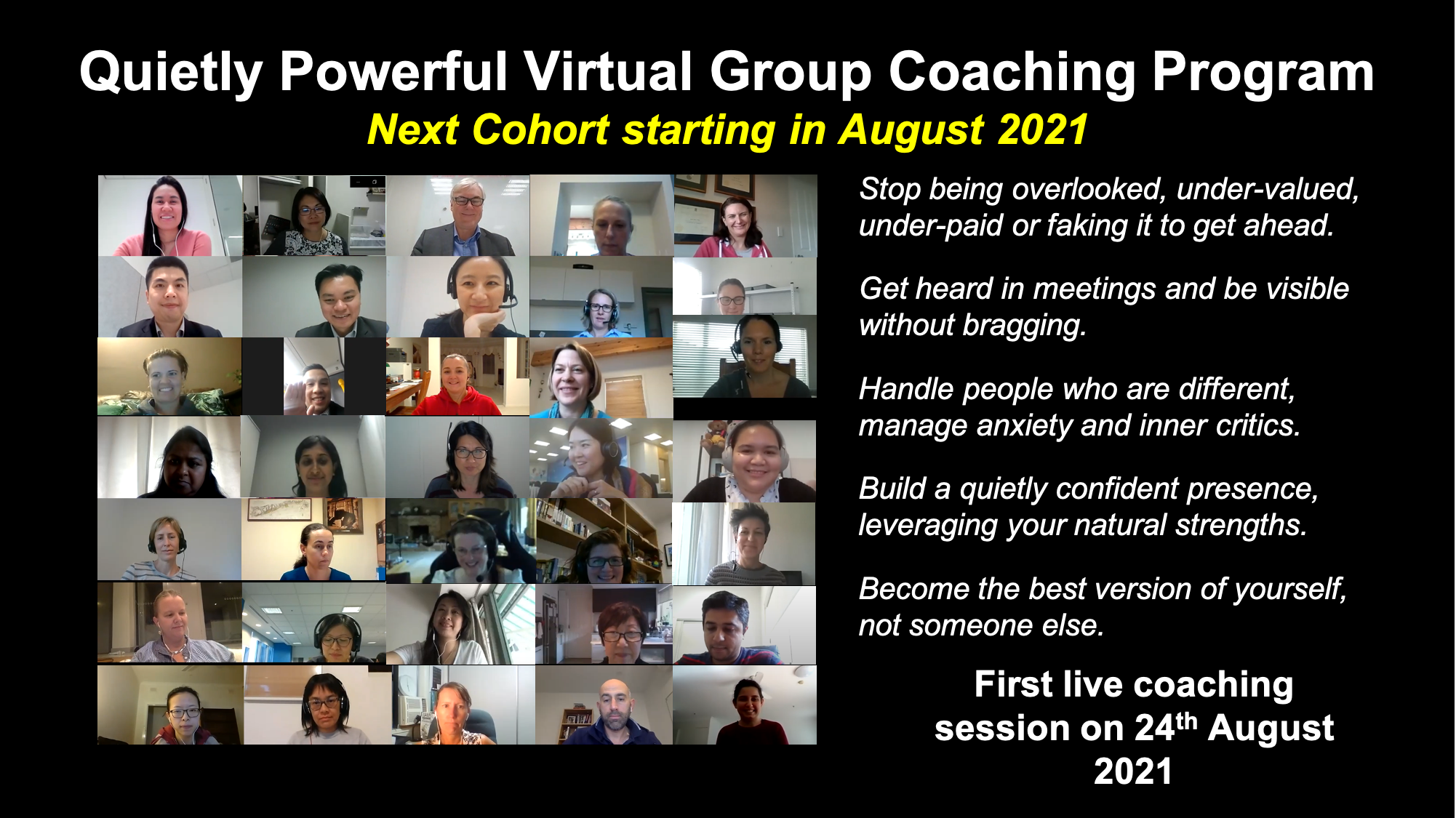 Thrive and succeed on your own terms as a quieter professional.
The QP Virtual Group Coaching program is the first of its kind - a personal leadership program specifically designed for quieter professionals, available globally, based on the QP methodology of appreciating fully and adapting purposefully.
By investing in this program you will learn how to:
Stop being overlooked, under-valued, under-paid or faking it to get ahead.

Apply practical tips such as being heard in noisy meetings, promoting yourself while being authentic, handling people who are different to you and managing anxiety and inner critics.

Build a confident presence, leveraging your authentic, quieter, natural strengths.

Become the best version of yourself by accelerating the path to being quietly powerful.
The program consists of 7 x virtual group coaching sessions, a series of videos, articles and worksheets, Facet 5 profiling tool and personal report and self-paced activities over a 14 week period. You will also be invited to access the QP private LinkedIn group site for additional resources.
Dates:
The next program cohort is starting in August 2021, with the first virtual group coaching session on 24th August 2021. Virtual coaching sessions will be approximately every 2 weeks at 5pm or 6pm Australian Eastern Standard Time. Depending on time changes, UK time will be 7am or 8am, Europe early-mid morning, Perth in Australia mid-afternoon, New Zealand 7 or 8pm. We may vary this time depending on the participant locations.
The virtual coaching session dates are currently scheduled for: 24/8, 7/9, 21/9, 5/10, 19/10, 2/11, 16/11. Pre-work will be sent out during the week beginning 16th August.
Investment:
Program fee:
AU$1,760 pp incl. GST until 30th July 2021
AU$1,895 pp incl. GST until registration closing on 22nd August 2021 (please get in touch if you prefer the payment plan of $729 x 3)
If you already have a Facet5 profiling report and you don't want to do another one, please use the code "Facet5Done" to subtract the cost of the report from the fees.Additional AU$550 for an optional extra 60 min 1-1 coaching/debrief
Registration closing on 22nd August 2021
Location:
You can join from anywhere around the world! We will use the Zoom video conferencing tool for the virtual group coaching sessions. These sessions will be recorded and shared with all participants so you can catch up if you miss any of the sessions.
About Megumi
Megumi is an author, speaker, facilitator and coach on leadership and culture. Megumi has over 20 years as an internal and external consultant to large corporations including National Australia Bank, ANZ Bank, Roche and Accenture as well as smaller for-profit, government and non-profit organisations.
She started Quietly Powerful for two major reasons. First, being a quieter, Japanese female consultant working largely in Australia, she faced challenges through her career and has invested heavily in her personal and professional development over the last 15 years. She wished she had known what she knows earlier so decided to share her lessons with others. Second, she felt there were limitations in the usual leadership and culture work she did. Our beliefs about good leadership is still skewed towards masculine, extrovert qualities. Despite lots of literature about a range of leadership skills and qualities, the people who get promoted into senior positions are still generally of the masculine, extrovert types. Of course, there are exceptions but they are exceptions. We need more balance in leadership qualities and strengthening the more marginalised quiet and feminine qualities is a start.
She is passionate about empowering people and groups of people in the 'outer' to have a voice. Her passion is underpinned by her belief that these quieter and marginalised voices are critical for individuals and organisations to innovate and evolve in a changing, volatile world and for solving the big challenges in the world today.
What participants say about Megumi's work
"The powerful coaching process with Megumi allowed me to bring objectivity to not only how I may be perceived but also how I may perceive others. It assisted me to start accepting the things I cannot change and reflection on the results of my Facet5 personality profiling survey certainly gave me the courage of my conviction to change from a long-established role to another one whereby I believe not only myself but the organisation I work for can greatly benefit." Margaret, Company Secretary
"The program has made a significant difference to me. I learned how to use my quiet strengths at work. I feel more comfortable and confident in unfamiliar environments. I learned how to practice and manage my inner voice and remain calm. I can't speak highly enough of this course!!" Renee, Business Analyst
What the past participants took away... watch the short video