Orchid Conservation Symposium
Tuesday 22nd and Wednesday 23rd June 2021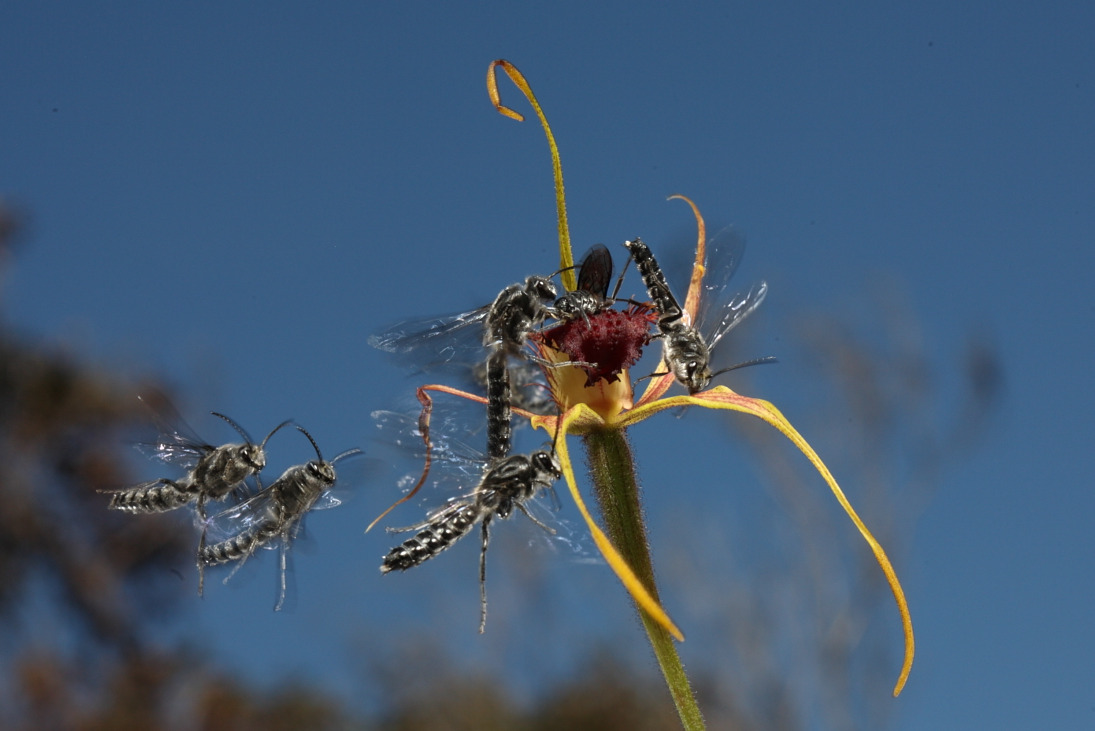 Photos: Ryan Phillips and Noushka Reiter
Join us for free online talks on orchid ecology and threats by speakers from Australia, South Africa, Hong Kong, UK and Germany.

Researchers, policy makers, practitioners and volunteers with an interest in orchids, conservation, ecology, threatened species, pollination, fungi, bushfires, and propagation are all encouraged to attend.
The Symposium will be held online from 12:30 to 5:15 PM Australian Eastern Standard Time on both Tuesday 22nd and Wednesday 23rd June.
Nine speakers will present on each day, and you are welcome to register for one or both days. Speakers and their presentationt titles are below, and the full program will be available shortly.
KEYNOTE SPEAKERS:
Professor Steve Johnson, Research Chair, University of Kwazulu-Natal, South Africa
Professor Rod Peakall, Professor in Evolutionary Biology, The Australian National University, ACT, Australia
#orchidtalks
Funding for this project was provided by the Australian Government's Wildlife and Habitat Bushfire Recovery Program.
Location
Online event access details will be provided by the event organiser

Presentations
Tuesday 22nd June 2021
Dr Ryan Phillips, Orchid Conservation from Theory to Practice
Dr Jenny Guerin, Bushfire Recovery Work on South Australia's Threatened Orchids
Dr Jenna Wraith, Threats to Orchids in Australia
Professor Rod Peakall, Keynote: Connecting Chemistry, Pollination and Conservation in Australian Orchids
Mr Richard Dimon, Using Raspberry Pi Camera Traps for Pollinator Studies on Threatened and Deceptive Orchids
Dr Russell Barrett, Orchids on the Edge: their Diversity and Conservation in the Kimberley Region of north-western Australia
Professor Celeste Linde, Mycorrhizal Fungi of Australian Orchids – an Update
Dr Myles Menz, Pollination and Conservation of the Glossy-leaved Hammer Orchid Drakaea elastica.
Dr Amy Hinsley, From Flowers to Ice Cream: the Illegal Orchid Trade and its Conservation Implications
Wednesday 23rd June 2021
Dr Noushka Reiter, Orchid Rewilding
Ms Alyssa Weinstein, Pollination Ecotypes in the Warty Hammer Orchid
Mr Len Carrigan, A Volunteer's Eye View
Dr Gunter Fischer, Conservation of Asian Orchids
Dr Belinda Davis, Conservation of WA's Threatened Orchids
Dr Bronwyn Ayre, Conserving Rare Orchids in the Fire Scar
Mr Marc Freestone, Prasophyllum show the importance of mycorrhizal fungi
Mr Tobias Hayashi, The Pollination of Pterostylis Orchids by Male Fungus Gnats
Professor Steve Johnson, Keynote: The Pollination Ecology of Terrestrial Orchids in southern Africa
Contact Details