SIN FRONTERAS - WE HOLDING HANDS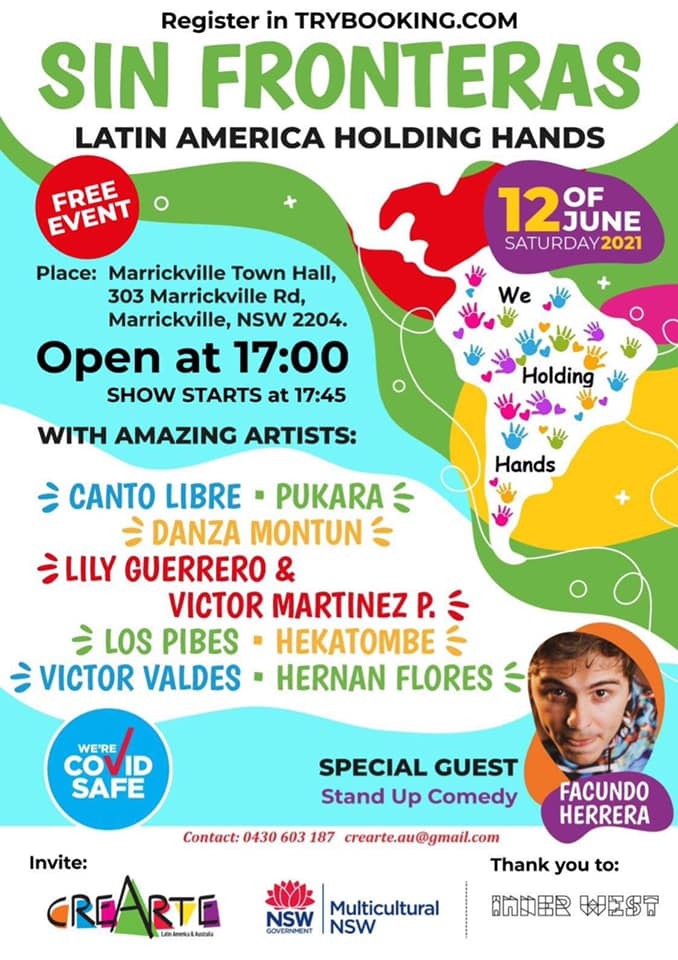 We are Latin American, we are cheerful and friendly people. We have amazing music and a delicious gastronomy with fabulous aromas, flavors and colors.
As Latin American people, we want to embrace and celebrate with Australians and other communities in a greeting day, where we share our music, dances and food.
As 2020 was such a complicated year, we have decided to make a FREE event as a gift for the communities to celebrate and embrace diversity, sharing our culture and traditions. (However, food will be sold because the bidding of the food stands is part of the event income).
Invite: CreArte & Multicultural NSW
12 June 2021 5:30pm to 11:30pm
...................................................................................
Somos latinoamericanos, somos gente alegre y amigable. Contamos con música increíble y una deliciosa gastronomía con fabulosos aromas, sabores y colores.
Como pueblo latinoamericano, queremos abrazar y celebrar con los australianos y otras comunidades en un día de saludo, donde compartimos nuestra música, bailes y comida.
Como 2020 fue un año tan complicado, hemos decidido hacer un evento GRATUITO como regalo para que las comunidades celebren y abrazen la diversidad, compartiendo nuestra cultura y tradiciones. (Sin embargo, la comida se venderá porque la licitación de los puestos de comida es parte de los ingresos del evento).
Invita: CreArte y Multicultural NSW
12 junio 2021 5:30pm to 11:30pm
Location
MARRICKVILLE TOWN HALL 303 Marrickville Road, Marrickville NSW 2204
Contact Details
Contacto:
Phone: 0430603187
E-Mail: crearte.au@gmail.com