STEP Queensland Conference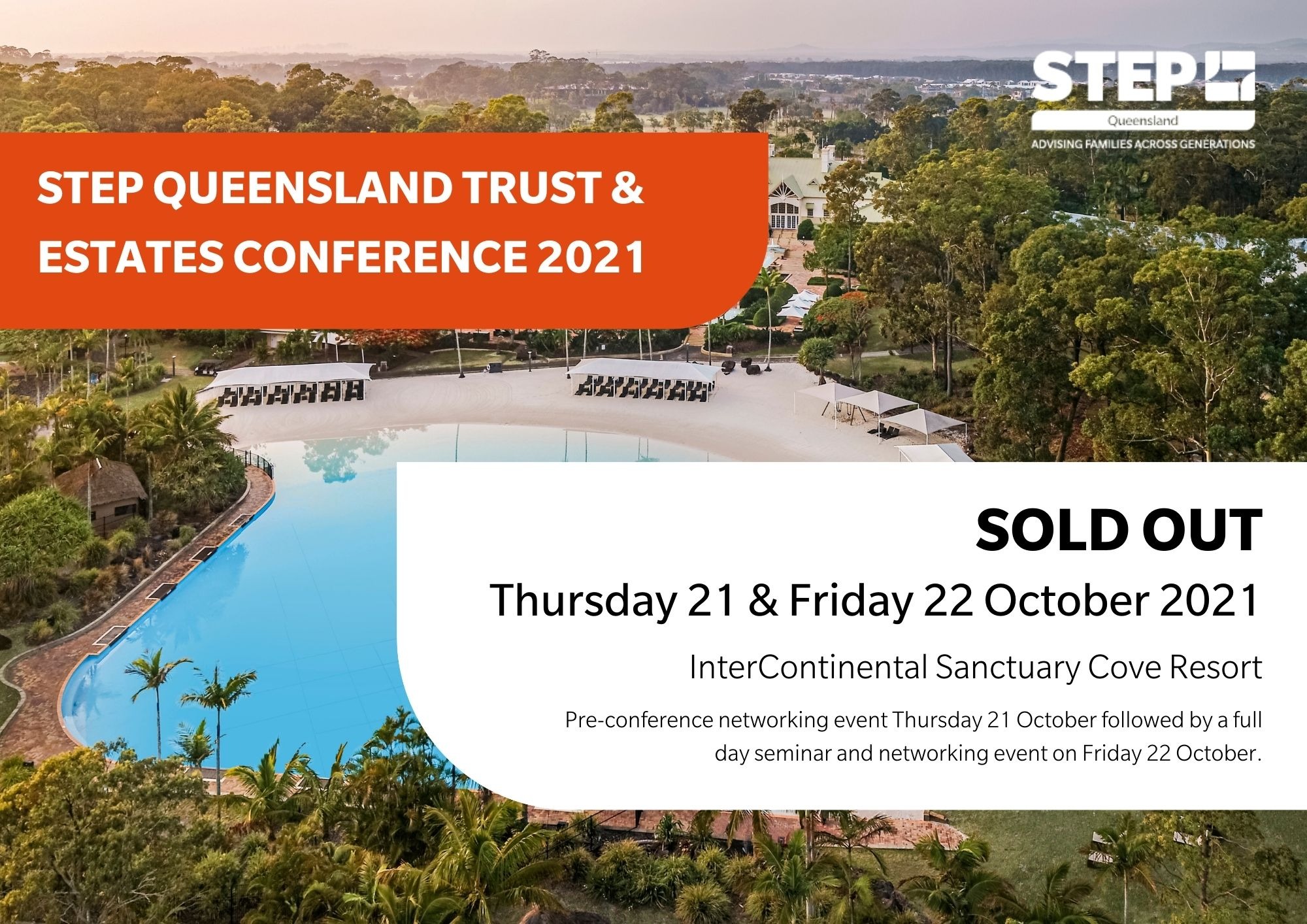 STEP QLD Trusts and Estates Conference 2021 - SOLD OUT
The conference is SOLD OUT.
Please contact qldbranch@step.org for further information at this time.
The 2021 STEP Queensland Trusts & Estates Conference will be held on Friday 22 October 2021 at InterContinental Sanctuary Cove Resort, Gold Coast, Queensland.
The program will commence with a welcome function on the evening of Thursday 21 October 2021 and will conclude with closing drinks and canapes, all included in the registration fee.
The conference was a sell-out months in advance in 2019. Get your tickets now, so you don't miss out.
The entire program can be viewed here.
The booking request form for accommodation will be sent to you once you have purchased your ticket. See further below for accommodation rates.
Interested in saving $100 exc GST on your ticket?
If you are a STEP member and invite a non STEP member who has never been to the annual conference before, you will save $100 exc GST off your own registration. Both registrations must be received together, with one registration being a STEP member and the other a non STEP first-time conference attendee. You can choose to share the saving, keep it, or give it to your mate! Just choose the Mates Rates option when you purchase your members ticket.

EVENT DETAILS
Date: Thursday 21 - Friday 22 October 2021
Time:
5:30pm - 7:30pm Thursday (Welcome reception only, no speakers at this function)
8:00am - 6:30 pm Friday (Conference and closing reception)
Venue: InterContinental Sanctuary Cove Resort, Gold Coast, Queensland
Early Bird Tickets: Members $645 + GST | Non-Members $795 + GST - Includes the evening functions

YOUR SPEAKERS
Justice Martin Daubney AM
Justice James Edelman
Terri Mottershead, Executive Director, Centre for Legal Innovation, The College of Law
Justice Peter Applegarth AM
Ben Cohen, Bartley Cohen Law
Scott Hay-Bartlam, TEP, Cooper Grace Ward
Fred Smith, TEP, McInnes Wilson Lawyers
Caite Brewer, TEP, Queensland Bar
Ann Janssen,TEP, Estate First Lawyers
David Marks QC, TEP, Queensland Bar
Frances Fredriksen, Parsons Law
Robert Whiteford, TEP, Queensland Bar

CPD Information
Queensland Law Society: 6 CPD points including 1 point for Practical Legal Ethics
Bar Association of Queensland: 6 CPD points including 1 point for Ethics and Professional Responsibility
THANK YOU TO OUR GOLD SPONSOR
THANK YOU TO OUR SILVER SPONSORS
THANK YOU TO OUR COFFEE CART SPONSOR
THANK YOU TO OUR TRADE SPONSORS
COVID EVENT POLICY
The STEP Queensland Branch Committee is committed to providing a safe conference in 2021. However, we do acknowledge that we are living in a pandemic and circumstances may arise that may prevent the conference from proceeding as advertised. STEP Queensland will enforce COVID restrictions and requirements at the conference.
Please thoroughly review the event terms and conditions prior to purchasing a ticket to ensure attending the conference is right for you.
View the Conference Terms and conditions here.
FAQs
Can I pay via EFT or cheque?
Unfortunately, no, STEP Queensland is only able to receive credit card payments through the Trybooking system. Trybooking will send you a receipt and ticket when you register. Please consider this your invoice.
Can I access conference rates for accomodation?
Yes, however accommodation is limited. You will be sent the accommodation booking request form once you have purchased your conference ticket.
Accommodation Rates | Garden View Room
Single Occupancy $219.00 per room, per night, including breakfast for one
Double Occupancy: $239.00 per room, per night, including breakfast for two
Do I have to bring my printed ticket to the event?
No, we will have your details on file and your name badge ready for collection.
Is my registration/ticket transferrable?
Yes, please read the terms and conditions for eligibility and process.
I can no longer attend, can I have a refund of my ticket?
STEP Queensland does not offer refunds as a result of a change of mind and/or in your personal circumstances. Please read cluase 4 of the terms and conditions for our refund policy.
Will the materials be sent around in advance?
We are working with our speakers to ensure that you have as much material as possible prior to the conference. Due to the nature of the presentations and speakers who will ensure that the information presented is absolutely up-to-date, some material may not be available until after the conference.
Is there parking at the conference if I don't stay at the resort?
Yes, you are welcome to use the parking available at the resort. You do not need a hotel key to access this parking.
What is there to do before or after the conference?
After the conference there is plenty to do and see or you can simply relax and enjoy the beautiful resort grounds and pools. We encourage our delegates to make a weekend of it.
Review the information on the resort website for information about the area and facilities available.
Location
InterContinental Sanctuary Cove Resort
Manor Circuit, Hope Island QLD 4212
Contact Details