'Raising Happy and Resilient Girls' Parenting Seminar (SOLD OUT)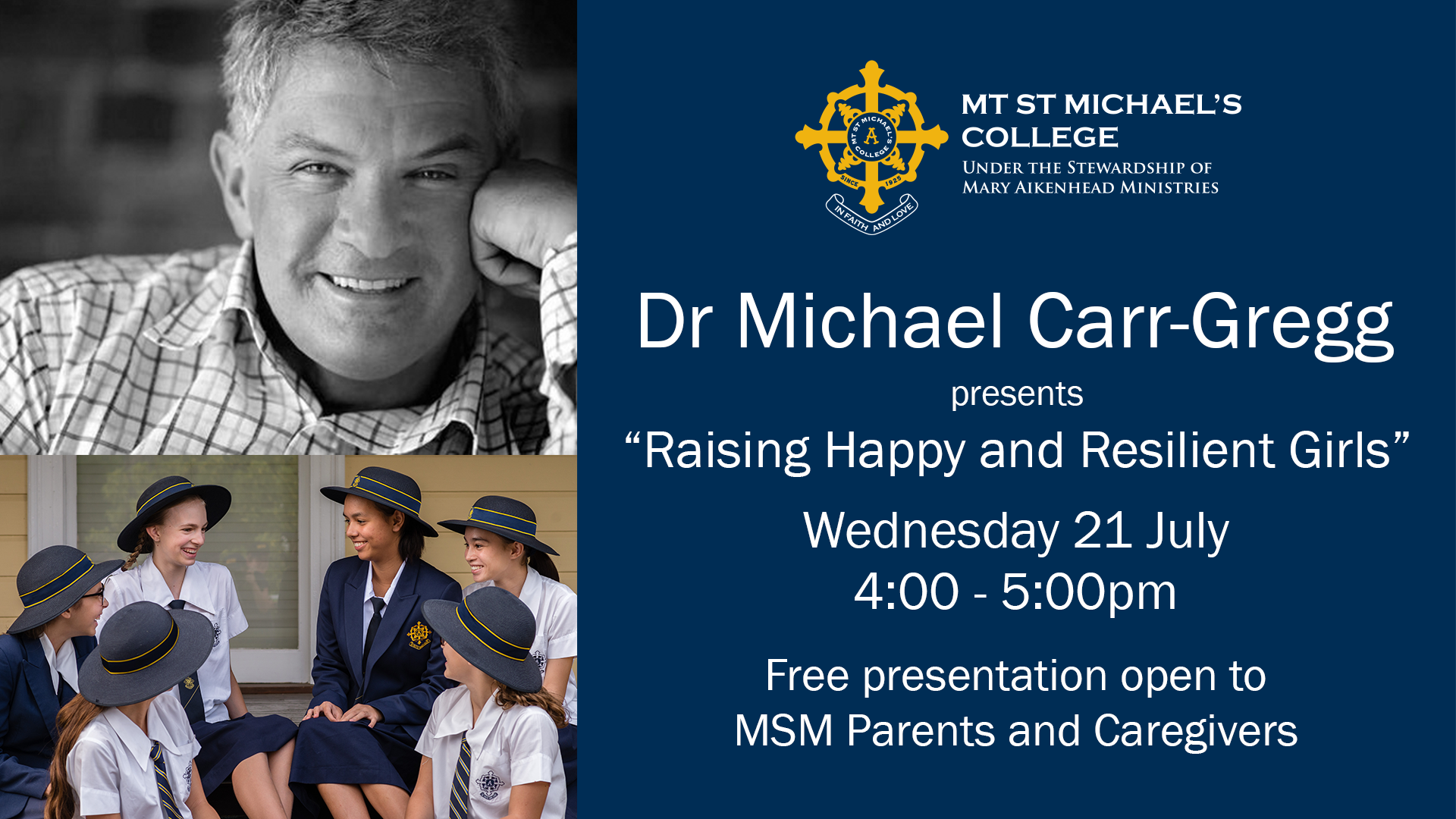 Mt St Michael's is excited to announce Dr Michael Carr-Gregg as guest speaker for our Parenting Session on Wednesday 21 July from 4-5pm. Dr Michael Carr-Gregg is one of Australia's highest profile child and adolescent psychologists. He will present on the topic of 'Raising Happy and Resilient Girls'.

This event is free for all MSM parents and caregivers. Tickets are limited - BOOK NOW!
Location
MSM Ionian Centre Auditorium
Ionian Centre , Aloomba Road, Ashgrove Qld 4060
Contact Details
COVID SAFE REQUIREMENTS:

As you are aware, all schools must follow COVID safe procedures as outlined below. Thank you for assisting us with this important process.

From the date of the event, please do not attend if you:
In the last 14 days have travelled from overseas or a COVID-19 hotspot.

Have been in close contact with a person who is positive for COVID-19 or awaiting COVID-19 test results.

Are currently, or have recently experienced cough, fever, sore throat, fatigue or shortness of breath.

Are an active COVID-19 case.
We value the safety of our students, staff and community. All attendees at MSM events are asked on the day to:
Stay at home and do not attend the event if you are unwell or have a cough, fever, sore throat, fatigue or shortness of breath.

Maintain physical distancing requirements of 1.5 metres - it is the responsibility of each individual attendee to maintain 1.5 metres physical distancing.

Adhere to proper hygiene protocols including washing hands, use of sanitiser etc. Handwashing facilities and hand sanitiser will be readily available.

Follow the clearly signed directions and MSM staff/representative instructions at all times.

Notify a MSM staff member/representative immediately if you become unwell during the event.