McAlister Kemp - After The Breakdown 2021 Tour. (CANCELLED)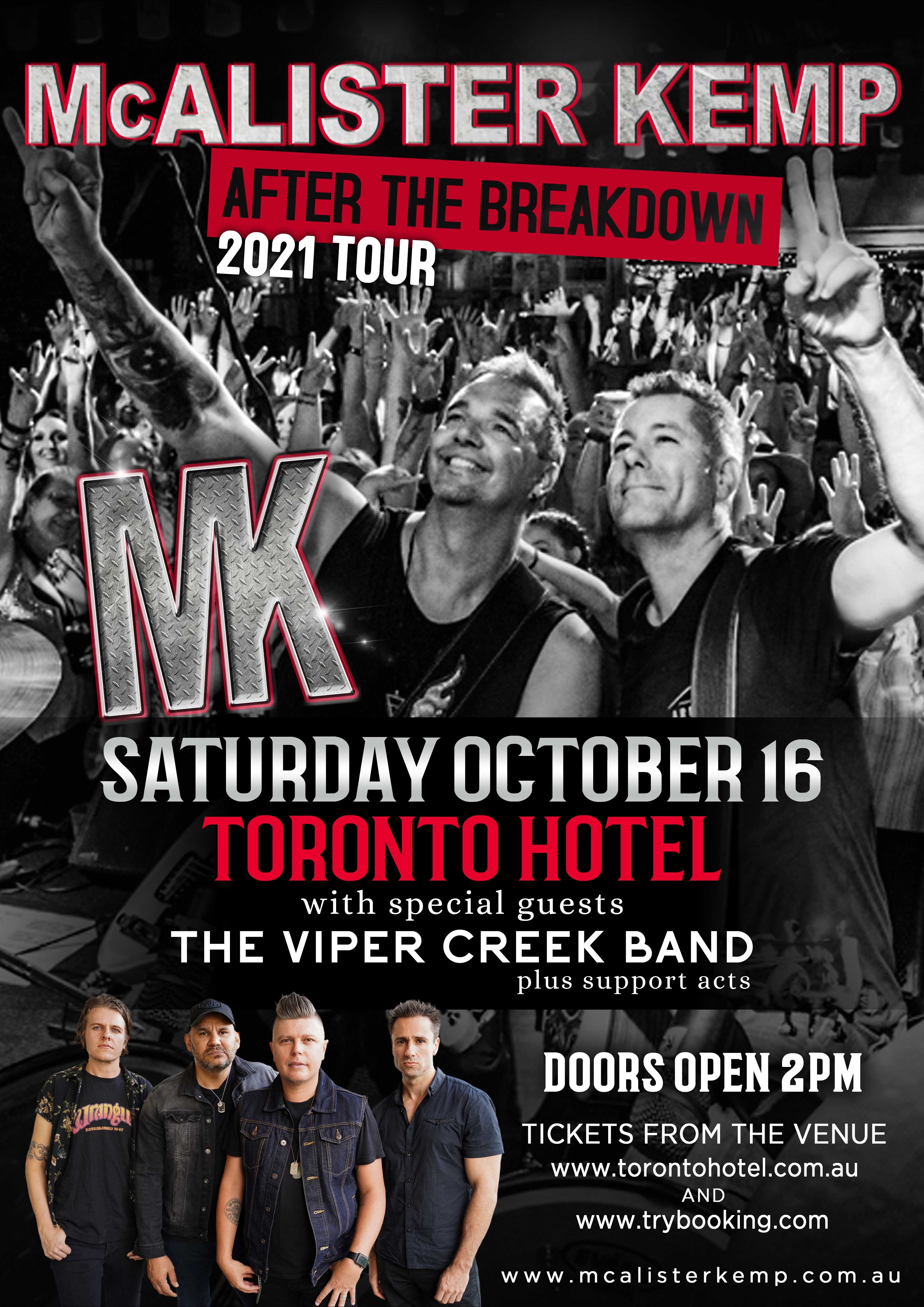 McAlister Kemp are officially back with their first tour in six years!

They will be performing songs from their much-loved catalogue of smash hits plus new songs at the Toronto Hotel - Live On The Lake, the Saturday 16th of October.

With special guests The Viper Creek Band plus support acts.
Consisting of Drew McAlister and Troy Kemp, McAlister Kemp are one of the most successful Australian country acts of the last decade. From the immediate, breakout success of their debut album 'All Kinds of Tough' in 2010 through to disbanding in 2015, the duo earned their stripes as one of the highest-selling and most exciting touring acts in Australian country music.

But it is not just the strength of their live shows that brought them acclaim, their three albums; 'All Kinds of Tough' (2010), 'Country Proud' (2012) and 'Harder to Tame' (2014) are classics of the genre, packed with hands-in-the-air rockers such as "Country Proud", "Hell Yeah", "Hard Work", and "Harder To Tame" and anthems like "All Kinds of Tough", "It Don't Buy You Love", "Fight Me" and "Home".

The break has been rewarding for Drew and Troy individually with solo albums, hit singles, awards and touring and with a legacy as enduring as the MK catalogue, it was only a matter of time before the pair would unleash once again.
Saturday 16 October 2021 2:00 PM - 9:30 PM (UTC+10)
Location
Toronto Hotel
74 Victory Parade, Toronto NSW 2283