The Art of Receiving and Giving Six Week Series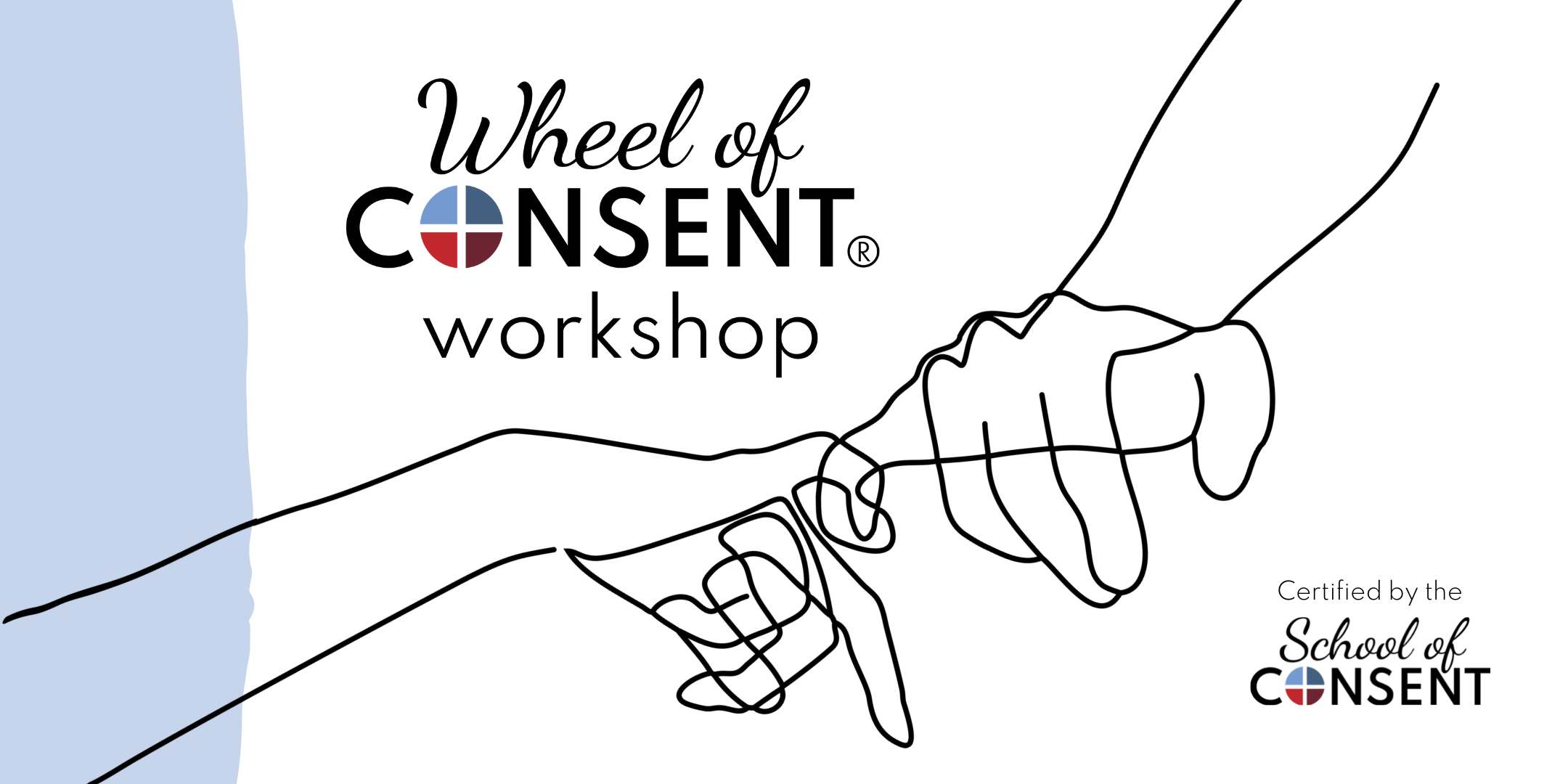 The Art of Receiving and Giving: Intro to the Wheel of Consent®
This six-week course is for people who want to create better relationships, feel more pleasure and joy, develop greater self-confidence to deliver stronger and more effective boundaries, and enjoy meaningful, respectful, and fulfilling experiences with everyone in their life.
This workshop is not about techniques or rules but rather a solid theoretical framework and embodied practice to empower your nervous system and develop lifelong skills. It is like yoga for human relating, intimacy, and connection! The Wheel of Consent® developed by Betty Martin is a framework and practice that supports you to develop an inner compass to understand and navigate tricky and confusing interactions with others.
Have you ever:
gone along with what someone else wants when you did not really want to?
been confused about overstepping someone else boundaries?
felt icky about the touch that was being done to you?
felt obligated to give back when you have received?
Been unable to ask for what you really wanted and instead settled for less or went without?
The Wheel of Consent® clarifies all these scenarios and more and supports you to develop strong and consistent ways of interacting that feel good for everyone involved. Human interactions have the potential to contain wholehearted gifts and the Wheel of Consent® teaches you the art of receiving and giving those gifts without fear, guilt, resentment, or burn-out. The Wheel of Consent® can teach you to feel more empowered in your yes and no, increase awareness in your body around boundaries, wants, and limits, enhance effective communication, and increase agency in all interactions. Embodying the Wheel of Consent® is at the core of knowing it and walking away with this embedded in your nervous system is the most powerful way to apply it and transform your life. It all starts with you and your skin.
Whether you are looking for healing, learning, or improvement, this workshop offers a safe space to self-discover as a natural consequence of playing and experimenting with the activities on offer. Some activities are solo, some can be partnered, and some involve touch within specific parameters. There is NO nudity or sexual touch of any kind in this workshop. This is not a couples workshop but if you are in couple, thruple or more you are welcome to play together, or not, depending on what you decide between you. The content is non-gendered and the space is LGBTQ+ inclusive. There will be lots of options to engage with the material in a way that works for you with choice an inherent part of the work and encouraged at all times.
Each week we explore new concepts that build on the weeks before with discussions, practices, and play that deepen the work in your body, mind, and heart. The Wheel of Consent® workshops are a vital part of learning the wheel. Dr Betty Martin who developed The Wheel of Consent® generously shares her work online through www.bettymartin.org and www.schoolofconsent.org. She says, "This is the body of work I have been developing over the last dozen years, which I call the Wheel of Consent. The videos are fine, the ideas are fine – but it's the experience of it that will change you."
Places limited to 20 people.
Please bring:
Fluff! Cushions, blankets, doonas, anything to create a comfortable and relaxing space. You will create your own nest that you may choose to share with others
Comfortable clothes
Water bottle
A notebook if writing things down helps you.
Tuesday evenings 6:30 – 8:45pm. Doors open from 6:15.
Week 1 - 27th July
Week 2 – 3rd August
Week 3 – 10th August
Week 4 – 17th August
Week 5 – 24th August
Week 6 – 31st August
COST
$250 for 6 x 2hr 15min classes plus handouts
PAYMENT & REFUND POLICY
Payment options: credit card through the trybooking system & online bank transfer after registration. Additional option to pay deposit of $100 with card no and balance via bank trasnfer before 23rd July.
Bank account details for online bank transfer: Axis Mundi Coaching BSB 036-011 AC# 489846. Please put your full name in the reference field. Please transfer ASAP to secure your spot.
Full payment is required by 23rd July.
Cancellations made before 20th July, one week prior to the first class on 27th July, will receive a full refund of monies paid.
Cancellations made after 20th July will receive a refund minus a $50 cancellation fee.
Once classes have commenced no refunds will be given regardless of attendance.
If $100 deposit option was selected the above rules still apply. Payment of balance to be made via direct deposit or contact to discuss alternatives.
Cancellation fees may be waived under extenuating circumstances.
Discounts for concession card holders are available if agreed upon prior to registering.
Location
HeART of Rest, Loft
22 Gwilliam Drive, Bibra Lake WA 6163
Contact Details
Vanessa
0427 968 385
contact@vanessakvance.com
www.vanessakvance.com
ABOUT YOUR FACILITATOR
Vanessa K Vance B.Couns CSB
I am a somatic and creative therapist and facilitator. I have been working with folks in the areas of intimacy, sexuality, relationships, consent, trauma, and embodiment for nearly a decade. I see individual therapy clients in my private practice and facilitate educational and experiential group classes and events on touch, consent, and communication. I am a certified Wheel of Consent® facilitator in training and a certified Cuddle Party facilitator, and just about to graduate from a post graduate diploma in creative arts therapies. I'm super passionate about providing opportunities for folks to develop stronger positive relationships to their bodies, improve their communication and connection with others, and to experience more power and freedom as a human being. I am deeply motivated about furthering the culture of consent, embodiment, and sexual freedom and advocating for social change through individual awareness and growth.