EGA Microdose Webcast 6: Woodlover Paralysis & Consciousness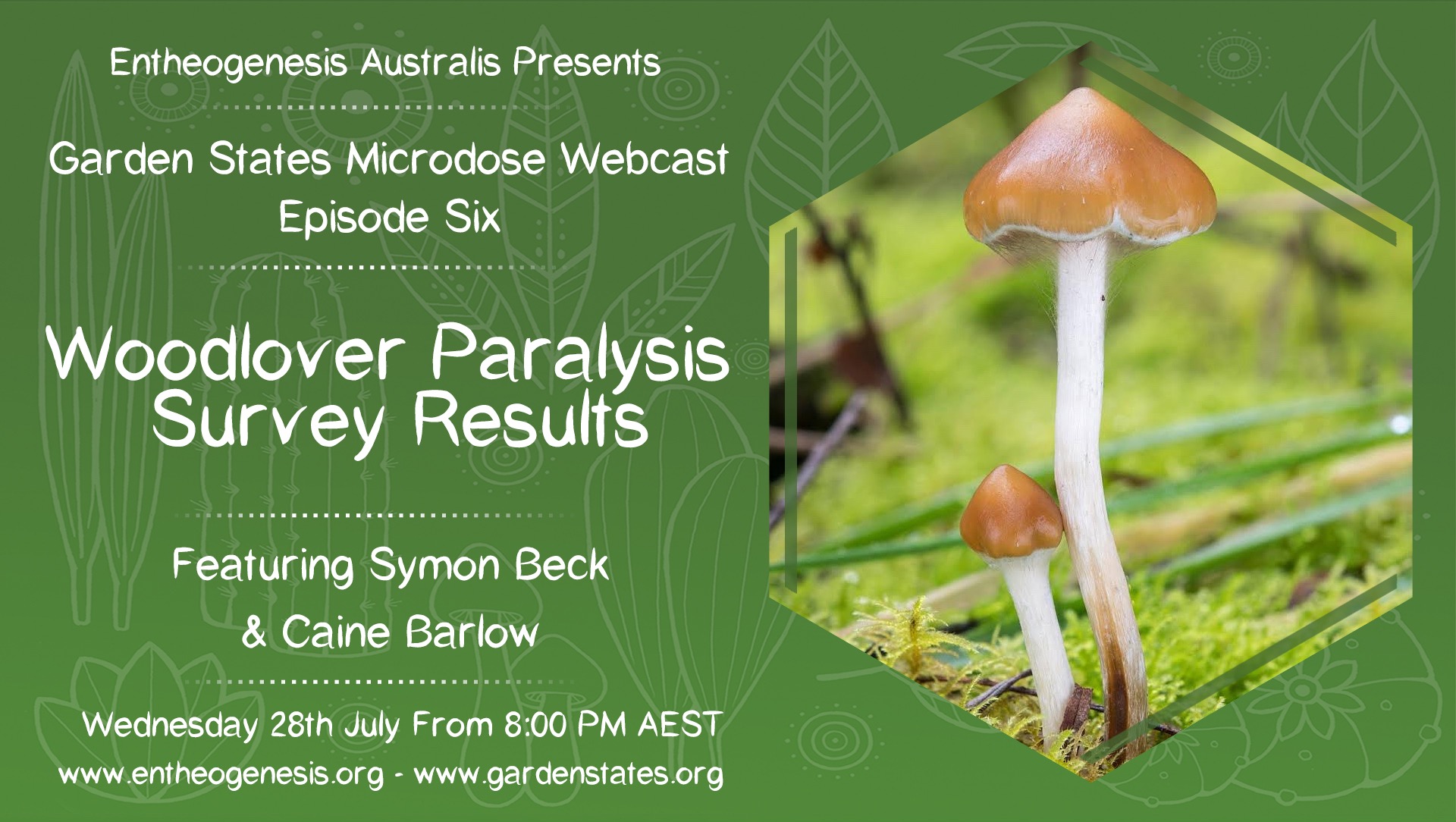 Our sixth Microdose Webcast episode will feature two segments. We will begin with a discussion of Wood-Lover Paralysis (WLP) based on the results of a survey recently conducted by Symon Beck and Caine Barlow. In segment two, Dr Vince Polito will discuss his current psychedelic research and upcoming consciousness science conference. Hosted by Nick Wallis & EGA

Registration for the Microdose Webcasts are free but donations are encouraged to support EGA's important work (booking fees apply).
Episode Six - Woodlover Paralysis and Consciousness Science
Segment One: Will be delivered by Symon Beck and Caine Barlow who will review their recent survey results concerning the phenomenon of Wood-Lover Paralysis (WLP). WLP is an occasional short-term paralysis following the ingestion of psilocybin mushrooms that grow on wood, such as Psilocybe subaeruginosa. There exists little information on this topic besides anecdotal reports, and the results of the recent survey are some of the first available relevant data.
Segment Two: A short Interview with cognitive scientist, Dr Vince Polito. Vince will discuss his current psychedelic research projects and his upcoming Science at the Edge of Consciousness event.
For registered attendees, a link to the event screening will be sent with your ticket. The link will be resent with an email reminder just before the event goes live.
Hosted by Nick Wallis & EGA
------------------------------
Segment One - Results of the PMANZ/APS Wood-Lovers Paralysis Survey
Synopsis: In 2020, Symon Beck and Caine Barlow, expert mycologists of the Facebook group Psychedelic Mushrooms of Australia and New Zealand (PMANZ), and the Australian Psychedelic Society (APS), published a survey to gather information about the phenomenon of Wood-Lover Paralysis (WLP). The survey aimed to collect data on the frequency with which wood-lover paralysis occurs, how people have experienced it, and what factors might be related. While WLP has been gaining wider attention, there is still not a lot known about the phenomenon. The survey asked questions relating to how the effects were perceived, and aimed to identify what individual and environmental factors may be involved. The survey results are an important tool for educating and reducing harm for those planning on consuming wood-loving psilocybin mushrooms. It is important to know what to expect if WLP occurs, and potential contributing factors. In this talk, Symon and Caine will discuss the survey results and potential implications arising from the data collected.
Bio - Symon Beck
Symon Beck is a mycoenthusiast with over ten years of experience foraging and eating many different species of fungi on Australia's East Coast. Symon enjoys targeting new species and seeking out new locations for hunting. He has a particular interest in Psilocybe and other psychoactive species, and helps run the PMANZ group on Facebook. He has previously guided educational groups in the field, teaching others the basics of fungus identification and plans to continue to do so into the future. Symon's academic background is in medicine and psychiatry.
Contact - Facebook - Symon Beck
Bio - Caine
Caine Barlow is a Mycologist and Fungi Educator based in Melbourne, Australia. He gives regular talks on mycology, fungi conservation, and teaches gourmet mushroom cultivation. He is a member of the Australian organisations Entheogenesis Australis, MYCOmmunity Applied Mycology, The Australian Psychedelic Society, and the Entheome Foundation.
Caine started foraging for mushrooms in the early 1990's, and started cultivating gournet fungi in the mid 2000's. He did his Bachelor of Science at the University of Tasmania, and a Master of Science at the University of Melbourne where his research project was based around Conservation Mycology.
In addition to fungi, Caine has had a long term interest in ethnobotany, ethnobotanical literature, and growing medicinal plants - in particular Cacti and Acacias. He writes for DoubleBlind and ThirdWave, is a "Trusted Identifier" on The Shroomery, and a moderator on many Facebook fungi groups. Caine posts regularly on his Instagram, @guerrillamycology, sharing adventures from cultivation, foraging, and ethnomycology, to interesting observations from his home lab.
Contact - Instagram - guerrillamycology
Segment Two ​​​​: Vince Polito
Synopsis:
Vince is presenting Science at the Edge of Consciousness for National Science Week 2021 in Brisbane, Sydney, Melbourne and Adelaide.
The sessions will explore how meditation can change our senses, test whether hypnotic suggestions can help break automatic habits, delve into the latest findings from the frontiers of psychedelic science, and explore how new technologies such as virtual reality and brain stimulation are being used to alter consciousness in the lab.
Vince is also looking for participants in an upcoming psilocybin microdosing survey and will be presenting at Garden States in December on his microdosing research so far.
Bio - Vince Polito
Vince Polito is a Senior Research Fellow in the Department of Cognitive Science at Macquarie University in Sydney, Australia and a former Associate Investigator of the Australian Research Council Centre of Excellence in Cognition and its Disorders. His PhD research won the Ernest Hilgard Award for the best thesis on hypnosis from the American Psychological Association and his work has been featured in has been profiled by Buzzfeed, Nine News, ABC News24 and many others.
Vince's research investigates cognitive and neurological changes in altered states of consciousness. He has investigated attentional capacities in meditation, psychiatric symptoms of disturbed control, states of flow in expertise, hypnotic suggestions, and body representation alterations in virtual reality. He is particularly interested in how beliefs and expectations shape psychedelic experiences and conducted one of the first systematic observational studies of the effects of microdosing in healthy participants.
----------------------------
About Garden States Microdose Webcasts
The EGA Garden States Microdose Webcasts are designed to cover various topics from the field of ethnobotany and psychedelic culture, sustainability, and related areas of interest to the community. The forums are part of the program leading up to the highly anticipated Garden States 2021 Botanical Conference. Registration for the Microdose Webcasts are free, but donations are encouraged to support EGA's important work.
About EGA
Entheogenesis Australis is a charitable, educational organisation established in 2004. We provide critical thinking and knowledge sharing opportunities on ethnobotanical plants, fungi, nature, and sustainability. Through our conferences and workshops, we aim to celebrate the culture, art, politics and community around medicine plants in the hope of better wellbeing for humankind and the planet.
To find out more about what we do, head over to our organisational website. If you like what you see, take a look at our upcoming Garden States 2021 Botanical Conference program.
Warm Regards,
The Entheogenesis Australis Team
Planting seeds for the earth, body and mind
www.entheogenesis.org
www.gardenstates.org
Note: Small booking fees may apply.
Location
Online event access details will be provided by the event organiser

Contact Details