Take on Board Book Club-The Power of Trust by Sandra Sucher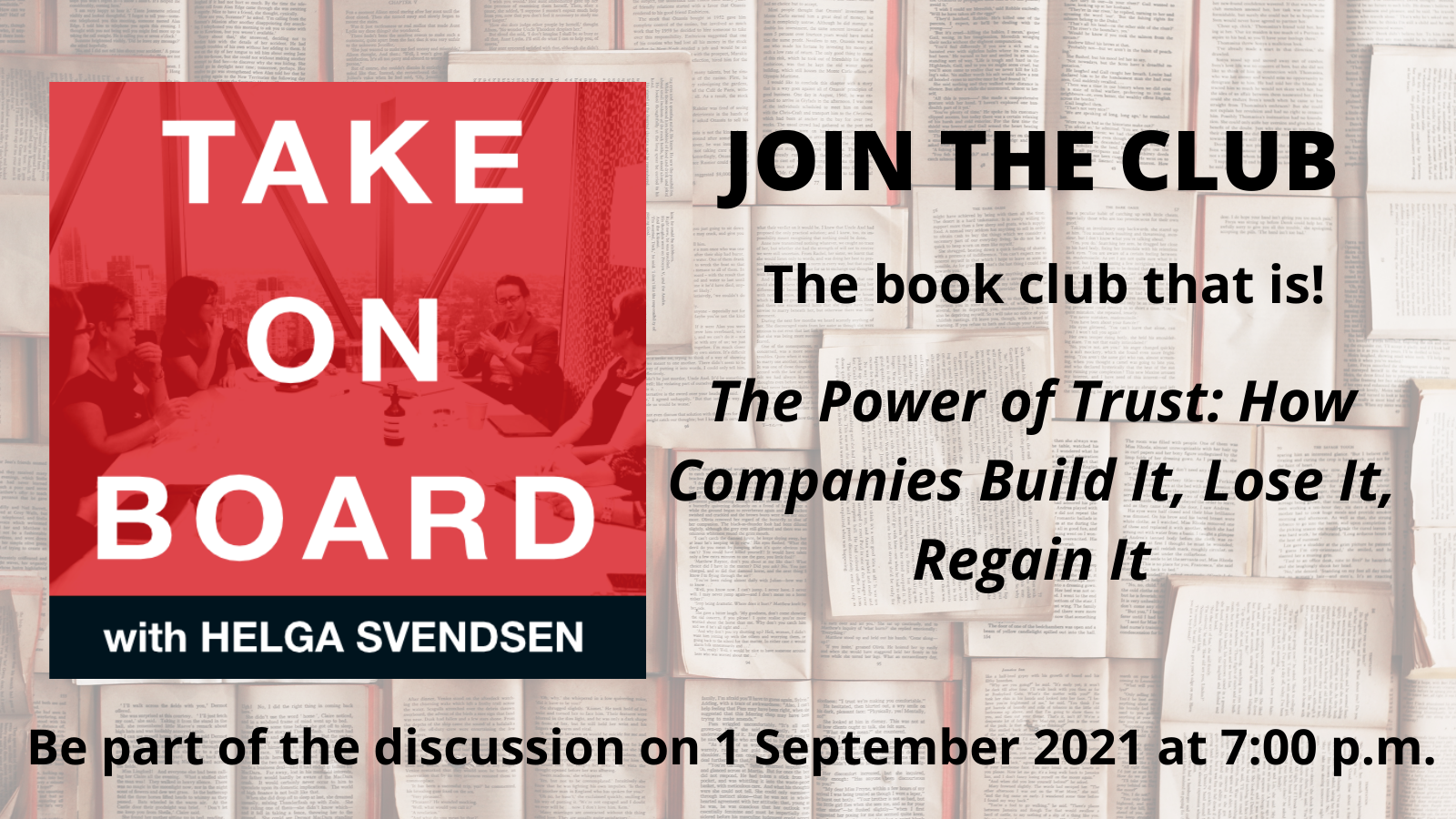 Take on Board is the podcast where we talk all things Boards and governance.
Join us for the first Take on Board Book Club! Helga will lead this lively discussion about trust and what lessons can be applied to the boardroom. Like all Take on Board events, there will be loads of oportunities for questions, to share your experiences and just have an intellectually stimulating conversation from the comfort of your home. So book a ticket, pour yourself a glass and see you on September 1, 2021 at 7:00 pm
About the book
A ground-breaking exploration of the changing nature of trust and how to bridge the gap from where you are to where you need to be.

Trust is the most powerful force underlying the success of every business. Yet it can be shattered in an instant, with a devastating impact on a company's market cap and reputation. How to build and sustain trust requires fresh insight into why customers, employees, community members, and investors decide whether an organization can be trusted.
You can listen to Helga's interview with Sandra Sucher here.
Our Host - Helga Svendsen
Helga Svendsen is a connector: ideas to strategy to plans to action. She revels in connecting people and organisations and supports them to make the world a better place. She is passionate about empowerment and wise decision-making. Helga specialises in governance, strategy, planning and stakeholder engagement. Building on her leadership roles in government, not-for-profit and membership organisations, Helga is a dynamic facilitator, a supportive and challenging coach, an effective trainer and an engaging speaker. She is a Board member of the Royal Women's Hospital and the Accident Compensation Conciliation Service. She founded the Board KickStarter and Board Accelerator programs, two group-coaching programs to support women into and in Non Executive Director roles. Host of Take on Board podcast.

Pricing:
Early bird $15 (+GST) ends 21 August
Full price $25 (+GST)
session details
(Melbourne, Australia time).